Filtered By: Money
Money
PAL allowed back into Europe's skies after safety compliance
(Updated 8:16 p.m.)
Flag carrier Philippine Airlines will fly to European Union countries again, three years after the EU banned Philippine carriers from Europe's airspace after the Philippines failed to comply with international safety standards, ranking EU officials in Brussels and Manila revealed Wednesday.
PAL president and COO Ramon S. Ang said that the flag carrier's first flight to Europe will be in September or October, with
Paris, London, Rome and Amsterdam as the first destinations.
"The European Air Safety Committee in Brussels lifted the air ban on Philippine Airlines, effective on 12th of July 2013," Guy Ledoux, delegation head of the European Union in the Philippines, said at a press briefing.
"This decision is very encouraging and is a first success both for CAAP [Civil Aviation Authority of the Philippines] and Philippine Airlines," he added.
But other Philippine air carriers haven't qualified yet.
According to a press release from the Delegation of the European Union to the Philippines, "For all other carriers registered in the Philippines the ban remains, as further progress is still needed to reach effective compliance with relevant aviation safety regulations."
In a statement, EU Transport Commissioner Siim Kallas said, "Today we confirmed our willingness to remove countries and airlines from the list if they show real commitment and capacity to implement international safety standards in a sustainable manner."
In 2010,
the EU blocked direct flights from the Philippines
based on "safety assessments by the International Civil Aviation Organization (ICAO)."

"When we fly back to Europe after an absence of 15 years, we can boast of a newer fleet of aircraft and top quality customer service," PAL president and COO Ramon Ang said in a statement.
Only last May, PAL
took delivery
of its fifth Boeing 777-300ER, bringing its total fleet count to 45.
Safety standards
The EU said in a
news release
from Brussels that the Philippines was one of nine countries recognized for their efforts to "reform their civil aviation system and to improve safety, in order to eventually become able to guarantee the effective application of international safety standards."
"Taking into account the improved safety oversight provided by the competent authorities of the Philippines, and the ability of the air carrier Philippine Airlines to ensure effective compliance with relevant aviation safety regulations, and following an on-site safety assessment visit last June, it was decided to lift the ban affecting this carrier registered in the Philippines," the EU said in a news release.
In Manila, the EU's envoy, Ledoux, explained that PAL's safety improvements and CAAP's better oversight capabilities prompted the EU to lift the ban.
"The new management introduced new standards following the requirements set by EU," Ledoux said in the sidelines of the press briefing.
PAL has been under the management of San Miguel Corp. president Ramon Ang since last year
, after SMC acquired a minority stake in the airline.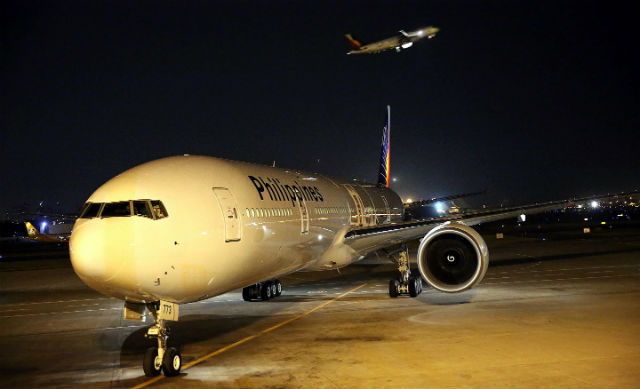 Philippine Airlines' fifth Boeing 777 jet was delivered earlier this year. Image courtesy of PAL
CAAP supervision
In June, CAAP director general Gen. William Hotchkiss flew to Brussels to meet with EU's Air Safety Committee (ASC), bringing credentials for PAL and its application to fly to three European destinations under the European Community Safety Assessment of Foreign Aircraft (EC SAFA) Program.
Under the EC SAFA program, the CAAP is required to perform Safety Assessment of Foreign Aircraft (SAFA) Ramp Checks on PAL aircraft flying into the EU, and relay the results to EU member states and the EC.
US ban
Hotchkiss III expects the US Federation Aviation Authority to follow suit. "[We expect a] possible category upgrade before the end of this year," he said.
Representatives from the US-FAA are currently in the country right now for a 10-day visit before the foreseen lifting of the ban imposed on Philippine carriers from mounting additional flights to the US.
Other airlines
Ledoux noted that other carriers that did not make the cut in the audit conducted last month may still try their luck again at the upcoming air safety meeting on November 29.
"We continue to closely monitor and conduct further review on other airlines such as Cebu Pacific," he said.
"Cebu Pacific decided not to go to Brussels [for the air safety committee meeting] to concentrate their efforts to analyze what happened in Davao to ensure...that this kind of incident does not happen again," he added.
Lasty month,
a Cebu Pacific flight skidded off the runway in Davao City
, causing the airport to shut down for two days. The passengers and crew were able to disembark safely.
PAL statements
At the same press briefing, PAL president and COO Ramon S. Ang revealed that the flag carrier's first flight to Europe will be in September or October.
"The first flight [destinations] will be Paris, London, Rome and Amsterdam. As you all know, we have recently acquired a long-range Airbus. We have all the right equipment to serve European customers," Ang said. In a separate statement, the CEO mentioned that the airline will also fly to Frankfurt and Madrid.
He added that PAL is entitled to fly seven times a week to London and Paris, but has to renew its flight entitlement to other countries.
PAL's last commercial flight to the EU was in 1999
—
with Reuters/VS/BM/ELR/HS, GMA News