Filtered By: Money
Money
FinTech PHL Association, Pinay-led start-ups join SFFxSWITCH'19
SINGAPORE - Fintech Philippines Association officials and members, nine Filipina-led start-ups, CEOs and Philippine government officials gave talks and were part of panel discussions and exhibits in the recently concluded SFFxSWITCH'19 or the Singapore Fintech Festival (SFF) which was held simultaneously with the Singapore Week of Innovation and Technology (SWITCH) on November 11-15, 2019 at the Singapore Expo.
Fintech Philippines Association's "Tech-Up Pilipinas" booth kicked off the five-day event with a ribbon-cutting ceremony held on the first day of SFFxSWITCH'19. Fintech Philippines Association officials led by its Chairman, Justo Antonio Ortiz, Philippine Ambassador to Singapore Joseph Del Mar Yap, and Bangko Sentral Monetary Board Member Jose de Zuñiga graced the event.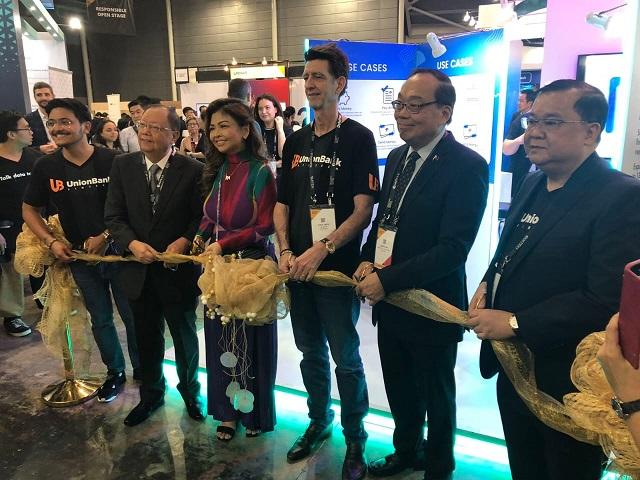 Ribbon cutting of "Tech-Up Pilipinas" booth of Fintech Philippines Association at the SFFxSWITCH'19 opening day. Cheermae Ecarma of Divina Law
Fintech, a contraction of "financial technology," refers to technology-enabled financial solutions that are often seen as the new marriage of financial services and information technology, with the Singapore Fintech Festival being the biggest platform for sharing and collaborating cross-border fintech ideas.
The Philippine Central Bank has a vested but well-cautioned interest in the possibilities that financial technological innovations bring with its convenience.
"Payment systems from the point of view of the Banko Sentral is important to maintain financial stability. Fintech now is a reality. Payment systems are governed, these controls all transactions, commercial transactions — it is important that payment systems have reliability, that these are safe and that these have integrity. So we are interested in fintech having all of these elements because from the point of view of Banko Sentral, we're looking at consumer protection also. We want to see that the funds of the public are safe when they pass through a payment system. And I think both the public and private sectors have that same interest," said De Zuñiga.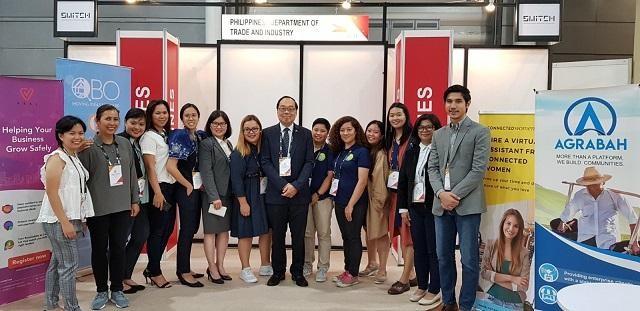 Nine Philippine women-led start-ups with Philippine Ambassador to Singapore Joseph Del Mar Yap at the Singapore Week of Innovation and Technology (SWITCH). Wilford Wong of Philippine Embassy in Singapore
Meanwhile, the nine Filipina-led start-ups who participated in SWITCH included:
Agrabah, led by COO Josephine Gumino, a service provider platform that helps companies build stable agricultural supply chain while helping farmers and fishers get access to stable market channel.
Session Groceries, led by CEO Iloisa Romaraog. Session Groceries Farm to Table is an app that connects local farmers and consumers to support local agribusiness, promote sustainable lifestyle and educate the local community on the benefits of eating fresh, locally grown food. Primary goal is to alleviate the lives of farmers.
Sukiplus, led by COO Ava de Guzman, a platform empowering sari-sari stores (Philippines' most-basic unit of commerce and 2nd largest informal economy) to transact with mainstream businesses like banks, insurance companies, consumer goods, manufacturers, and other financial institutions.
Antipara Exploration, led by CFO and co-founder Cherry Murillon, is an underwater 3D visual mapping and analytics company that uses its own built underwater towed platform with camera and sonar system to provide maps and relevant information for marine management.
Rumorocket, led by Data Strategist Inna Katrina Castillo, a Saas Company that uses Machine Learning Automation to impact the bottom line through recruitment, retention and incentivization of company talent.
Vesl, led by CMO Maureen Ledesma, an insurance and finance marketplace that allows businesses to access different trade financing solutions with the help of specialized insurance products made affordable by the digital platform.
Transitflix, led by Chief of Staff Genevieve Reyes, a community-powered platform that uses artificial intelligence (AI) and facial detection to deliver hyper-targeted ads based on demographic, location, and day-parting.
Connected Women-Philippines, led by Philippine Representative Ria San Miguel, is a global company of tech-powered women entrepreneurs, freelancers, and professionals.
FitsLanguage, led by CEO Analiza Sabdao, is an online English language school that helps students master the English language through effective and innovative techniques.
— DVM, GMA News