Filtered By: Money
Money
Tourist arrivals in Philippines up by 15% in 2019, exceed target —DOT
The total number of visitor arrivals in the Philippines increased by 15% in 2019 compared to the record in 2018, according to the Department of Tourism (DOT).
Around 8.26 million tourists arrived last year, exceeding the 8.2-million target, it said.
"The DOT year-end visitor arrival report cited a 15.24% growth over 2018's year-end figure of 7.16 million," the DOT said in a statement on Monday.
"Almost all months, except January, registered double digit growth rates, the largest of which was August at 27.54 percent while December recorded the highest volume at 776,798," it added.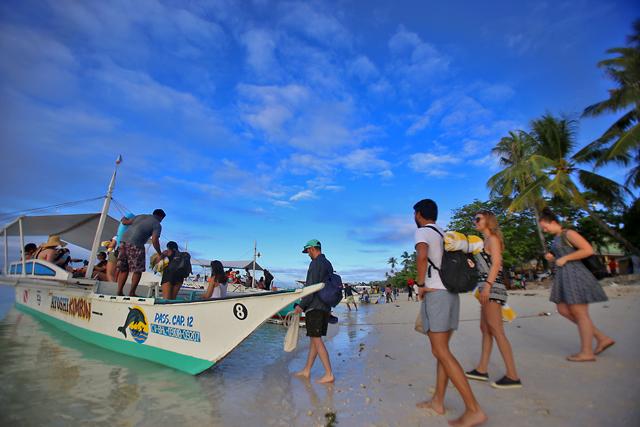 European vacationers board a motorized banca that will take them from the White Beach in Panglao, Bohol to different diving spots before proceeding to Oslob, Cebu for whale shark watching on Sunday, April 7, 2019. DANNY PATA
Tourism Secretary Bernadette Romulo-Puyat said the latest record is "a new milestone in the country's tourism history," citing it to the convergence programs with other government agencies.
In 2019, DOT repurposed its slogan "It's More Fun in the Philippines" to advocate for sustainable tourism. In line with this, the DOT also launched "Save Our Spots" movement to call for responsible tourism.
"This is a high point for Philippine tourism as it depicts our solidarity and commitment to make tourism work and prove its full potential as a sustainable and inclusive economic activity," she said.
Most of the visitors were coming from Korea with 1.98 million arrivals reported. Korea has been the top source market of tourism in the Philippine since 2010, according to the DOT.
Korea was followed by China, the US, and Japan. —Joviland Rita/KG, GMA News