Filtered By: Money
Money
Peso hits weakest in 17 years, nears record low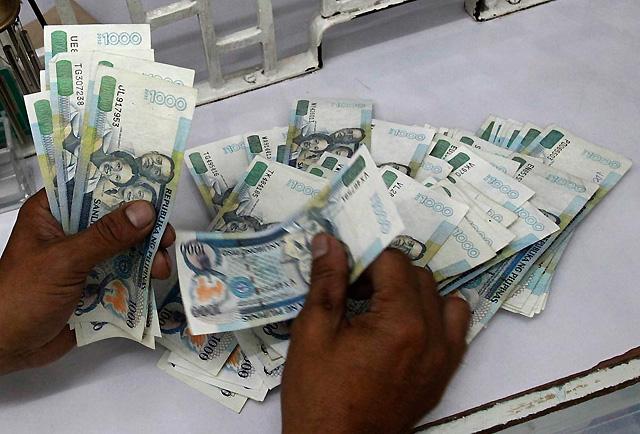 The Philippine peso is now nearing all-time lows against its US counterpart, as it weakened for the second straight trading day to mark its worst showing in 17 years.
The local currency lost 39.1 centavos to close Tuesday at P56.37:$1 from Monday's finish of P55.979:$1. This is the weakest performance in over 17 years since November 5, 2004 when it closed at P56.375:$1.
The peso also hit an intraday low of P56.45:$1, matching the record low reached by the local currency against the greenback on October 14, 2004.
Rizal Commercial Banking Corporation (RCBC) chief economist Michael Ricafort attributed Tuesday's weakness to the release of the latest trade data, showing a wider deficit in May.
"It is interesting to note that back in 2004-2005, the high was capped at P56.40 levels for about two years," he said in a mobile message.
Data released by the Philippine Statistics Authority (PSA) earlier in the day showed that the trade deficit stood at $5.678 billion in May, up from $5.438 billion in April and $3.180 billion in April 2021.
Ricafort also noted the recent strength of the US dollar against major global currencies such as the euro and the Japanese yen, following the hawkish signals from officials of the US Federal Reserve.
The Federal Reserve has signaled more policy rates and hinted at the possibility of a 75-basis-point hike in its next meeting, while the Bangko Sentral ng Pilipinas (BSP) has raised rates by only a total of 50 basis points so far.
BSP Governor Felipe Medalla, however, just last week signaled a 50-basis-point increase during the next meeting of the Monetary Board on August 18, 2022.
"Local market sentiment also partly weighed by the increase in new local COVID-19 cases to new 4.5-month highs; but market sentiment partly offset/supported by relatively lower global crude oil prices," Ricafort said.
The Department of Health (DOH) on Monday reported 1,660 fresh cases of COVID-19 in the country, bringing the number of active cases to 14,218 or the highest since April 23.
Local oil firms on Tuesday also implemented a major rollback in pump prices of petroleum products, marking the second straight week of price cuts. — BM, GMA News