Filtered By: News
News
Manila cleans up after typhoon 'Pedring'
UPDATED 10:00 a.m. -
After being devastated by "Pedring" (international name: Nesat), Manila residents on Wednesday started cleaning up the mess left by the typhoon.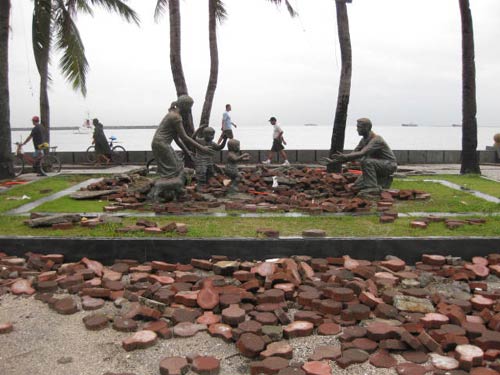 The morning after Typhoon Pedring battered Metro Manila, bricks washed away by the strong waves from Manila Bay clutter the sidewalk in Roxas Boulevard, Manila. Howie Severino
Residents gathered early morning on Wednesday at the Manila Bay area to clean the debris washed ashore by storm surges the day before, radio dzBB's Cecilia Villarosa reported. The residents gathered pieces of bamboo and trash from as far as Cavite province that reached the bay area in Manila, the report said. Manila residents also picked up broken portions of the seawall, damaged lampposts, and broken parts of the statue of former Manila Mayor Arsenio Lacson. As of Wednesday morning, some areas in Manila were still flooded, including the vicinity of the Manila Ocean Park, the report added. Along Taft Avenue, the area near the Philippine General Hospital was also flooded and some enterprising residents were seen charging pedestrians P5 to cross a makeshift bridge to get to the hospital entrance.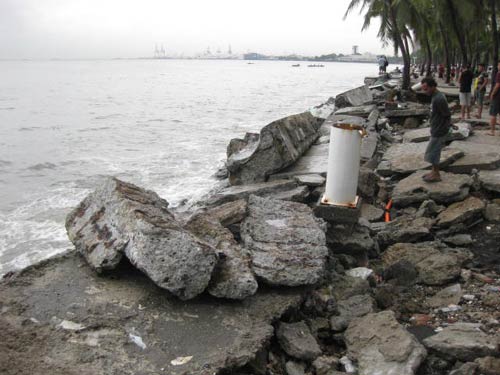 A storm surge damaged portions of the seawall at Manila Bay during the height of Typhoon Pedring. Howie Severino
The report said Manila Mayor Alfredo Lim and Vice Mayor Francisco Domagoso (Isko Moreno) personally inspected the cleanup. It added that crews from the Metropolitan Manila Development Authority (MMDA) and Manila city engineer's office took part in the cleanup.
For the latest Philippine news stories and videos, visit GMANews.TV
LRT-MRT operations resume
Meanwhile, the Light and Metro Rail Transit resumed operations early on Wednesday, a day after the typhoon forced operations to stop due to power supply problems. A report by dzBB's Allan Gatus quoted LRT Administration spokesman Hernando Cabrera as saying they expect no problems as the operations resume. The LRT-1 links Quezon City to Baclaran in southern Metro Manila, while the LRT-2 links Manila to Santolan. The MRT links Quezon City and Pasay City.
- VVP, GMA News