Filtered By: News
News
'Noynoying' gets international attention
Despite President Benigno Aquino III and Malacañang's attempts to downplay it, "Noynoying" – a term coined to portray Aquino as a do-nothing leader – is getting international and online attention. The Wall Street Journal
published an article
on "Noynoying," the term that Aquino's critics are presently pushing as a form of protest.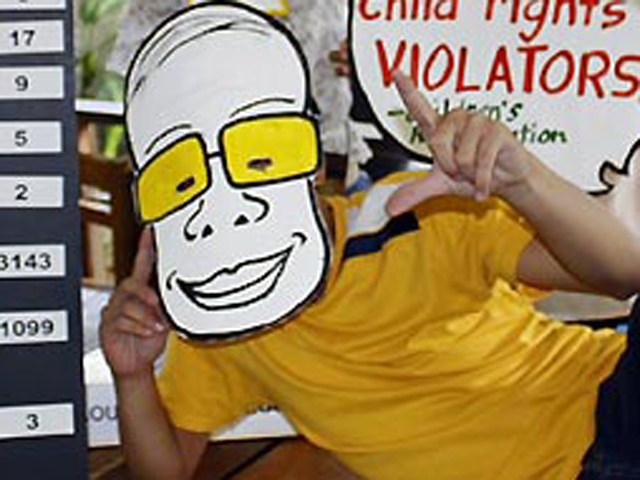 A "Noynoying" pose. GMA News
"Noynoying plays on the widespread perception that Mr. Aquino – who is widely known by the nickname Noynoy – might not be the most hands-on president to have led the Philippines. Since being elected in a landslide in 2010, Mr. Aquino has sometimes been caught laughing it up with celebrities instead of attending to the impact of typhoons and other disasters," it said. It added the "Noynoying" term also taps into old Philippine folk tales about Juan Tamad, who tries to get by doing the least amount of work to get by. Last Sunday, President Aquino
brushed aside
"Noynoying" as a new form of protest in reference to his alleged inaction against surging oil prices. "
Hindi kailangang pansinin.
You know, honestly,
'di ba, papaano mo ipapakita sa ayaw tumingin? Paano mo iparirinig sa ayaw makinig? Kung masaya silang ginagawa nila 'yun, nasa kanila 'yon
," Aquino told reporters Sunday night. Militant groups introduced the term last week, at a protest against rising fuel prices. The term involves sitting around and staring into space – a pose done by activists in recent protest actions. In an apparent bid to counter the "Noynoying" effect, Malacañang had issued photos of Aquino at "work," including handling paperwork and inspecting sites. Aquino himself met with Palace reporters in Baguio City last weekend and claimed some people just don't want to recognize his achievements. One of his political allies, Budget Secretary Florencio Abad, meanwhile, was quoted as saying "Noynoying" would soon die out. "It's unlikely that political activists will give up on Noynoying just yet, though. Given the number of people routinely loitering around public buildings in the Philippines on any given day, Noynoying seems an easy way to trick people into thinking their protests are larger than they really are," the Wall Street Journal said.
Wikipedia entry
On the other hand, "Noynoying" now has its own entry in the open-source online encyclopedia Wikipedia. The Wikipedia entry defined "Noynoying" as "an internet meme that defines an effortless pose, or activity consisting of sitting or standing around, in an unconcerned manner." It
said
the word is "a parody of his work ethic as President of the Philippines."
— LBG, GMA News