Filtered By: News
News
Vergeire: DILG authorized to monitor COVID-19 cases in home quarantine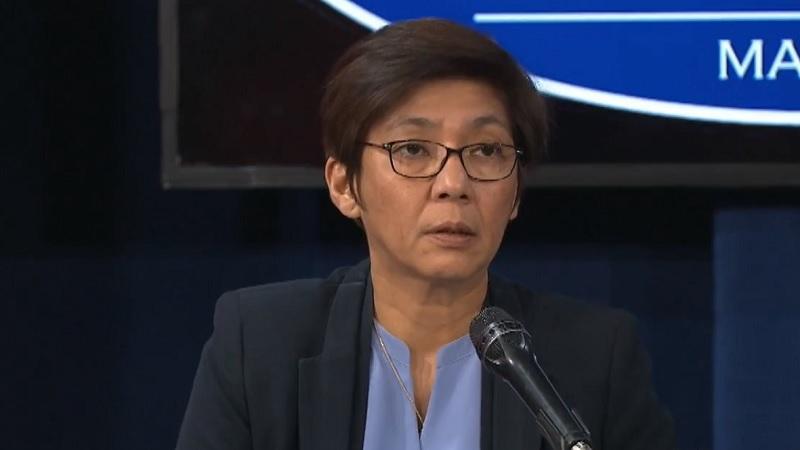 Health Undersecretary Maria Rosario Vergeire on Wednesday defended the Oplan Kalinga program led by the Department of the Interior and Local Government (DILG).
Vergeire said the DILG is authorized to monitor home quarantine COVID-19 patients through its Barangay Health Emergency Response Teams (BHERTs), who are in charge of the matter.
"Dati pa natin ipinapatupad ito, na ang ating DILG with their local governments, with the local officials, the BHERTs, may authority sila na mag-monitor ng mga ganitong pangyayari sa kanilang mga lugar," she said.
"Itong mga BHERTs, they are in-charge of monitoring these patients who are undergoing a home quarantine. Isa 'yan sa condition natin e," she said.
Oplan Kalinga — specifically the part where health officials and policemen will supposedly have to go house-to-house in search for mild or asymptomatic COVID-91 cases — has been criticized for allegedly being prone to abuse.
The Integrated Bar of the Philippines (IBP) defended the house-to-house visits, saying it is in accordance with a law granting public health authorities the power to ensure quarantine and isolation.
Joint Task Force COVID Shield commander Police Lieutenant General Guillermo Eleazar also defended the measure, saying it is not anti-poor as critics claim.
Such visits, however, were not discussed by Inter-Agency Task Force on Emerging Infectious Diseases, the government's police-making body in the fight against COVID-19, according to Justice Secretary Menardo Guevarra.
Home quarantine
Vergeire noted that home quarantine is allowed but the patients should have their own room, own bathroom, and must not be sharing the house with an elderly, pregnant, or person with illness.
According to her, ignoring these standards may cause community transmission of the virus.
On Tuesday, testing czar Vince Dizon announced the start of Oplan Kalinga, where patients who failed to meet the three qualifications will be escorted from their houses to government isolation facilities.
DILG Secretary Eduardo Año said cops and local government personnel will be going house to house to search for COVID-19 cases.
He clarified that health officials will lead the operations, noting that police personnel would only assist local government officials and health personnel in the search.
Senator Risa Hontiveros on Wednesday likened the Oplan Kalinga to the controversial Oplan Tokhang, which involves operations against drug trade.
"Parang tokhang pero pang-COVID. This may actually discourage more people from reporting their status. We need to improve home- and community-based healthcare," Hontiveros said.
"Imbes na pulis, mas kinakailangan ang mga doktor at health workers sa barangay at mga kabahayan. We need more and better barangay-based healthcare, not this," she added. —LBG/KBK, GMA News