Filtered By: News
News
Duterte 88% healthy? Lawyer asks Harry Roque to show basis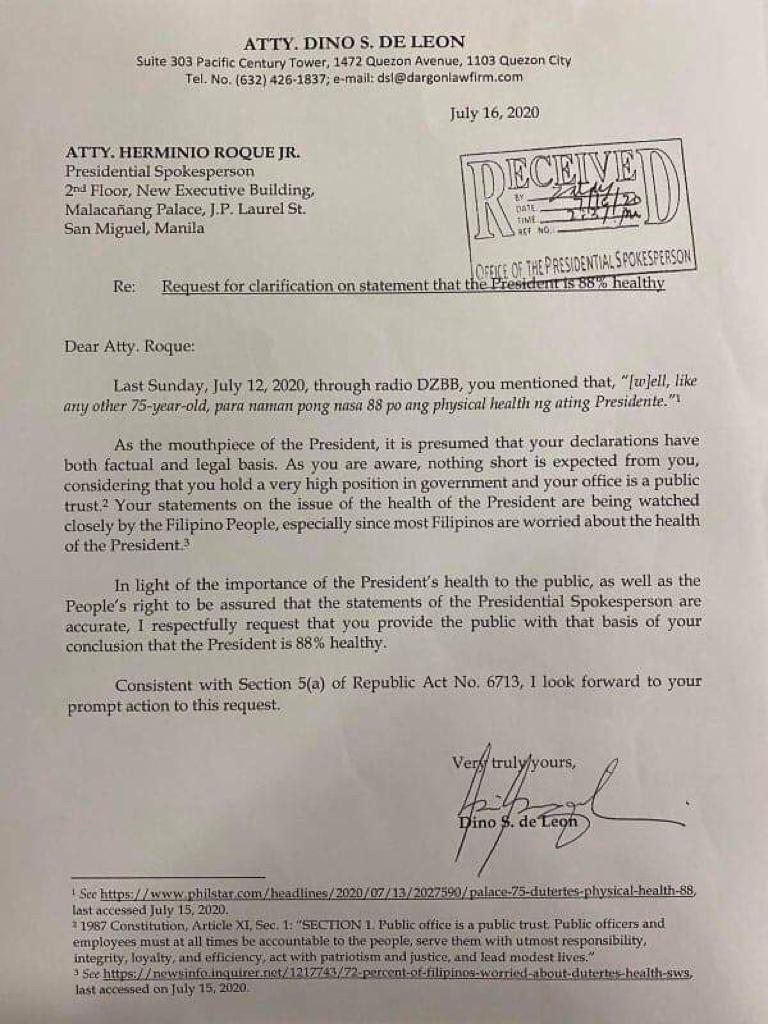 The lawyer who had moved for a public disclosure of President Rodrigo Duterte's health records has now asked presidential spokesman Harry Roque to show his basis for claiming that the President is 88% healthy.
"Well, like any other 75-year-old, para naman pong nasa 88 po ang physical health ng ating presidente," Roque told Super Radyo dzBB on July 10 when asked the President's health status on a scale of one to 100%.
In a letter dated July 16, lawyer Dino De Leon requested Roque to provide the public the basis of his claim.
"As the mouthpiece of the President, it is presumed that your declarations have both factual and legal basis. As you are aware, nothing short is expected from you, considering that you hold a very high position in government and your office is a public trust," De Leon wrote.
"Your statements on the issue of the health of the President are being watched closely by the Filipino people, especially since most Filipinos are worried about the health of the President," he added.
In making the request, De Leon cited "the importance of the President's health to the public, as well as the people's right to be assured that the statements of the presidential spokesperson are accurate."
Responding to De Leon's call, Roque urged the lawyer to accept the SC's decision junking his petition that sought to compel the government to release Duterte's health records.
"The decision speaks for itself. He should accept his legal defeat graciously and heed the high court's ruling," Roque said.
De Leon is the same lawyer who filed a petition for mandamus before the Supreme Court, asking the tribunal to compel Malacanang to publicly disclose Duterte's health records.
He cited Duterte's absences from engagements for health reasons and his appearing "incoherent" in public addresses during the COVID-19 crisis.
The lawyer also mentioned the President's several illnesses, such as Buerger's disease, Barrett's esophagus, gastroesophageal reflux disease, spinal issues, daily migraines, and myasthenia gravis.
Section 12, Article VII of the 1987 Constitution requires the disclosure of the state of the president's health in case of "serious illness."
The SC dismissed De Leon's petition last May, ruling that he failed to establish that a right was violated or that he is entitled to the writ of mandamus.
The court said Duterte's holding of regular Cabinet meetings belies De Leon's claim that he is suffering from serious illnesses.
"Further, the President's regular televised addresses to the nation as regards the government's response to the COVID-19 pandemic show that the President has been actively performing his official duties," the court said.
"Apparently, petitioner's allegation that the President is seriously ill is unsubstantiated and is based merely on petitioner's surmises and conjectures regarding his perception of the declining health of the President," it added. --KBK/LDF, GMA News