Filtered By: News
News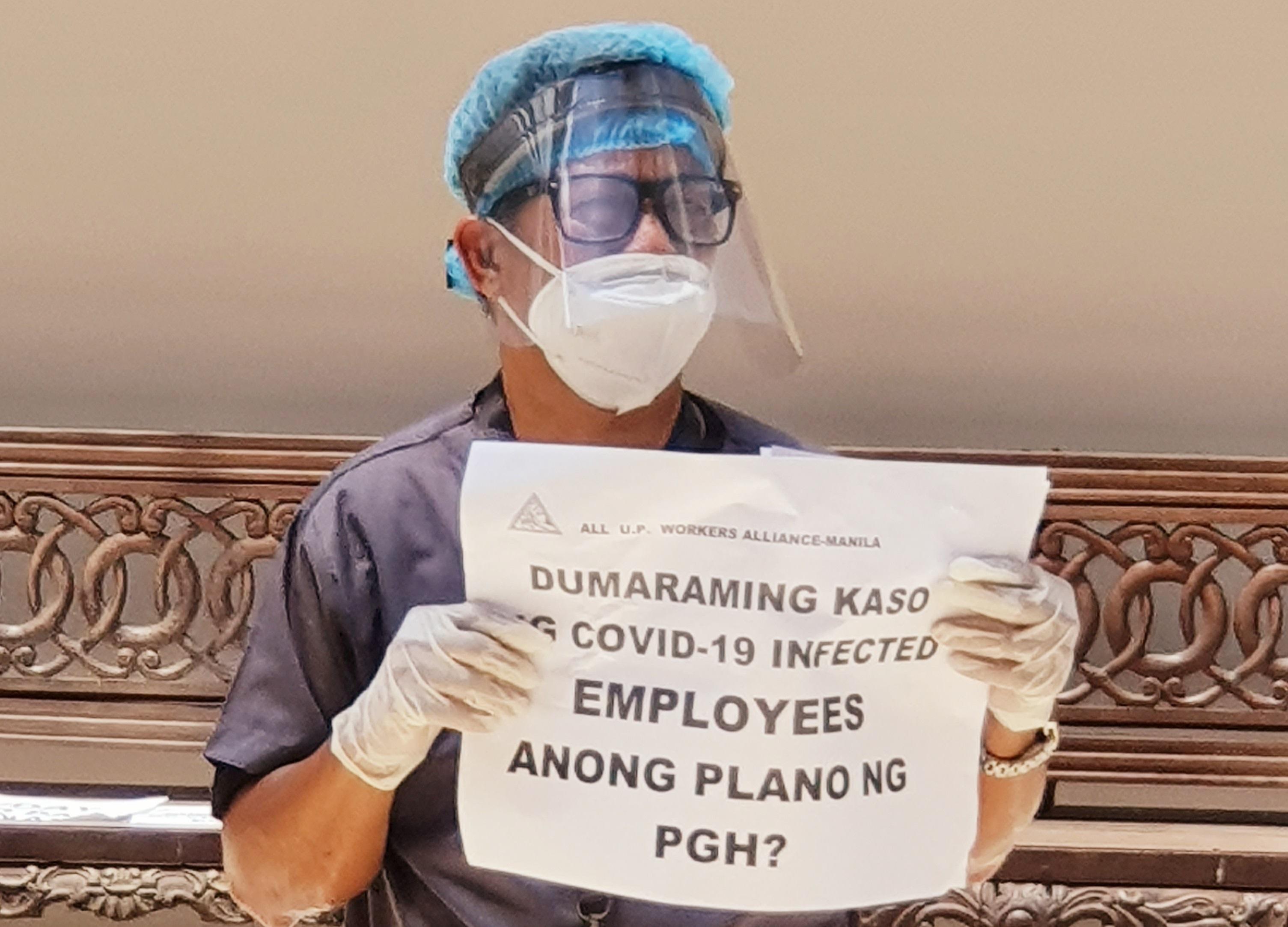 PGH nurses demand better work schedules, regular COVID-19 testing
Nurses at the Philippine General Hospital, a COVID-19 referral facility, are demanding more protection from the government as 121 of them had contracted the illness, the Filipino Nurses United (FNU) said Friday.
In a statement, FNU-PGH Chapter President Rosalina Cruz said 121 or 11% of the nurses in the hospital had been infected with COVID-19, 54 of whom were assigned at coronavirus wards while 67 work in other areas. Two nurses succumbed to the disease.
This figure is just part of the total 303 PGH health workers that have been affected by COVID-19, according to Cruz.
"This clearly reflects on the state of infection control our hospital is implementing," she said.
The FNU-PGH demanded that they be provided with an adequate supply of personal protective equipment and more favorable work shifts.
The All U.P. Workers Union supported the said call and said that the "7-day duty, 14-day off" schedule must be returned for those working in COVID-19 wards while the "7-day duty, 7-day off" must be granted to those in non-COVID-19 wards.
Further, PGH nurses also asked for regular mandatory COVID-19 testing for the effective surveillance of infection among their ranks.
"We strongly oppose the protocol of not testing again our COVID-positive yet asymptomatic colleagues after getting the 14-day quarantine as this is not an assurance that they are COVID negative already," Cruz said.
The Department of Health, however, previously said "healed" COVID-19 patients no longer have to undergo a repeat tests to be tagged as recovered.
"Patients who test RT-PCR positive and remain asymptomatic for at least 14 days can discontinue quarantine and tagged as a recovered confirmed case without need for further testing, provided a licensed medical doctor clears the patient," DOH's Department Order 2020-0258 or the Updated Interim Guidelines on Expanded Testing for COVID-19 read.
Overdue benefits, downgrading of ranks
The FNU-PGH also lamented other "long overdue" health worker benefits such as a uniform allowance.
They also demanded the provision of a Special Risk Allowance for all health workers and the implementation of an additional P500 daily COVID-19 hazard pay on top of their existing hazard pay.
The All U.P. Workers Union pointed out that Section 1 of President Rodrigo Duterte's Administrative Order No.2 had a tricky clause, "whichever is higher," that prevented PGH health workers from receiving the additional P500 hazard pay.
"Mariin itong pinupuna ng Unyon at nananawagan na tanggalin ang ganitong probisyon. Bagkus, dapat ibigay ang COVID-19 Hazard Pay, P500/day on-top o iba pa sa regular na hazard pay," the union's statement read.
While commending the salary hike for entry-level nurses, the FNU-PGH took note of the "frustration" experienced by some of their colleagues who had been demoted due to the modification of position attributes.
"In PGH, there are about 804 (out of 1086) nurses who will be downgraded to Nurse-I and 149 nurses with Nurse-III positions who will be demoted to Nurse-II position," Cruz said.
"The downgrading of our existing positions gravely affects our morale in dedicating ourselves to serve our beloved patients. At these trying times, nurses don't deserve this depressing gesture from our government," she added.
The Department of Budget and Management Circular No. 2020-4 upgraded the salary grade of the Nurse I position and provided for the adjustment of the position attributes.
GMA News Online had sought comment from the PGH on the matter but the hospital had yet to respond as of posting time. — DVM, GMA News