Filtered By: News
News
Impeachment rap filed vs. SC Justice Leonen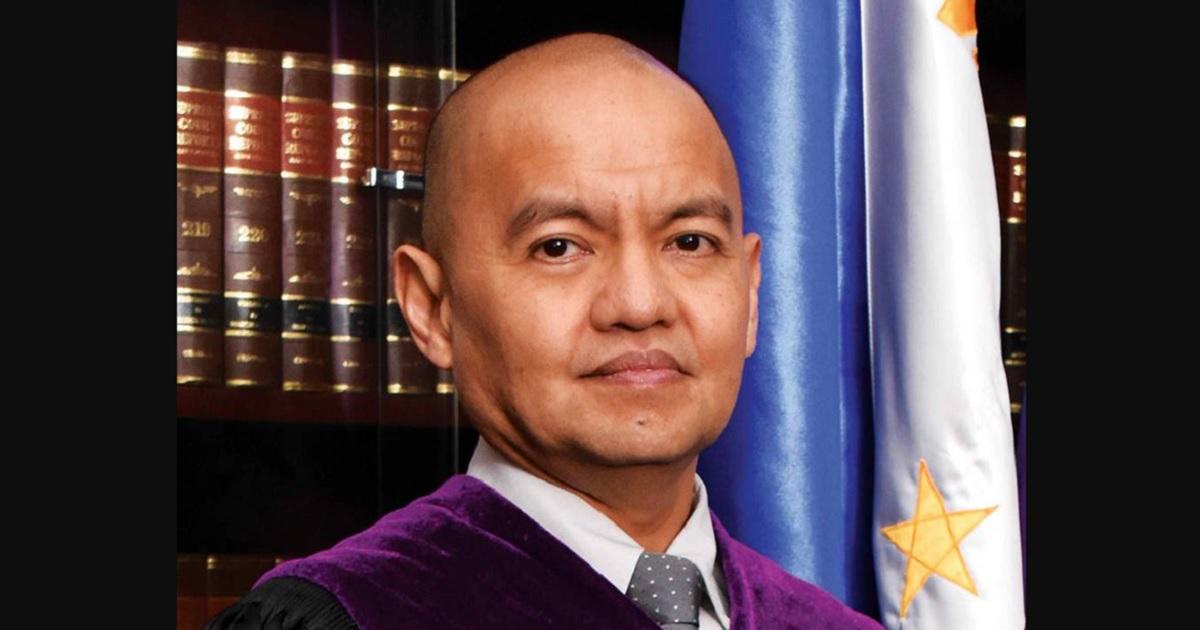 An impeachment complaint was filed on Monday against Supreme Court Associate Justice Marvic Leonen before the House of Representatives.
Edwin Cordevilla, secretary general of the Filipino League of Advocates For Good Government (FLAGG), lodged the impeachment complaint against Leonen before the Office of the House Secretary General.
Defeated senatorial candidate and lawyer Larry Gadon was present in the filing of the complaint as legal counsel of Cordevilla.

Ilocos Norte Rep. Angelo Barba endorses the impeachment rap vs. Leonen.

Barba is a cousin of ex-Sen. Bongbong Marcos, who has a pending electoral protest before the SC acting as Presidential Electoral Tribunal. pic.twitter.com/wJFj63v2Dm

— Erwin Colcol (@erwincolcol) December 7, 2020
False issues
In a statement, Leonen said Congress should not spend its time attending to "false issues" while many Filipinos are in need.
"Given the urgent and pressing needs of our people during this time of crises, we are confident that our leaders will do the right thing," the justice said.
"Certainly, this may not be the time to attend to false issues raised by some for clearly personal or vindictive reasons," he said.
Leonen said he has yet to receive a copy of the complaint.
Complaint
Cordevilla, in his complaint, alleged that Leonen committed culpable violation of the Constitution for supposedly failing to dispose of at least 37 cases within 24 months.
This, he said, is in violation of Section 16, Article III of the Constitution which mandates the speedy disposition of cases.
"Respondent's track record of gross inefficiency as shown by the snail pace in which he resolves his cases casts doubts on his competency. No other sitting Justice has ever displayed the same inefficiency and incompetence," the complaint read.
Moreover, Cordevilla claimed that Leonen also violated the Constitution for "arbitrarily, willfully, intentionally, [and] deliberately" delaying the resolution of cases pending before him as chairperson of the House of Representatives Electoral Tribunal (HRET).
He cited a statement from Ako Bicol party-list Representative Alfredo Garbin Jr. that there were still "more than 30 pending electoral protests" pending before the HRET almost a year after Leonen was appointed to the body in October 2019.
"Since the resolution of election controversies are a vital factor in our democracy, it is incumbent upon the Chairperson to ensure that pending election cases before the HRET are timely resolved since clearly, these cases are imbued with public interest and are time sensitive," the complaint read.
"By failing to act on the cases pending before him both in the Supreme Court and the HRET, respondent has clearly betrayed public trust. His incompetence and inefficiency, has caused the erosion of the public's faith in our judicial system," it added.
Lastly, Cordevilla alleged that Leonen betrayed public trust when he failed to file his Statement of Assets, Liabilities, and Net Worth (SALN) during his tenure at the University of the Philippines.
He claimed that Leonen spent 22 years in UP — from 1989 until 2011 — but, citing a "published article," the magistrate only filed his SALNs for the years 2004, 2005, 2006, 2007, 2010, and 2011.
This supposedly meant that from 1989 to 2003, and 2008 to 2009, or a total of 15 years, "respondent completely ignored the law" on the filing of SALN, he added.
For this same reason, Cordevilla argued that Leonen failed to meet the requirements set by the Judicial and Bar Council as he "failed to file his SALN for four years," from 2002, 2003, 2008, and 2009.
"Since respondent failed to file his SALN for 15 years, it would be difficult for the investigating authorities to pin him down in the event that a corruption case is filed against him," the complaint read.
"If respondent wakes up one day and decides to build a castle for his retirement home, it would be next to impossible to examine his assets and net worth since these were never filed for 15 whole years," it added.
This could be the reason, Cordevilla said, why Leonen supposedly asked the Supreme Court maintenance division to "to commence initial preparations" for the renovation of the cottage assigned to him at the Supreme Court compound in Baguio City.
Citing another recently published article, he said Leonen allegedly submitted an estimate of P4.9 million for the renovation of the cottage.
Although Leonen had denied endorsing around P5 million for the renovation of his cottage, Cordevilla said "investigative reporters" contradicted this.
He cited a July 17, 2020 letter from Leonen's office addressed to the Supreme Court Office of Administrative Services stressing the "need to renovate a few areas" in the cottage.
The "few areas," however, supposedly involved a major overhaul, which included a basement extension, lanai, viewing deck, function room, garden, landscaping, and all the amenities of a 1st class villa.
"It is shocking and appalling that respondent would even think of renovating a cottage in July 2020 — at the height of the COVID-19 pandemic," the complaint read.
"It is equally disgraceful that he would ask the Court to cough up P5 million for the renovation of a summer cottage — when millions of Filipinos are starving because of the pandemic," it added.
Marcos scion endorses
This was the first impeachment complaint filed against Leonen.
Ilocos Norte Representative Angelo Marcos Barba, a cousin of former senator Ferdinand "Bongbong" Marcos Jr., endorsed the complaint.
The former senator currently has a pending electoral protest against Vice President Leni Robredo, who defeated him in the 2016 elections, before the Supreme Court acting as Presidential Electoral Tribunal.
"Mang Ed Cordevilla came to me and as a constituent in my district, I entertained him, I heard his complaint and I believed in it. That's why I'm here as his congressman. I accompanied them, and that's it," Barba said.
The fact that he is endorsing the complaint against Leonen, while being a cousin of Marcos, "is secondary already," he added.
It can be recalled that Gadon was also one of the complainants for the impeachment of former Supreme Court Chief Justice Maria Lourdes Sereno in 2017.
Sereno was eventually removed from office through a quo warranto petition.—AOL/KBK, GMA News