Filtered By: News
News
Senate resolution thanks US for return of Balangiga Bells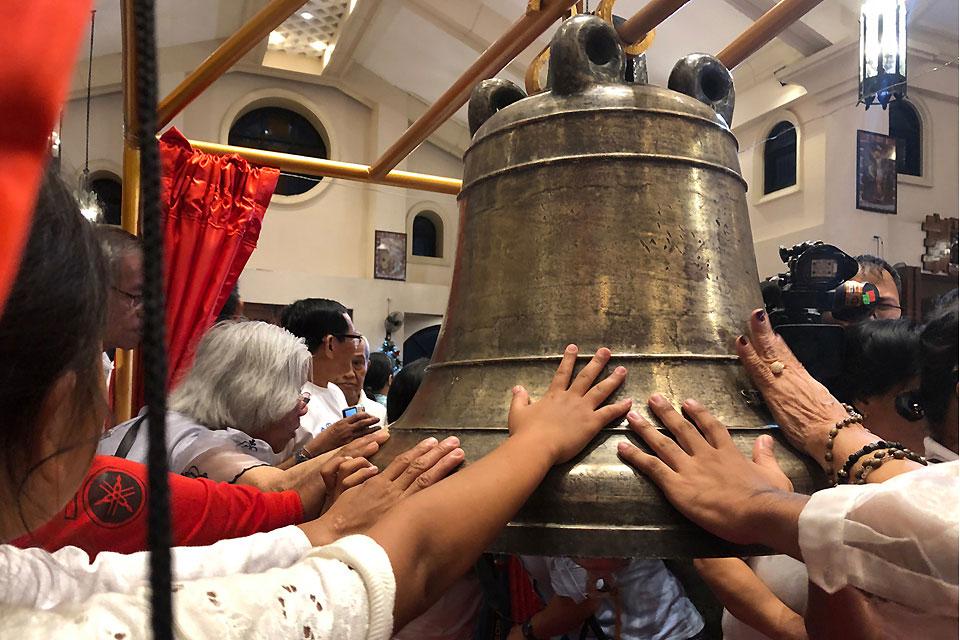 The Senate on Tuesday adopted a resolution thanking the United States for the return of the Balangiga Bells to the Philippines over 100 years since American soldiers took them as war trophies.
Senate Resolution 653 expresses the "profound gratitude of the Senate of the Philippines for the return by the United States government of the bells and recognizing the efforts of those who facilitated its return."
The measure was authored by Senator Richard Gordon and was co-authored by Senators Cynthia Villar, Risa Hontiveros, Ramon Bong Revilla, Joel Villanueva, and Imee Marcos.
The historic bells, carried by a US military plane, arrived in the Philippines on December 11, 2018, exactly 117 years after the US soldiers took them.
The US has agreed to return the bells "to forge a stronger friendship and bond" with the Philippines— its longest ally in Southeast Asia.
President Rodrigo Duterte had asked the US government to give back the bells in his 2017 State of the Nations Address.
The resolution likewise acknowledged the help of former Manila Archbishop Cardinal Luis Antonio Tagle, and three retired US Navy Officers, known as "tres marineros" - Rear Admiral Daniel W. McKinnon Jr., Captain Dennis L. Wright, and Captain Brian V. Buzzell, who led the initiative and provided the US government— Department of Defense, Veterans Service Organizations (VSOs) and the Congress— with information on the law and history related to the bells' presence in Wyoming and South Korea.
"The US-Philippine Society through Mr. Edwin Mason (Hank) Henderson, Dr. Henry B. Howard, and Ms. Ludmilla L. Kasulke, Esq. also played a key role in the return of the bells by sponsoring the SQB LLC pro-bono engagement, advocating for return within the US Administration and Congress, engaging additional firms to lobby Congress and the administration, arranging the refurbishment and transportation of the Bells, and providing duplicate Bells to honor the 9th Infantry Regiment," the resolution read.
"The US Department of Defense through the efforts of Lieutenant Colonel Theodore T. Liebreich of the United States Army, Dr. Joseph H. Felter, Deputy Secretary of Defense, and Secretary of Defense, James Mattis, returned the Bells of Balangiga to the people of Balangiga," it added. — DVM, GMA News