Filtered By: News
News
15 killed, scores wounded in Jolo blasts - military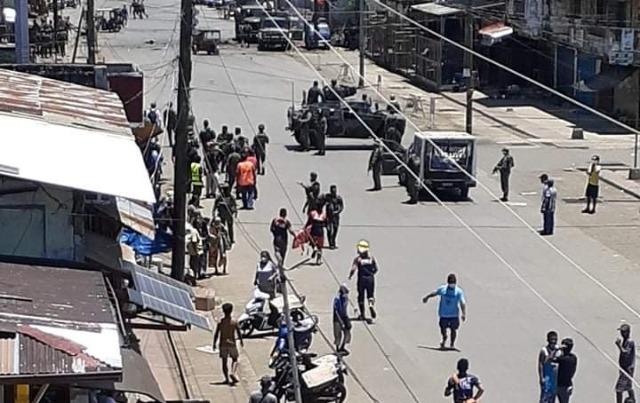 At least 15 people were killed while 55 others were injured in the Jolo, Sulu blasts on Monday, military officials said.
As of early evening on Monday, the Western Mindanao Command (WestMinCom) said the Sulu explosions had killed a suicide bomber, six civilians, seven soldiers, and a policeman.
Injured were 48 civilians, 21 soldiers, and six police officers.
Lieutenant Colonel Ronald Mateo, the civil military relations officer of the 11th Infantry Division, said the first blast happened when a motorcycle bomb exploded.
He added that based on the account of a wounded troop, the driver of the motorcycle immediately left the place. Mateo said the identity of the driver had yet to be determined by authorities.

"'Yung unang pagsabog is vehicle-borne improvised explosive device wherein nakakabit sa motorcycle then itinabi doon sa location ng mga sundalo natin pati mga civilians," Mateo said.

Mateo said that the second blast was perpetrated by a suicide bomber who was killed in the incident.

"'Yung pangalawa, it is believed to be a suicide bomber," Mateo said.

Meanwhile, WestMinCom commander Lieutenant General Corleto Vinluan Jr said the nationality of the suicide bomber was also yet to be determined by the authorities. "Hindi pa alam kung Indonesian 'yun, basta female."
He said the police officers were injured in the second explosion.
Vinluan believes Mundi Sawadjaan, who is related to the Abu Sayyaf Group, was behind the explosion.
"Ang may pakana lang talaga diyan si Mundi Sawadjaan. Actually siya na rin 'yung mastermind sa bombing doon sa Cathedral, sa Indanan...," Vinluan said.
"Siya na, wala nang iba... wala nang ibang capable na mag-execute niyan kung hindi siya lang..." he added.
Vinluan said aside from two suicide bombers, Sawadjaan was also the target of the intelligence officers slain during the June 29 shooting incident in Jolo.

"Actually, 'yun 'yung sinusundan namin noong... kaya nga may namatay na apat na sundalo noon 'di ba? Ang target nila 'yung suicide bombers plus si Mundi Sawadjaan," the military official said.
He said authorities are still determining what kind of bomb was used in the incident.
Joint Task Force Sulu spokesman Captain Rex Payot said military forces were assisting local government officials in their COVID-19 response efforts when the blast happened.
Police Regional Office - Bangsamoro Autonomous Region in Muslim Mindanao chief Police Brigadier General Manuel Abu told GMA News Online that the incident happened in Barangay Walled City at 11:40 a.m.
Abu Sayyaf behind the blasts
Mateo expressed belief that the local terror Abu Sayyaf Group was behind the attacks, especially that leader Anduljihad "Idang" Susukan was arrested by authorities early this month.
"Most probably ang terroristic act na ito is being perpetrated by the Abu Sayyaf group," Mateo said. "'Yan pa 'yung tinitingnan namin. We cannot still establish kung retaliatory ba nila 'yan."
According to Armed Forces spokesman Major General Edgard Arevalo, the 11th Infantry Division and the Joint Task Force Sulu are on high alert following the incident.
Arevalo also appealed to the public to stay calm but be vigilant to monitor any suspicious individuals in the area.
Meanwhile, Philippine National Police chief Police General Archie Francisco Gamboa ordered an immediate investigation on the incident to catch the perpetrators.—KG/AOL/NB, GMA News