Filtered By: Newstv
NewsTV
Of bumpy and dusty roads: An ATV adventure around Mt. Mayon
Multimedia producer Bernice Sibucao joined the "Ang Pinaka" team for a rocky, rough, and thrilling all-terrain-vehicle ride near Mt. Mayon. For more behind-the-scenes recaps from "Ang Pinaka," follow the Ang Pinaka Facebook and Ang Pinaka Twitter accounts.





---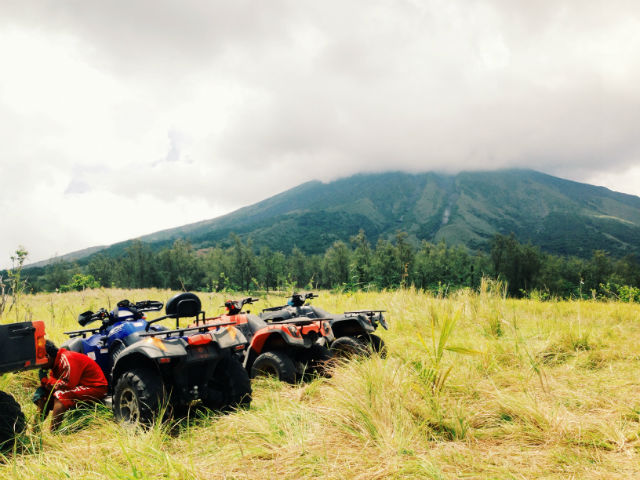 They say Mt. Mayon only shows herself to those pure of heart. Who among Team 'Ang Pinaka' has ill intentions? Photo by: Bernice Sibucao
My heart started beating rapidly as I crashed head on into "Ang Pinaka's" host Maey Bautista's all-terrain vehicle or ATV. I was cruising along the soft dirt road and admiring the canopy of the forest path when I was almost thrown off my seat.
"Maintain distance from each other. Stay alert." the bold, hand-painted text of instructions on the safety poster suddenly flashed in my mind. A case of learning from mistakes.
Ate Maey let out a yelp. Thankfully, she had her seatbelt on. My much smaller ATV also didn't even make a dent on her larger one. "These things sure are durable," I thought to myself.
ATVs are three or four-wheeled vehicles designed to cruise over rough terrains. Not unlike motorcycles, these vehicles can be operated by a single rider and can provide adrenaline junkies with a thrilling way of exploring off-road destinations – like mountainsides, sand dunes, mud pits, and yes, even volcanoes.
In Bicol, ATV enthusiasts love exploring Mt. Mayon's lahar-covered roads and green lava beds–wide expanses of tall grasses and vegetation created by the lava flows. The scenery resembles the rolling hills of "Sound of Music." But don't attempt to pull a Julie Andrews and go unmindfully running around and singing. You might fall off a cliff 2,500 to 3,000 feet above sea level.
The hills will be alive with the sound of your untimely death.
Our guide Kuya Mike checked on us. Seeing that we had no injuries, we continued our ride. Despite the lack of casualties, I couldn't stop trembling. It didn't help that the curves were getting sharper and boulders blocked huge parts of the already narrow road. The scorching heat of the midday sun was also getting to us. But continue we must, all for a closer look of the beauty that is Mt. Mayon. Would Mayon reveal herself to us, or would she choose to hide behind the clouds? This was just one of the risks we had to take.
The Green Lava Wall Trail: a briefer
The Green Lava Wall is an expanse of vegetation formed by the 1968 Mayon eruption. From this spot in Legazpi, you are offered an extraordinary view of Mt. Mayon.
To go up the Green Lava Wall, "Ang Pinaka" commissioned the services of local adventure tour company
Bicol Adventure ATV
. Bicol Adventure ATV offers three ATV trails. The easiest is the Cagsawa Short Trail (P699/head), a 45-minute ride that will take you on a tour of the surrounding ruins. This trail is perfect for beginners and those pressed for time. The median of the three trails is the Green Lava Wall Trail. The ride takes about two to three hours going to and from the 1968 Green Lava Wall. The most difficult is the Cagsawa-Lava Wall Trail (P1,850/head), which requires about two hours of speeding over bumps and navigating around sharp curves before reaching the Pawa-Mayon Lava Wall Trail (and another two or three hours going back).
Hitting the (bumpy) road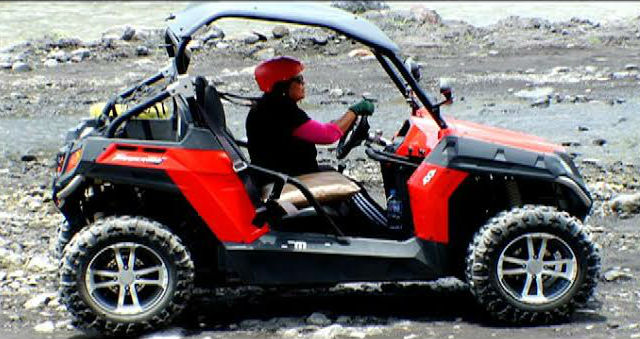 Host Maey Bautista cruises through the lahar-covered road.
Safety is a priority at Bicol Adventure ATV. Before letting us hop on our ATVs, the staff briefed us on how to wear our helmets, how to use our equipment, and generally how to stay alive (by always following our guide). We took our ATVs after for a test drive around the mock trail for a good two to three minutes, then off we went.
The first part of the trail had us driving over a bumpy lahar road. The trail was like a quarry, with boulders spread out and barely any grass to add color to the greyness of lahar. We drove over dry rivers too. According to Kuya Mike, the river dries up every summer. This part of the trail was easy enough to navigate. We rarely took sharp turns. The uphill climbs weren't that steep.
The glaring heat of the sun was what made this trail difficult to endure, though. As I was riding a dirt-bike model ATV, I had no roof to provide shade. I came unprepared as well, wearing only a sleeveless shirt and denim shorts. Early morning sun can feel like gentle rays kissing your skin, but midday heat feels harsh and prickly.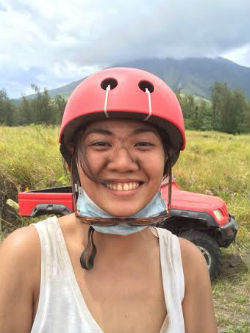 Better cover up if you don't want to end up looking like the Ang Pinaka: Yagit in Albay. Photo by: Bernice Sibucao
For those who plan on doing this activity, better start at six in the morning if you don't want an unexpected tanning session.
From bleak grey, the scenery turned green as we drove through a forest. The breeze was cooler as trees surrounded us, a welcome respite from the heat. The roads, however, produced more dust. A tip from the crew: Wear long shades, sleeved shirts and jogging pants. Make sure you're covered up, otherwise risk looking like you just got out of the mines.
The last part of the trail was the uphill climb to the Green Lava Wall. We had to be extra careful in maneuvering our ATVs as the dirt road here was much narrower and bumpier. There were plenty of sharp curves, so we had to slow down and stay alert to avoid falling off cliffs.
We were already clocking in an hour and a half drive when we took a sharp right turn to a grass clearing. It took us a while to realize, in our exhaustion, that we were already at the Green Lava Wall of Mayon.
No show, but still worth it
This high up above sea level, we were treated to a panoramic view of the city of Legazpi and the surrounding Albay Gulf and Misibis Bay.
The tall blades of grass and rolling hills of the Green Lava Wall made it hard to walk around the area. Gravity was against us. When you reach this part, tread carefully to avoid rolling over the cliff.
Despite all our efforts to reach this vantage point, Mt. Mayon did not show herself to us.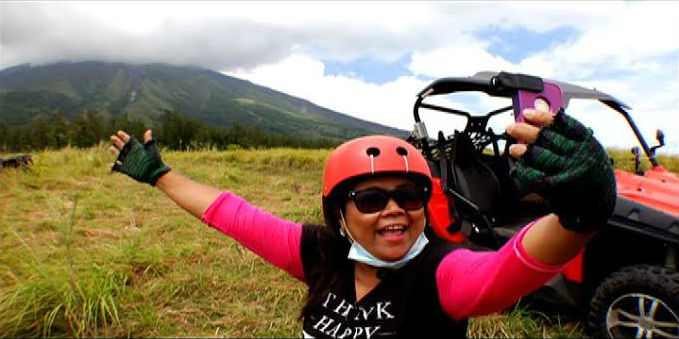 Some local legends attempt to explain why and when Mayon chooses to hide behind the clouds. One legend says that Mount Mayon is the burial ground of Princess Daragang Mayon and her lover Ulap. When clouds cover the peak, this means the princess is locked in a tight embrace and lost in a passionate kiss with her lover. Another legend says Mayon only reveals herself to the pure of heart. Could one of the "Ang Pinaka" team have had ill intentions that day?
Regardless, the rough and dusty trip up to the Green Lava Wall was worth it. It was an unforgettable experience: to enjoy the thrill of the ATV ride, with all its bumps and curves, and then enjoy a quiet moment as you soak in the beauty of Legazpi City and yes, just even the half of the majesty of Mayon.
It's no surprise, really, that this Mayon ATV adventure made it to the top of our "Ang Pinaka" Funtastic in Albay countdown.
–PF/GMA News