Filtered By: Newstv
NewsTV
'Biyahe ni Drew' Food Trip: 11 Must-Try Restaurants in Pampanga
Overwhelmed by food choices in Pampanga? Check out "Biyahe ni Drew's" restaurant guide to the province.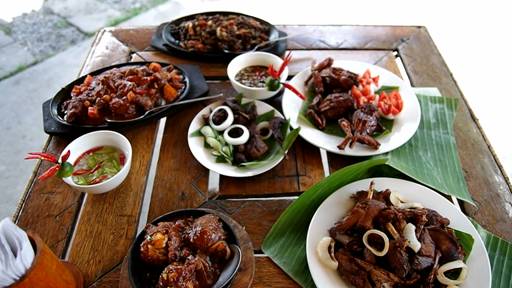 Pampanga takes its food seriously. The reason for this, Drew Arellano says, is simple: "Hindi kasi nagtitipid sa rekado ang mga Kapampangan, kaya masarap ang mga pagkain dito."

By car, Pampanga is just one hour away from Metro Manila via the NLEX. So the next time your family or barkada craves for special food, head to Pampanga. The "culinary capital of the Philippines" is nearer than you think! "Hindi nga ako matutulog eh, malapit lang ito," quipped Drew during the road trip from Manila.

Traditional dishes

Aling Lucing's and Mila's Sisig

Sisig was born in Pampanga. Sisig, as most people know it, is a dish of fatty, sizzling pork bits served on a hot plate; but the word 'sisig' originally referred to a Kapampangan way of cooking meat with slightly sour seasoning. This is why Pampanga sisig is slightly sour and less oily than the kinds found elsewhere.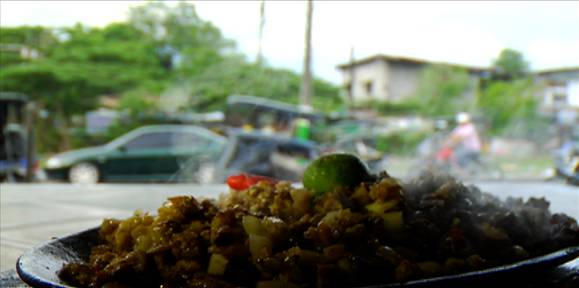 The first sizzling sisig was made at Aling Lucing's Sisig, but the sisig at Mila's Tokwa at Baboy just off MacArthur Highway is just as good. Prepare P200 for a plate of this savory, cholesterol-icious treat.

Aling Lucing's: Corner G. Valdez and Agapito del Rosario Streets, Angeles City
Mila's Tokwa at Baboy: San Joaquin St, Angeles City

Binulo Restaurant
N6410 Bldg., MA Roxas Highway, Clark Freeport Zone, Angeles City
New restaurant, traditional techniques. The word 'binulo' refers to the Aeta method of cooking meat inside bamboo poles. The specialty here is the pangat na ulang, or giant shrimps cooked in a creamy, sour sauce.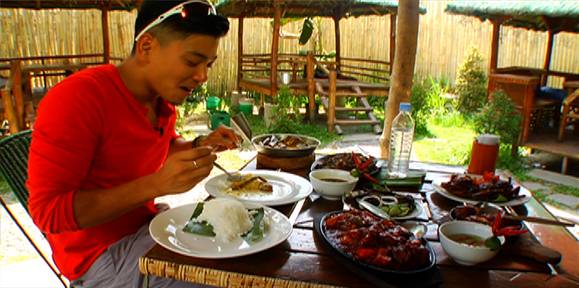 19 Copung Copung
Barangay Balibago, Angeles City
With over 30 years in the restaurant business, the foodies at 19 Copung Copung know good exotic food like the back of their hand. Try the labut ng baka (tuwalya ng baka), adobong camaro (crickets) and tocinong kalabaw.

Not into exotic food? Their classic beef kare-kare is a safe choice. "Sino bang may ayaw ng kare-kare?" asked Drew. Expect to spend P120 to P150 per person.

Only in Pampanga
Halo-halo sa Corazon
Corazon St, Nepo Subdivision, Angeles City
In Pampanga, less is more when it comes to halo-halo. Most Filipinos are used to eating halo-halo with twelve or more toppings, but Pampanga's version only has beans, sweetened saba bananas, sweet corn, and a flan made from carabao's milk.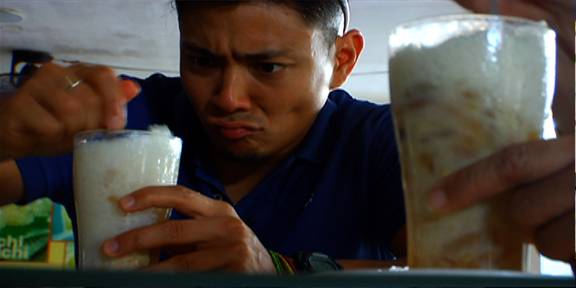 Trivia: Corazon isn't a person. This restaurant is named for the street on which it is located.

Didi's Pizza
McArthur Highway, Diamond Subdivision, Balibago, Angeles City
This restaurant has been around since 1972, serving rectangular, square-cut pizzas that are made for sharing. The 16-slice pizza goes for P279. This restaurant is so popular, it sells over 200 boxes of pizza a day.

"Modified yung pagkakagawa ng pizza para 'yung taste niya, Pinoy," says Edwardo Lael, the restaurant's manager. "Hindi ito yung tulad ng Italian pizza."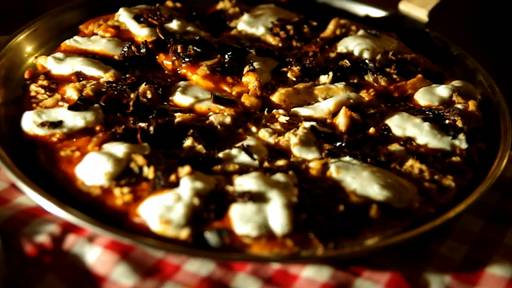 Historic Camalig Restaurant
Santo Rosario St, Angeles City
The original structure of this restaurant is that of a house and barn (camalig). "Ito ang pambansang pizza," said owner Marco Nepomuceno with a laugh. Here, the pizza is topped with longganisa, salted egg and onions. There are also tuyo, tinapa and chicken adobo pizzas. It's an odd combo, but Drew liked it!

Gill's Sherbet
Nepo Market, Angeles City
Rich, artisanal ice creams may be all the rage in Manila, but they'll have a hard time competing with Gill's Sherbet. For P20, you get a large cup overflowing with fruity goodness. This one's a favorite of 'Biyahe ni Drew' program manager Karen Lumbo, while Drew is a new fan: "Pwede bang magmura?" he said, after downing a cup of the icy dessert.


International dining

C' Italian Dining
Don Juico Avenue, Angeles City
If you want authentic Italian dining, head to the home of the famous panizza. Here, horizontally cut pizza strips are topped with arugula and alfalfa, then rolled up into bite-sized rolls.

The restaurant's walls are decorated with plates signed by famous personalities who have dined at C' Italian: GMA journalist Jay Taruc, actress Jennylyn Mercado, former president Erap Estrada and action star Robin Padilla.

Their chef, trained in making Mediterranean food, has a new addition to the menu: crispy salmon, on a bed of caramelized asparagus, topped with a giant prawn and basil. Fancy stuff! Be prepared to shell out for this fine-dining restaurant. Expect to spend P500 per person.

Yu-Fu-In Restaurant
1st St, Angeles City
Yakiniku (grilled meat) is the house specialty in this authentic Japanese restaurant with waiters that greet you in Japanese. Tipid tip: Come during weekday lunches and avail of their set meals which include rice, fruit, soup and a main dish for just P185. If you come during dinner or during weekends, the same meal will cost between P250 and P500.

Purple Pad Thai
675-B2 McArthur Highway, Balibago, Angeles City
"Hindi ko palalampasin ang Thai food," said Drew. This resto has only been around for two years, but has a great reputation with locals students, tourists and food bloggers. They serve sour tom yum, savory satay and the refreshing pomelo salad, among others. For P300 a head, you're good to go!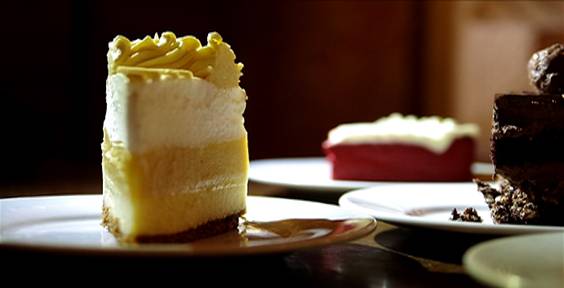 Cioccolo
Royal Garden Estate, Friendship Circumferential Road, Angeles City
When you're full, treat yourself to one of their specialty cakes. Try the Ferrero cake, pistachio sans rival and crème brulee cheesecake. For their set meal of entrée, drink and cake, you'll pay P600.

Where to stay
Tune Hotels
Angeles City
The Tune Hotels are a global chain of accommodations for budget travelers. Here, you're in control of your room rate. Rooms good for two start at P700 a night but can go up to P2000 depending on what kind of add-ons you want, such as extra mattresses or a bathtub.