Filtered By: Newstv
NewsTV
Baler, beyond surfing: An itinerary by 'Biyahe ni Drew'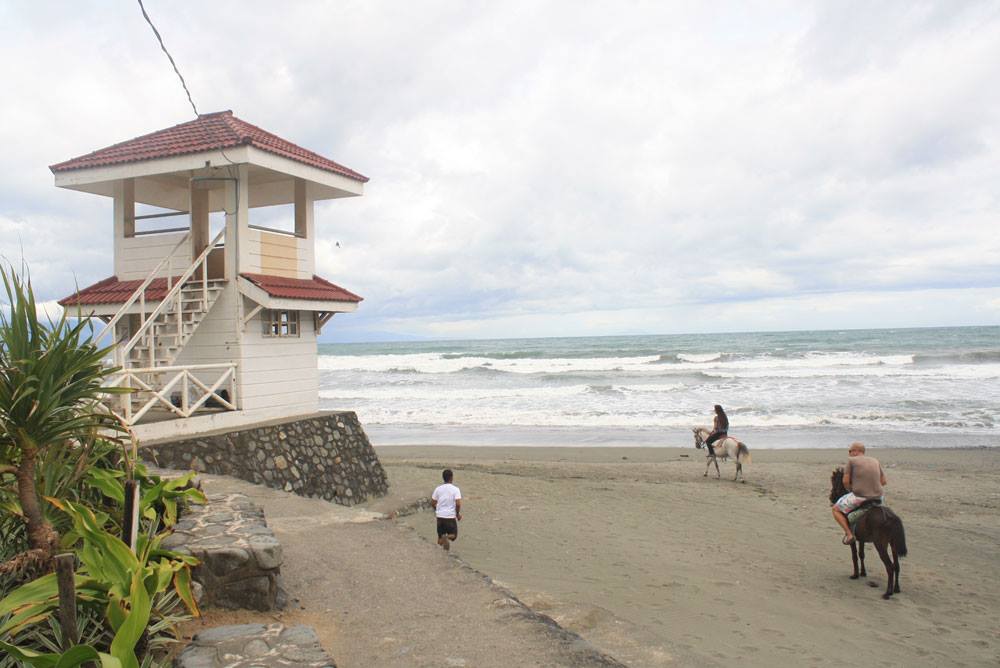 There's more to Baler than surfing. In fact, it's a great destination for couples and families!
Say "Baler, Aurora" and most people will think of surfing. Actually, the "Biyahe ni Drew" crew did, too — that is, until we spent four days in the so-called heart of Aurora. Long story short: Baler is as much a destination for a romantic getaway with your special someone as it is for a weekend of surfing with the barkada.
Here's the itinerary Drew Arellano and our crew used.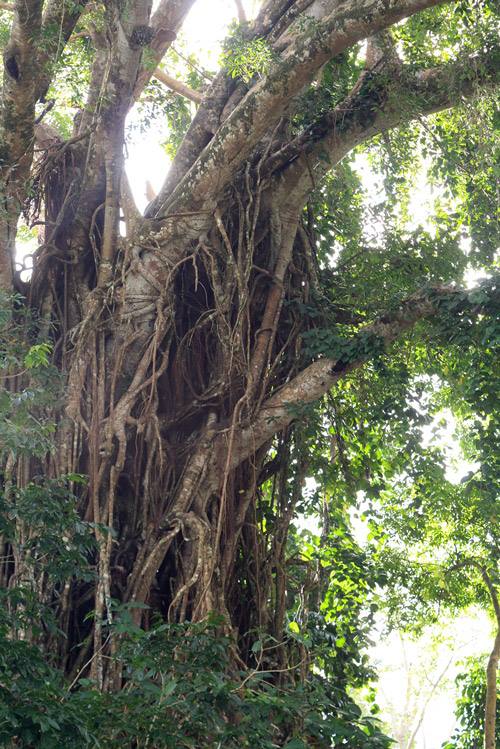 How to get there
Baler is located around 230 kilometers northeast of Manila. We left Quezon City at 2:00 AM and arrived at Maria Aurora, Aurora at 7:00 AM. Maria Aurora is actually a municipality you'll pass through before getting to Baler; it makes a good stopover because of the
Millenium Tree
, which, as its name suggests, is a towering and ancient tree.
From Maria Aurora, it's another hour of driving to Baler.
If you don't want to take a car, you can always take a provincial bus from the terminals in Metro Manila.
Genesis Bus Transport has the only direct route from Manila to Baler, Aurora.
One-way regular fare is P404, while their Joy Bus Executive Coach costs P695. The executive coach has an onboard comfort room, bus stewardess, free wi-fi, blankets and pillows. Only downside here is you'll miss the stopover at Maria Aurora.
Stopover: Millenium Tree in Maria Aurora, Aurora
In Manila, balete trees come hand in hand with superstitions and horror stories, but in Aurora, their massive balete tree is a source of local pride. The Millenium Tree is estimated to be around 600 years old and is over 200 feet tall! It takes close to 50 people holding hands to circle the tree.
Entrance is free, but the park has a donation box for the maintenance of the grounds.
Where to stay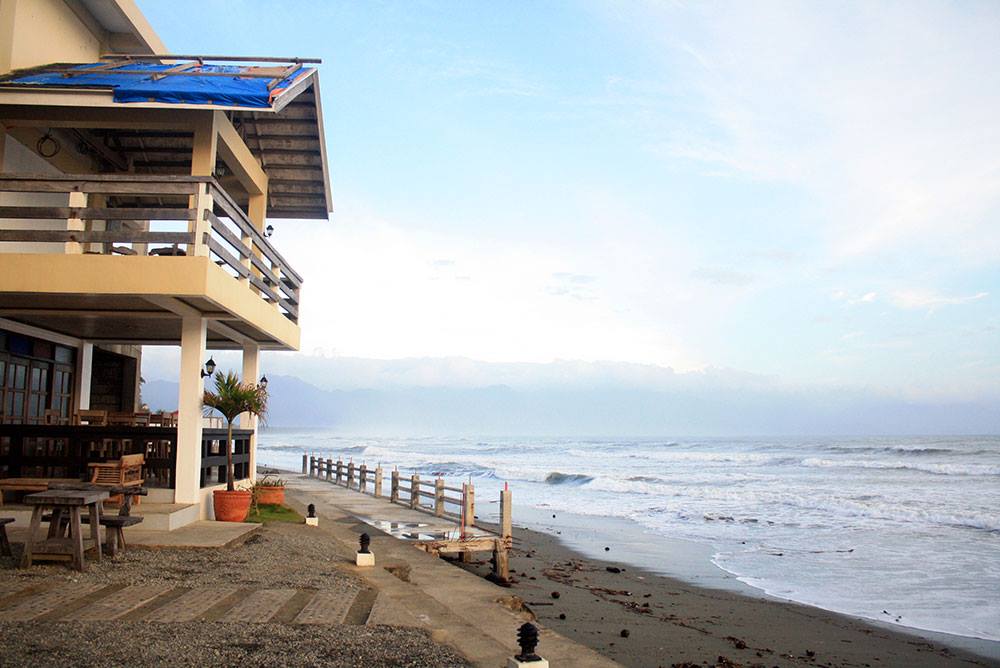 Aliya Surf Camp
Sabang Beach, Baler | Mobile number: +63 939 9390929
Roy is the only surfer in a family of lawyers. After studying in Manila, he came home to Baler and opened his own hotel. Aliya Surf Camp gets its name from Roy's daughter, and is located along Sabang Beach.
Top-notch surfing lessons (P350 per hour, inclusive of board rental) are what sets Aliya apart from its competitors.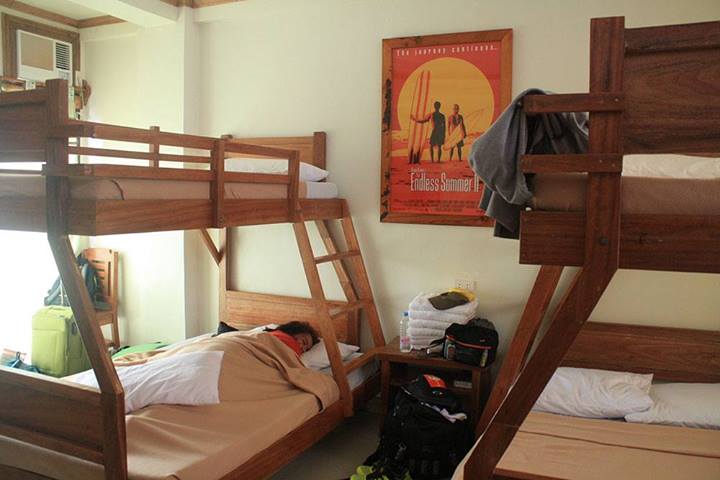 The rooms keep it simple with plain white walls decorated with posters of surfing movies. In the barkada rooms, you get comfy bunk beds. All rooms come with air-conditioning, cable TV and a hot-and-cold shower. A room for four will cost P4500 a night — not bad at all.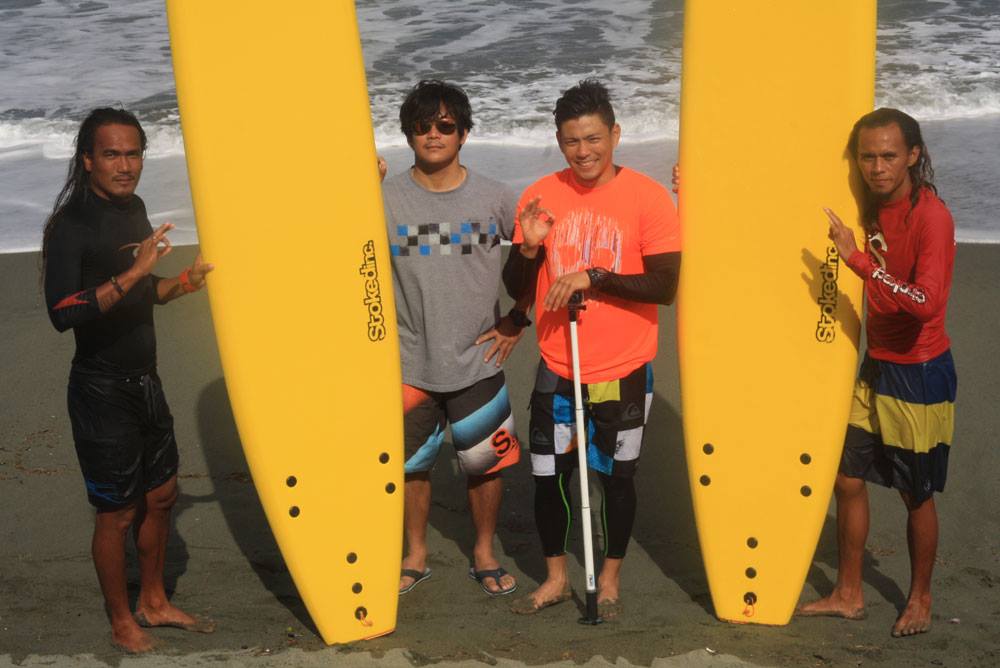 Apart from getting to meet local surfers, our favorite part of our stay at Aliya was the food. Be sure to order their Pako Salad with Beef. Unlike the traditional salad of pako ferns, salted eggs and fresh tomatoes, Aliya's version tops the fluffy ferns with chewy beef jerky cooked in a light, sweet-salty sauce.
Costa Pacifica
080 Buton St., Sitio Labasin, Sabang Beach, Baler | Manila Office: +632 576 4555; Baler Office: +63917 853 6040
Costa Pacifica is walking distance from Aliya Surf Camp and offers luxurious tropical accommodations. Think infinity pool and gourmet dinners! This is where we celebrated Drew's birthday, and Costa Pacifica even prepared a personalized menu for our dinner.
Our team loved their Baler Longganiza Pizza and its freshly made dough. Baler's Bounty, a plate of grilled fish, tomato salsa and spiced salt was also a hit.
If you plan on staying in Costa Pacifica, a room for two adults starts at P3000. All rooms can accommodate two children up to seven years old for free.
Check their breakdown of accommodations here.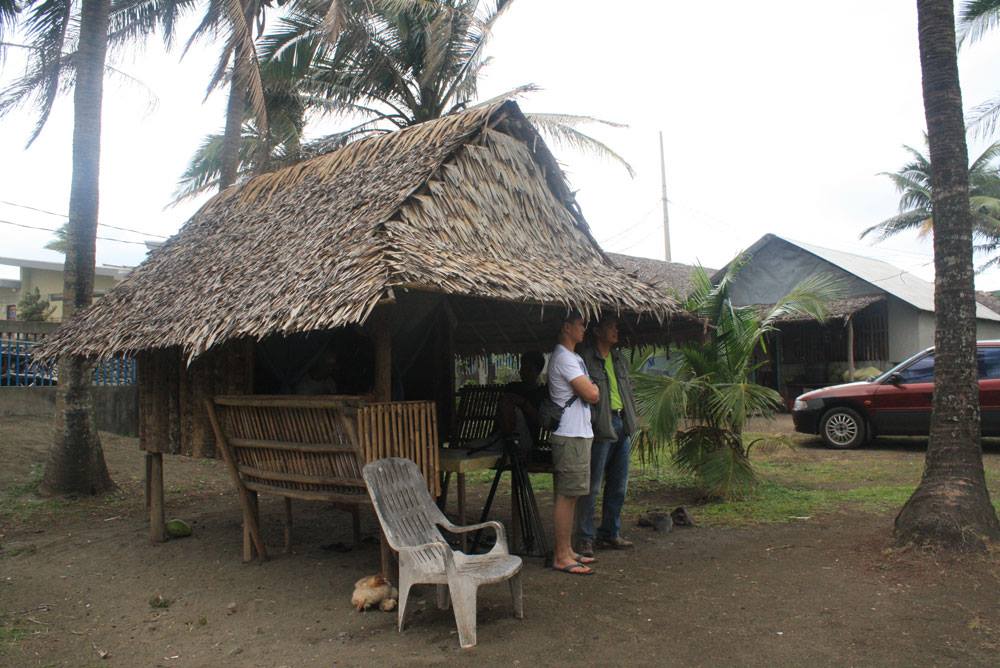 Tent City
Sabang Beach, Baler
If you're there simply to surf, this tent camp is a good pick. P250 a night gets you a bahay kubo in front of the beach. This small bahay kubo comes with a sleeping area with curtains, benches and a table. The main clients of this extremely spartan camp are visiting surfers. Parking is available for around P20 a night, depending on the size of your vehicle.
What to eat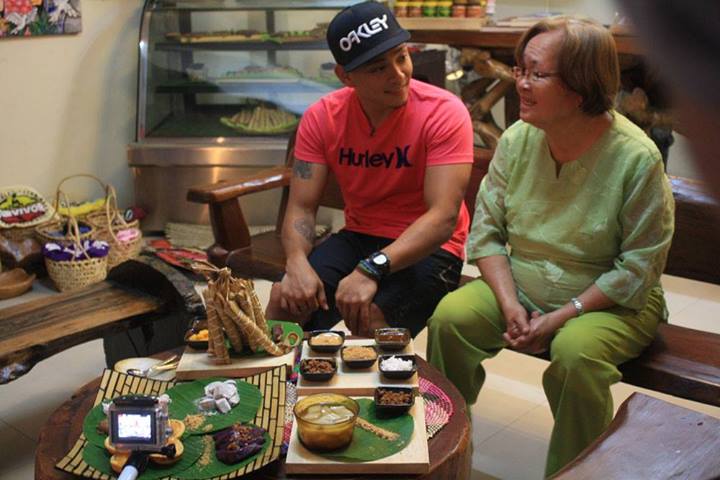 Local sweets (kakanin) at Nanay Pacing's Cafe
"Bakit hindi pa kayo kumakain?" Nanay Pacing asked us, with a hint of worry in her voice. We explained that before any of us on "Biyahe ni Drew" can taste her delicious homemade sweets, we have to film the food. Nanay Pacing takes pride in her products, and rightly so; they're amazing!
The secret to Nanay Pacing's success is her insistence on quality. Her creamy peanut butter has no oil, while her coco jam is made using pure coconut milk. A bottle of the sweet stuff will set you back P90.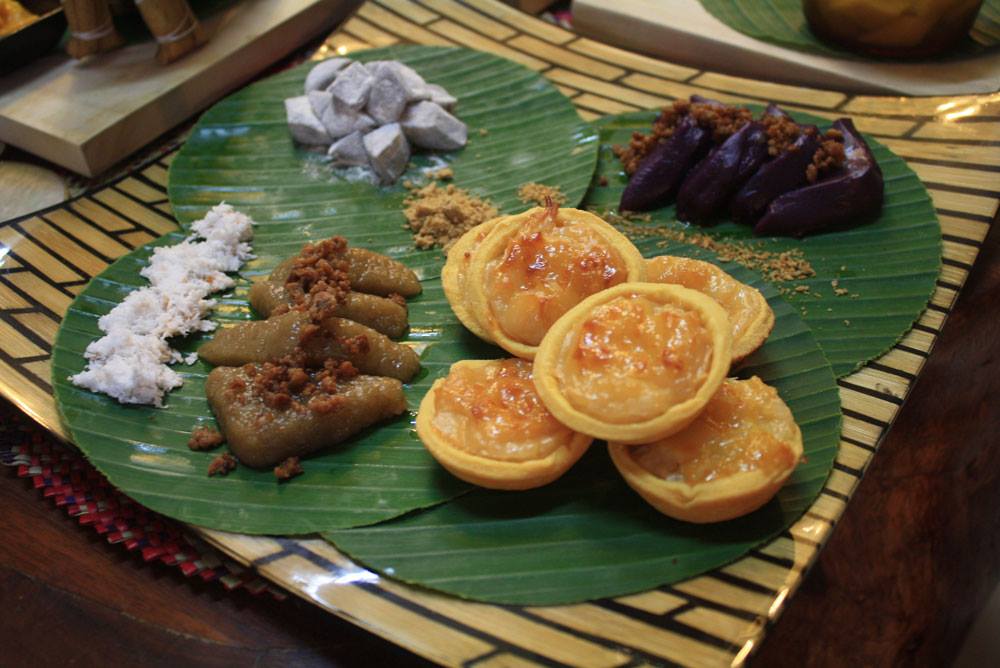 If you want to level up your road trip, pass by her cafe and get a take-out box of her homemade kakanin for P60. Nanay Pacing makes suman, espasol, rice cake in latik syrup, mango tarts and more.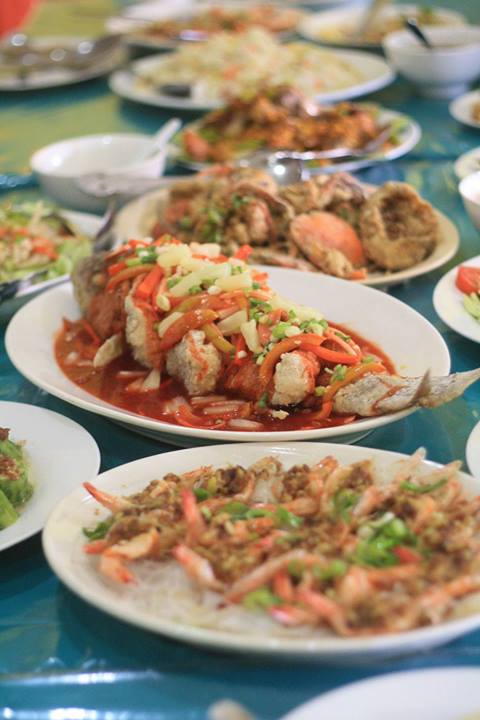 Gerry Shan's Place
Quezon St., Brgy. 02, Baler
A buffet for P185 sounds incredible — is it simple, cheap food? Chef Shan Gao will prove you wrong. Chef Gerry, as he is known here, migrated from China in the year 2000. After working in Manila, he settled down in Baler and opened his own restaurant.
The smiling, soft-spoken chef serves up thoughtful, even intricate Chinese dishes like cored cucumbers stuffed with savory meats, garlic prawns on a bed of sotanghon noodles, and more.
Not up for a buffet? Gerry Shan's Place also has a la carte dishes for dine-in and take-out. You can get a meal for as low as P90!
Yellow Fin Bar & Grill
Located in between Aliya Surf Camp and Costa Pacifica, Yellow Fin is a great place to enjoy a beer over some grilled seafood and liempo. All you need for a night out is P300. Bonus: Beside the bar is a shack that rents out bicycles and organizes tours on bikes and horses.
What to see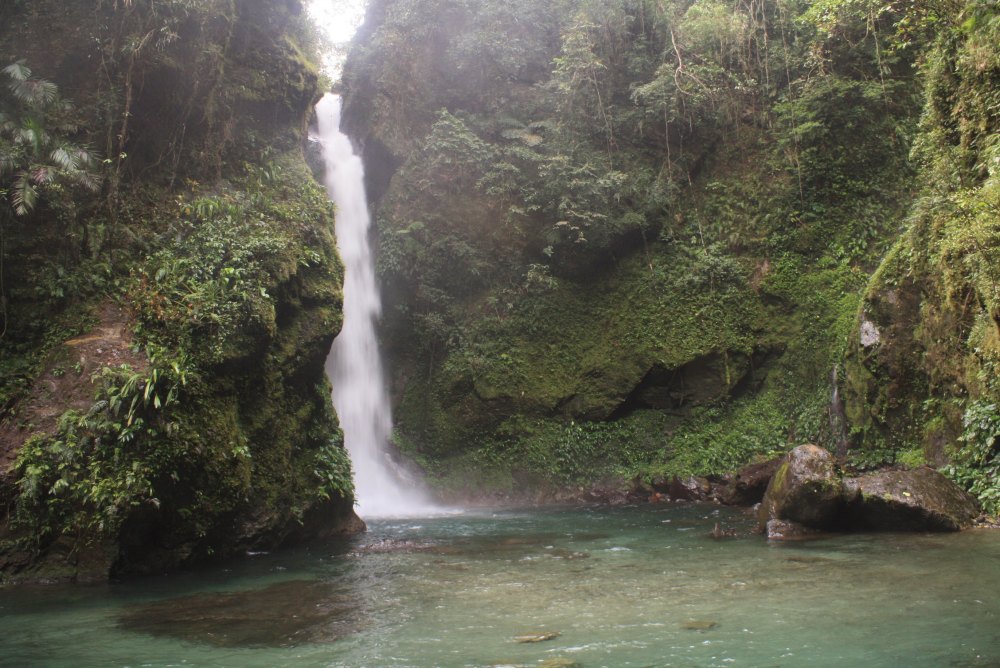 Mother Falls
If you've got a morning to burn and a hankering for nature, take a side trip to Mother Falls in neighboring San Luis, Aurora. It's a 30-minute drive and 30-minute trek to the falls, so be ready with your trekking sandals and a dri-fit shirt that will dry quickly after a dip in the pool.
For more details, check out our full travelogue on the experience.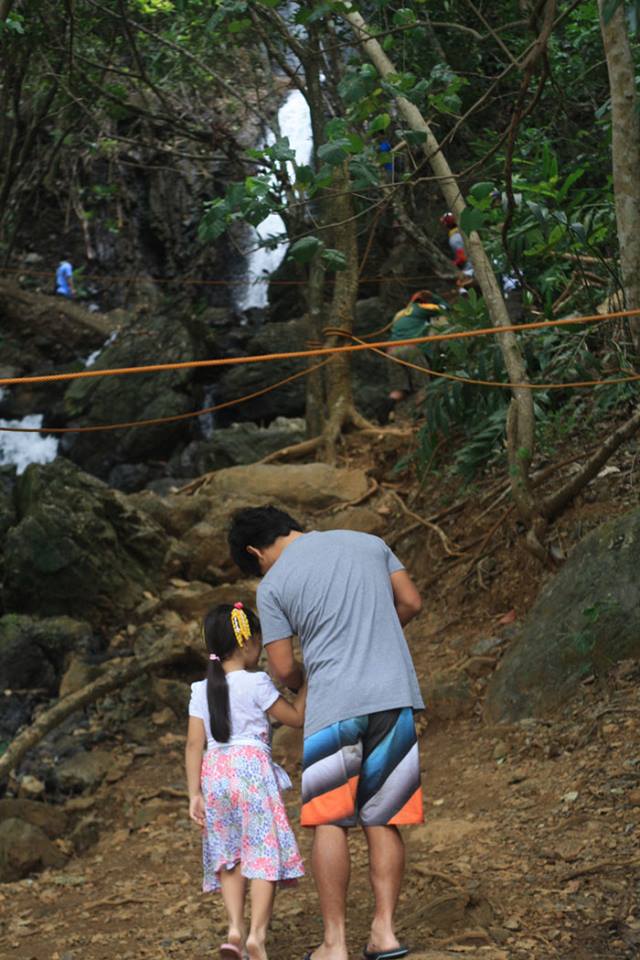 Diguisit Falls
The "Biyahe ni Drew" crew drove to Diguisit Falls immediately after trekking to Mother Falls. At this point, the legs of some crew members were aching. Good news: Diguisit Falls is literally beside the road!
All you need to do is park and once you exit the car, you'll be able to see the waterfalls from the road. Climb up a bit with the help of the guide ropes and you'll reach the actually pool in less that five minutes.
With us were Roy and Aliya, who was even wearing a frilly pink dress. They clambered up with little difficulty, which points towards Diguisit Falls being a destination for the whole family.
What to doSurfing
This one's a no-brainer. You can't visit Baler and not try surfing! We had our lessons at Aliyah Surf Camp. Just take note that the best season to catch a wave is from October to May.
Hot springs
Hot spring in the middle of a farm? It sounds unconventional, and it is. But if you're looking for an unusual place to hang out with your friends, this is a good place to relax. You can even have a photo shoot in the farm's hanging garden and enjoy fresh buko juice.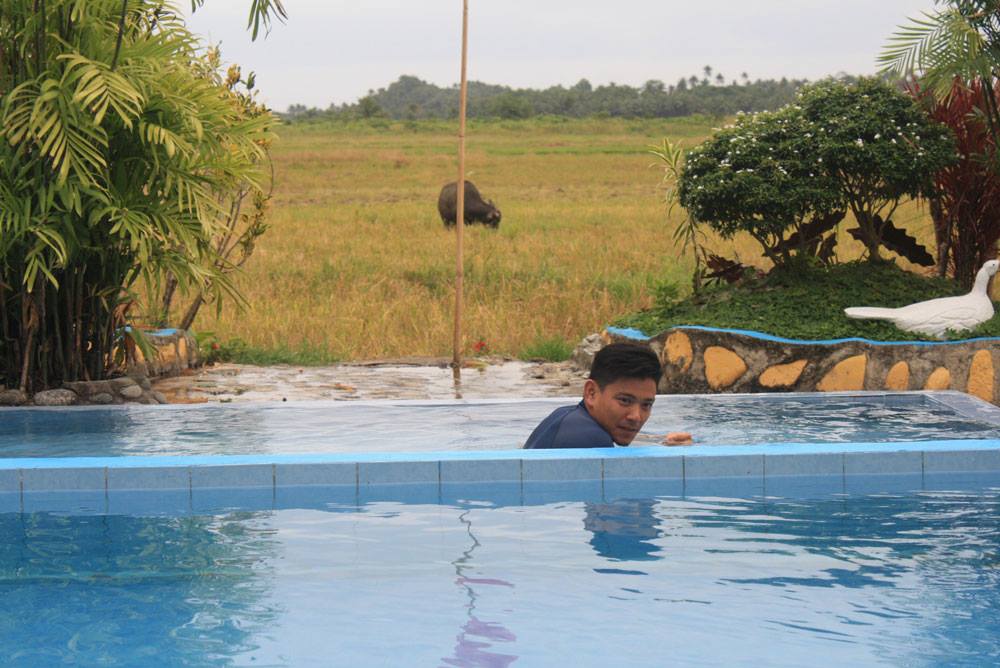 —CM, GMA News