Filtered By: Newstv
NewsTV
Valentine's at Bokod, Benguet: Drew and Iya's 'Biyahe ni Drew' itinerary
"Biyahe ni Drew" airs every Friday, 8:00 PM, on GMA News TV. For more information, follow the show on Facebook and Twitter. For updates on your favorite documentaries, follow also the official Facebook page of GMA Public Affairs.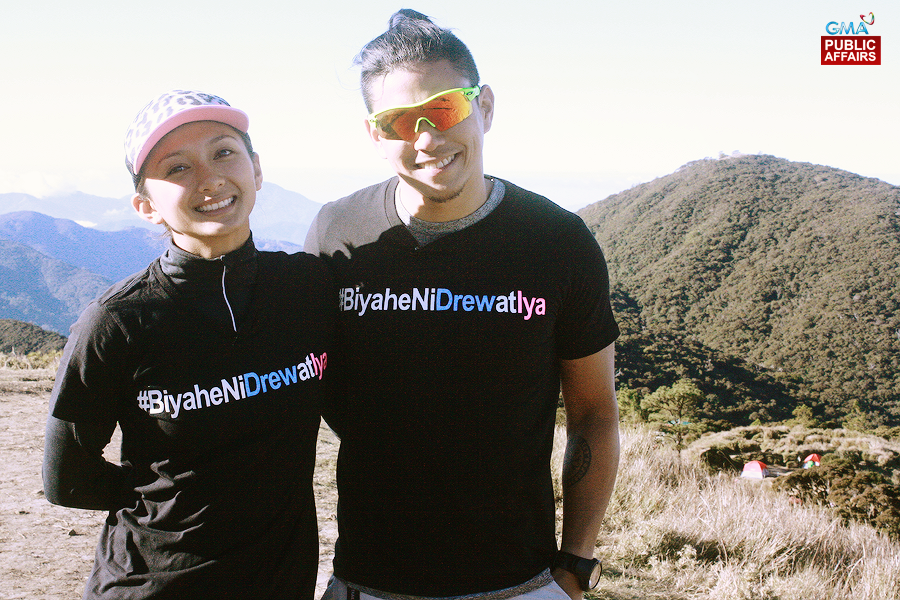 People say that the first person you want to spend time with when you go to a new place is the most important person in your life. This much is true for Biyahero Drew Arellano, who always mentions that he wants to travel with his wife Iya on "Biyahe ni Drew." He does not have to do so anymore because at long last, Iya has finally joined Drew in one of his many trips! The occasion: Valentine's day. The destination: Mount Pulag and Bokod, Benguet.
Mount Pulag is the the highest mountain in Luzon and the third highest in the Philippines. There are three trails available for people who want to climb the mountain from Benguet. First is the Akiki trail, which takes more than two to three days to finish and is suited for more experienced climbers. Second is the Tawangan trail, which starts at Kabayan, Benguet. This trail is steep and could also be difficult for inexperienced climbers. The third option is the Ambangeg trail, which is also the easiest and safest trail up Mount Pulag.
For their Valentine's adventure, Drew and Iya chose to take the Ambangeg trail and make a couple of stopovers in Bokod, Benguet. Here is their itinerary!
How to get there
A bus ride from Manila to Baguio usually takes 6 hours so if you want to make the most out of your trip, better leave the city as early as 12 midnight. Once in Baguio, you will have to ride a jeepney that will take you to the several stopovers and jump-off points on the way to Mount Pulag.
Where to eat
Pinkan Jo
Benguet
Meal prices start at P50
Most of the people who have attempted to climb Mount Pulag start their day by having breakfast at Pinkan Jo Eatery. Since it is a popular stopover, the place is almost always packed with tourists especially during weekends. "Pinkan Jo," which literally translates to "Hi Jo," is a classic Pinoy roadside resto where you order Filipino food right off the counter. This is also the place where climbers usually get their packed lunch or dinner.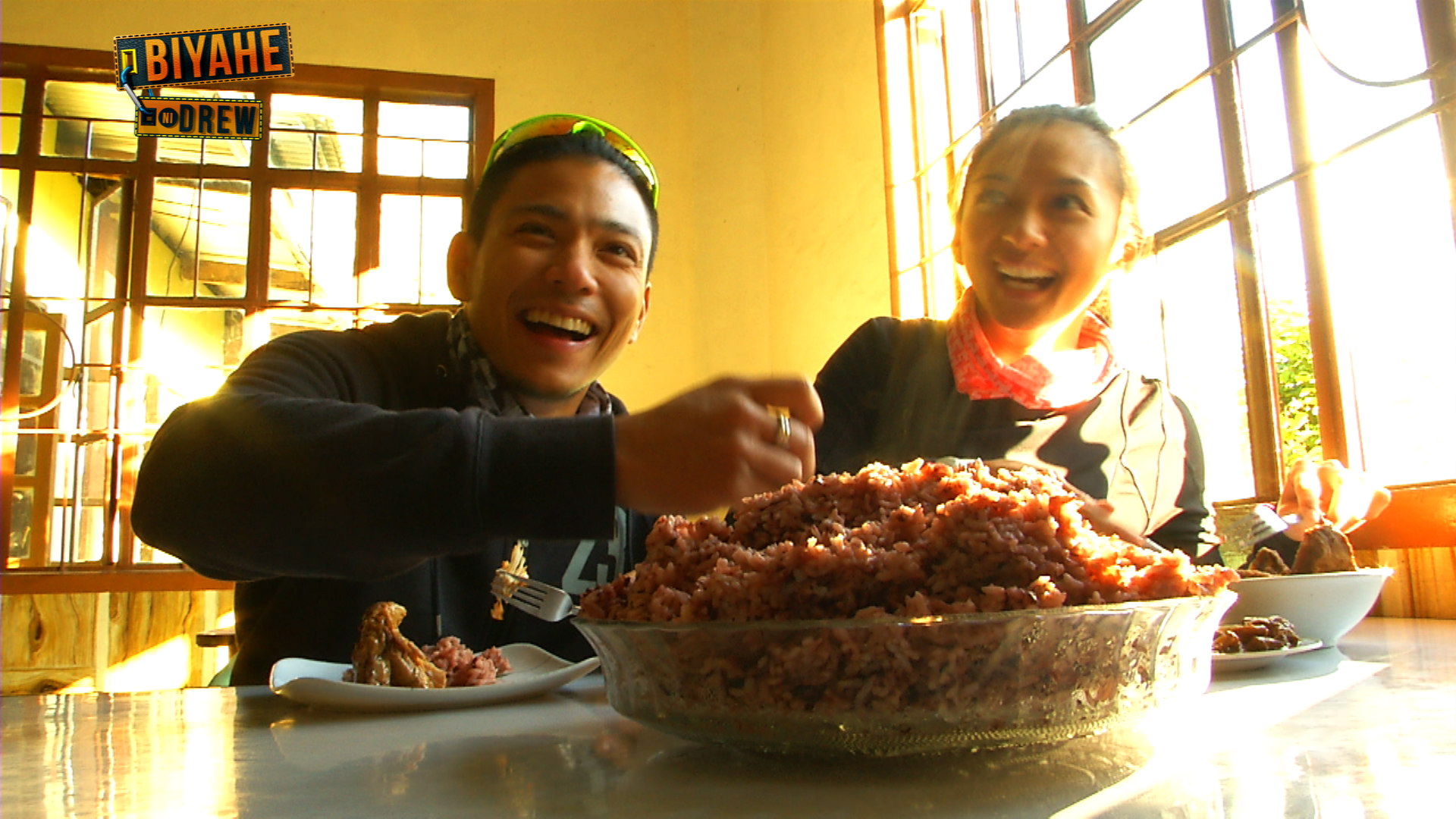 Drew and Iya's meal consisted of brown rice, beef nilaga, chicken adobo, beef steak and coffee. Sounds heavy? Well, if you are going to spend the next hours trekking then you must come prepared.
Stopovers
Ambuklao dam
Ambuklao, Bokod, Benguet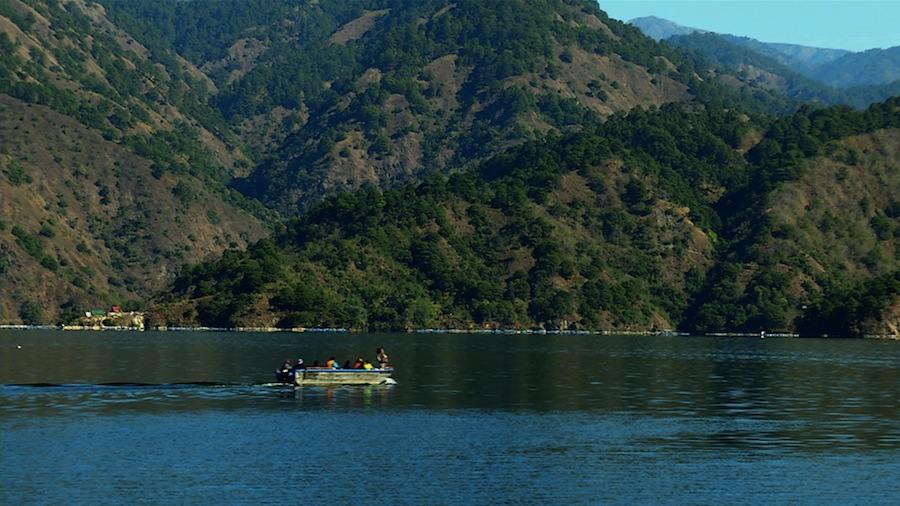 Drew and Iya's first destination was Ambuklao Dam, which serves as one of the sources of electricity in Luzon. The lake also provides most of the fish consumed by the people in the area. The clear water of the lake mirrors the blue sky above and provides a dramatic setting for anyone who wants to take photos. The mountains surrounding the lake further amplify its beauty.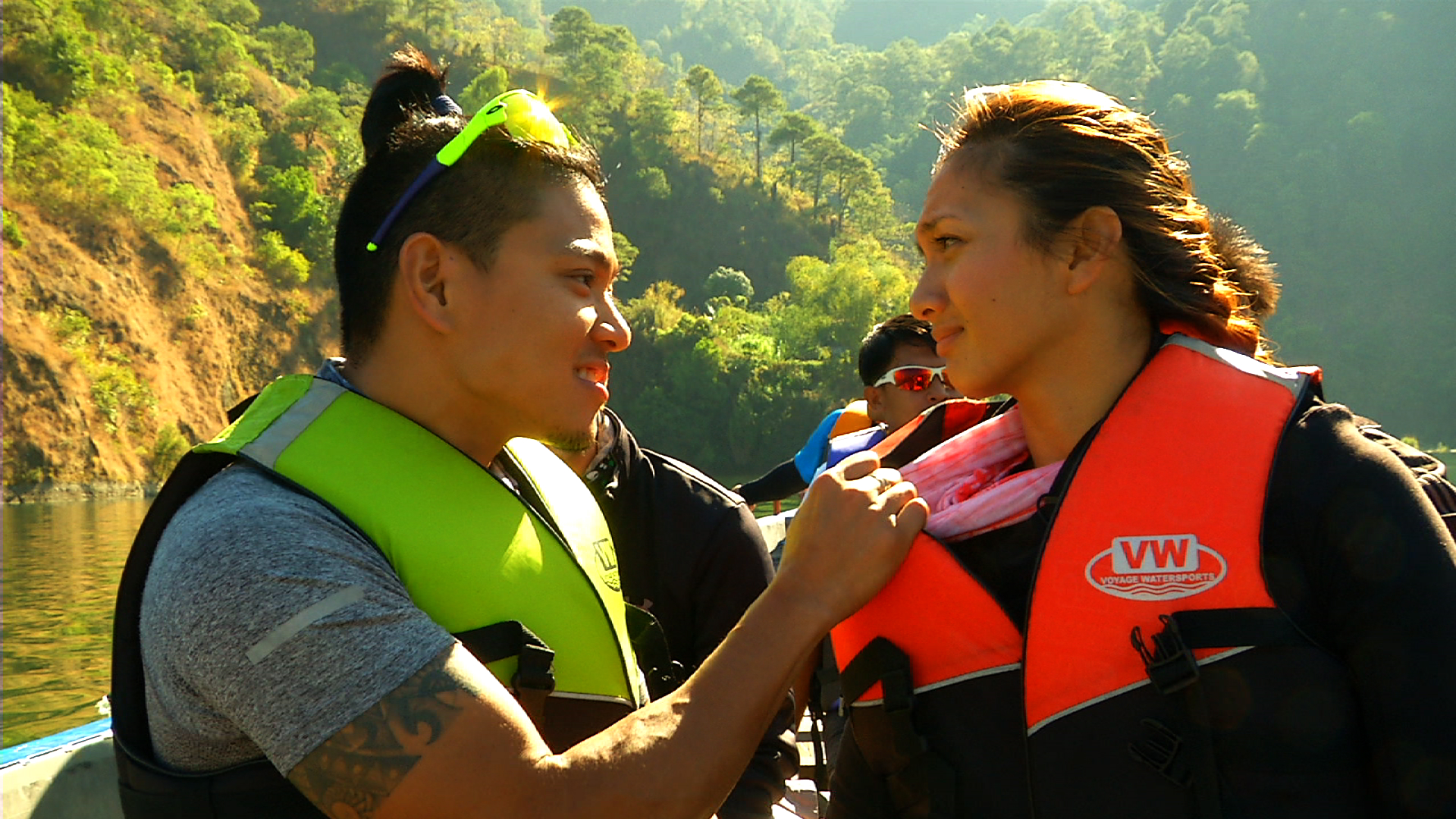 Drew says, "Sa mga experiences ko sa lake, ito ang pinaka-kakaiba dahil sa temperatura." Indeed, the temperature in the lake was freezing. Better think twice before trying to swim. Not that swimming is allowed.
Drew and Iya got the opportunity to ride a fisherman's boat and explore the Ambuklao lake for free. If you want to do the same, you can negotiate with one of the fish pen owners.
Jangjang hanging bridge
Bokod, Benguet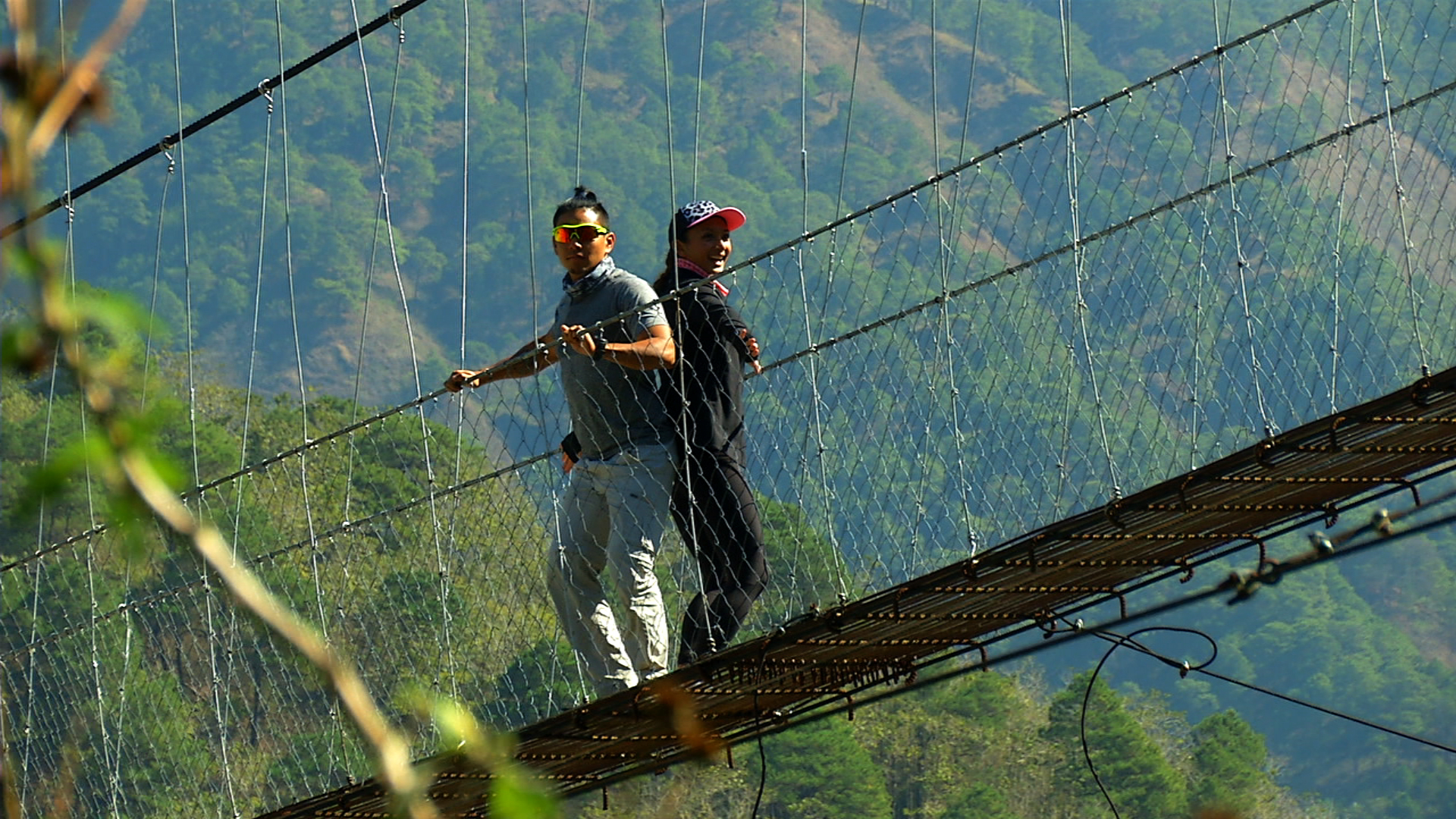 Horror movies and amusement parks are great Valentine gimmicks for daring lovers but if you want a real outdoor adventure, try crossing a narrow hanging bridge. Hanging bridges are quite common for the locals of Bokod, Benguet but tourists love crossing them. While Drew and Iya were on their way to Mount Pulag, they stopped over Jangjang hanging bridge, which is 290 meters long and is one of the longest hanging bridges in Benguet. Because it is situated near an eatery, Jangjang has also become a favorite pictorial spot for climbers. More than that, crossing the bridge is a thrilling experience especially if you are going to do it with your Valentine's date. It's also free of charge!
Bajungbong falls
Karaw, Bokod, Benguet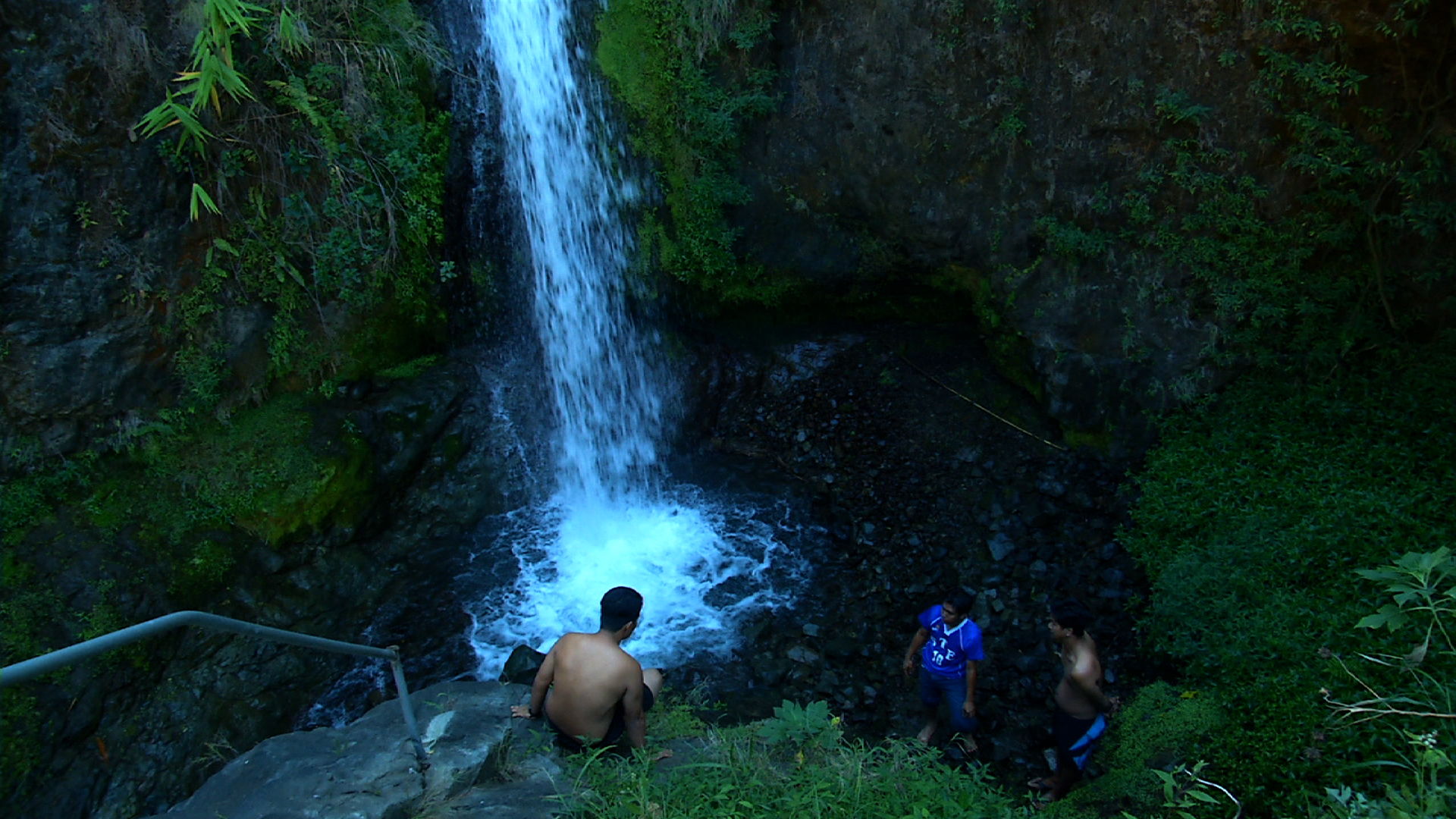 Karaw is one of the ten barangays in Bokod, Benguet and is comprised of an ethnolinguistic group that bears the same name. One of the main attractions in the barangay is the Bajungbong falls. There were no other tourists when the BND crew went to the falls mostly because it is still not fully-developed. This could be a good thing because we had the place all to ourselves! To visit Bajungbong falls, contact Bokod's local Tourism office.
Badekbek sulfur springs
Daclan, Bokod, Benguet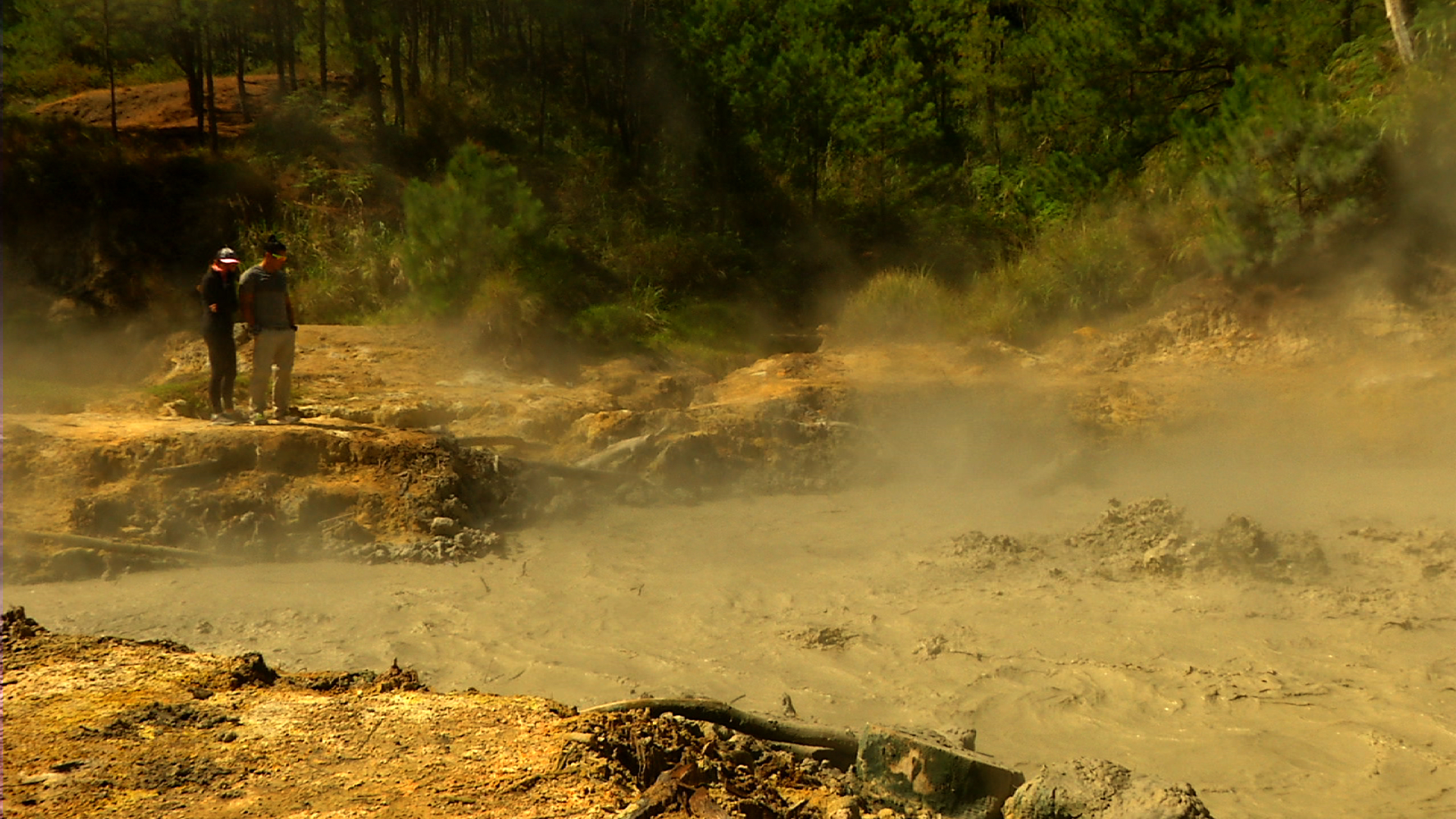 Benguet may be one of the coldest places in the Philippines during February but there is a place in the mountains that will surely give you a reason to sweat… and cover your noses. Badekbek sulfur springs is basically a small spring of boiling sulfur found on the way to Mount Pulag's ranger station. The smell that the spring emits is bad but it becomes bearable after a while. Drew likened the stench to the smell of rotten eggs. Biyahero reminder: Be mindful of your steps when you're here because the ground is naturally soft and muddy. You don't want to get into any accidents before the actual climb!
Mt. Pulag's Ambangeg trail
DENR office
Before starting their Valentine's trek, Drew and Iya had to attend an orientation at the DENR office. This is compulsory to anyone who wants to climb Mount Pulag. This is also where climbers log in their names so that the office could track the number of people coming to the mountain. The elders and locals in Benguet consider Mount Pulag not just as an important tourist attraction but also as a sacred place. Many do's and don'ts are strictly implemented to maintain its beauty.
Ranger station to Camps 1 and 2
From the DENR office, Drew and Iya rode a jeepney to the Ranger station, where last minute preparations are made. Saying a short prayer before the actual climb is part of the locals' traditions so the couple and the whole BND team gathered round while Ka Freddie, one of the oldest guides in Mount Pulag, prayed for everyone's safety.
Once the salty snacks and chocolates were ready, our Biyahero couple set out to begin their climb! Make sure you have your thermal wear, water, and trail food prepared before you go. Eating something while on the way up will make you forget your fatigue.
After more than an hour of trekking under a sunny and dusty trail and admiring the green foliage spread before their eyes, Drew and Iya finally arrived at Camp 1. Here, climbers could take a break under the shade of a small hut. You could also refill your canteen with fresh spring water near the area. However, if you want to catch sunset at Camp 2, don't spend too much time resting!
As they went deeper into the trail, Drew and Iya passed through the mossy forest, which was a stark contrast from the earlier trail to Camp 1. If the first part of the trek was done under the warmth of the sun, the second part was done under the cool shelter of towering trees. Flowers that are not usually seen elsewhere also abound.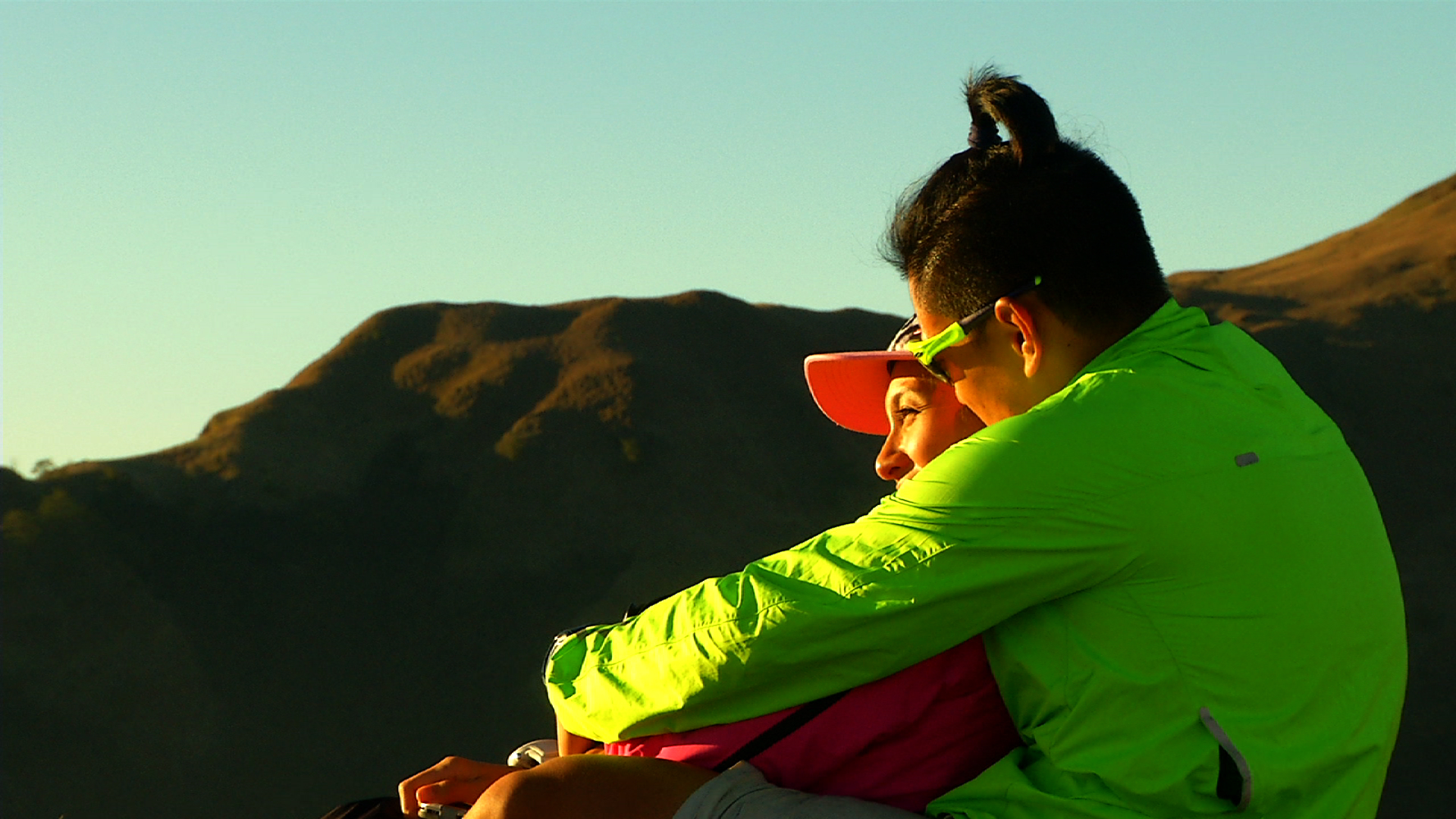 Drew and Iya were lucky to reach Camp 2 early and had enough time to set up their tents before sunset. Once everything was ready, it's time to take photos with the lovely sunset as backdrop!
Biyahero tip: Schedule your Mount Pulag climb on a weekday. Camp 2 could be extremely crowded during weekends, which isn't good especially if you prefer having a private trip with your loved one. To make things easier, you can also get travel packages like the ones offered by
Trail Adventours
. For only P4,100 per head, Drew and Iya were already provided with a tent, snacks, lunch, and dinner. The guides were also very helpful when it comes to Mount Pulag trivia.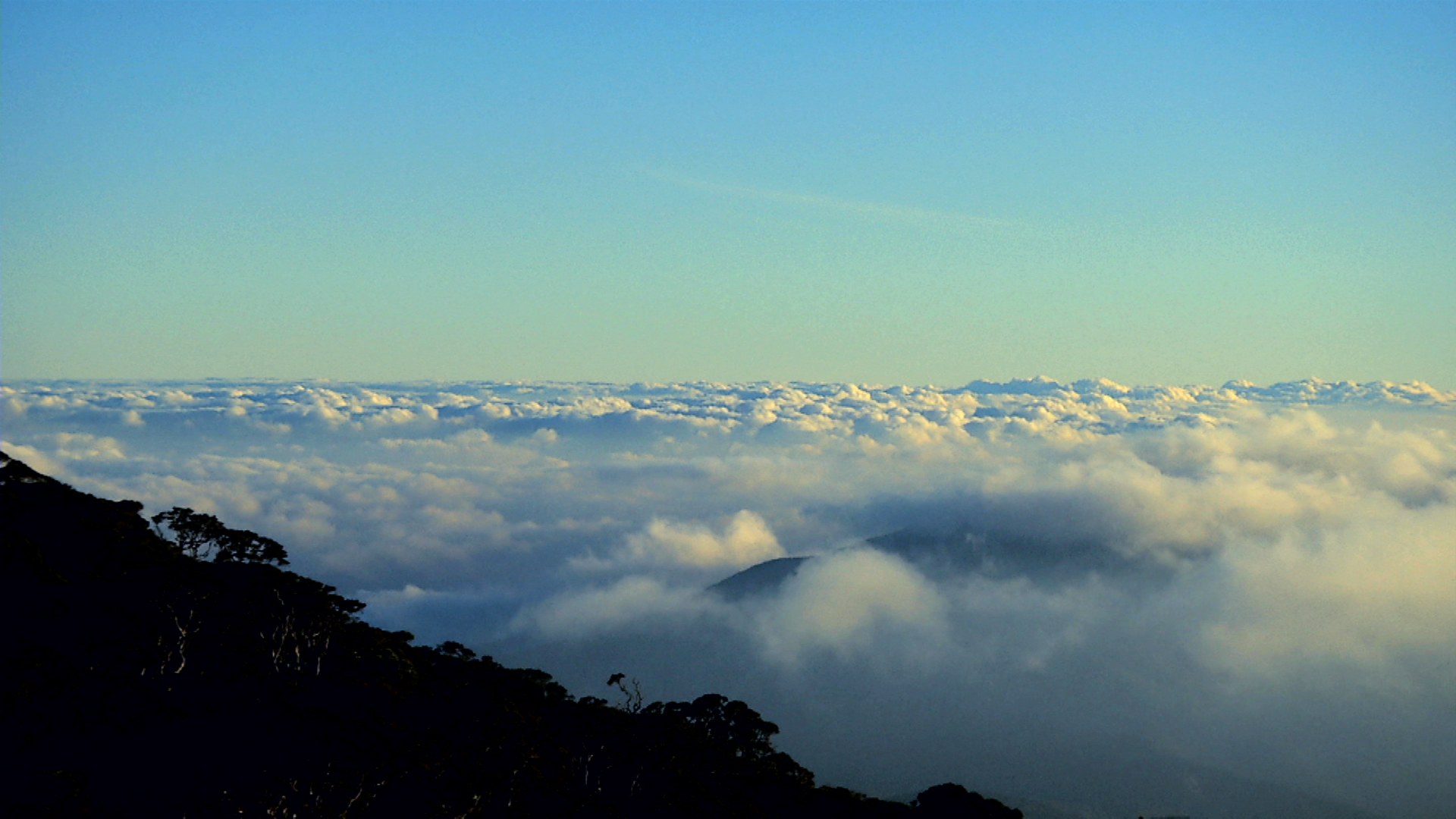 January and February are usually the coldest months at Mount Pulag, If you're not comfortable with extremely low temperatures, climb the mountain on March, April or May. Avoid going to Mount Pulag during June to September since this is when the terrain gets extra muddy because of the rain.
How cold was it when Drew and Iya were at Mount Pulag? Drew answers, "Kung walang hangin, para kang nasa air conditioned room na ang temperature ay mga nasa 15 to 17. Pero kapag meron ng wind chill… parang naligo ka ng malamig na tubig, lumabas ka nakabukas ang aircon at bukas ang electric fan!"
Camp 3
If you want to catch the sunrise at Camp 3, wake up as early as 3:00 AM. The final assault to the top takes about an hour. Other than the steep terrain, you have to brace yourself for the cold temperature and wind factor. Drew and Iya had to wear extra layers just to keep warm. Even the small amounts of water have turned into ice. It also helps to have instant coffee and hot water ready as you wait for the sunrise. Nothing tastes better than coffee when you're on top of Luzon's highest peak!
After a few more minutes, the sun finally appeared and, as Drew said, "No words can describe the majestic view… The sunrise here in Pulag is one of the best in the Philippines!"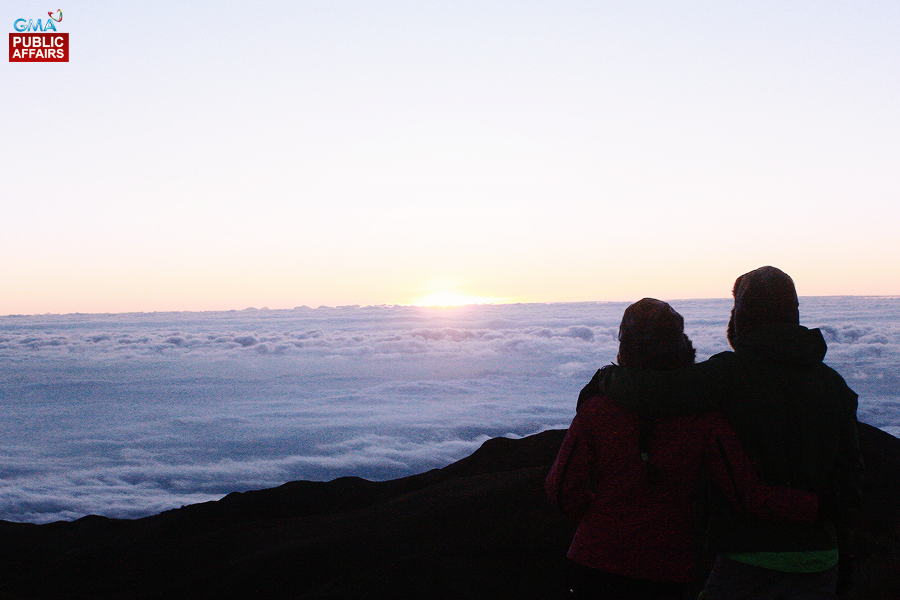 "Bukod sa napakagandang tanawin at malamig na klima, ay ang experience ng pag-akyat kasama si Iya," Drew said. "Climbing in general and being together in general [make] you appreciate everything."
It's true that conquering Mount Pulag is an amazing feat in itself but if you do it with the one you love, everything becomes more memorable, Valentine's day or not.
–Lara Gonzales/BMS/Select photos courtesy of Lara GonzalesRead more about "Biyahe ni Drew's" Mount Pulag adventure:
The long hike up: Overcoming the Mount Pulag challenge
INFOGRAPHIC: 5 things you need to know before climbing Mount Pulag
'Biyahe ni Drew' at Iya in Bokod, Benguet (Full episode February 13, 2015)