Filtered By: Pinoyabroad
Pinoy Abroad
Fil-Am actor Allen Evangelista stars in Michael Bay flick 'Project Almanac'
In the movie "Project Almanac", which was co-produced by Michael Bay, a group of friends find blueprints for a time machine, which they build and use, and eventually abuse.
It took at least six months to find the actors talented enough to play Project Almanac's young protagonists convincingly. Among the few actors chosen was Filipino-American Allen Evangelista, who snagged the role of Adam Le, a high school science geek.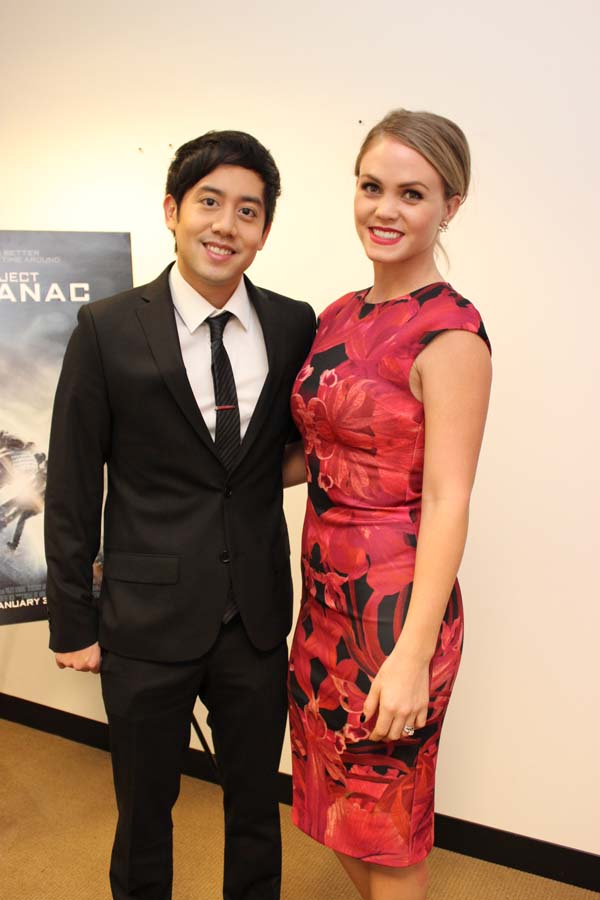 Allen Evangelista and his wife Christina Burhoe. Photo by Ruben V. Nepales
Evangelista, however, jokingly admitted that he was no longer high-school-young.
"It must be my Filipino genes. I am very lucky. I graduated from high school three times already on television. Probably I will be carded for the rest of my life," Evangelista, who is a father, said in an interview by Hollywood correspondent Janet Susan R. Nepales.
Having started his own acting career as at 18, working with his younger co-stars was easy on and off the camera.
What truly challenged him was treating the camera as his love interest.
"Because in the movie, my love interest was supposed to be the one filming everything. But in reality, it was this cameraman who was holding the camera. So it was pretty tricky to be looking at the camera lovingly while the camera guy actually was holding it," he explained.
The child of a Manileño and a Kapampangan, Evangelista said he, like other Asian actors in Hollywood were used to playing other ethnicities.
But through the efforts of pioneering Filipino actors like the Basco brothers, Asian actors like him are becoming common faces on the big screen.
"In 'The Secret Life of the American Teenager', they made the role Filipino for me. So I had Filipino brothers in the show and the lines they had me say were indigenous," Evangelista explained.
While his role in the TV series had him speaking the language, his own proficiency extended only to food terms and occasions when he is in trouble with his parents.
"I have been to the Philippines once when I was seven years old. I have not had time to go back because of the busy schedule with the film... But once I get some downtime, I want to go," he shared.
Project Almanac will premiere in the Philippines on February 4.
— DVM, GMA News