Filtered By: Pinoyabroad
Pinoy Abroad
Philippine gold artifacts on display at the Louvre in Abu Dhabi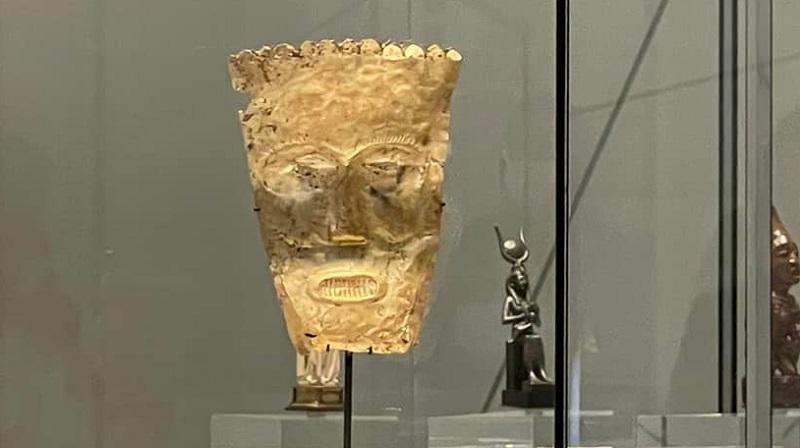 ABU DHABI, United Arab Emirates — Two gold artifacts from the Philippines, both dating back to the 10th–13th centuries, are currently on display at the prestigious Louvre Abu Dhabi's Grand Vestibule as part of the museum's World Civilizations Collection.
According to Philippine Ambassador to the UAE Hjayceelyn M. Quintana, the artifacts—a gold funerary mask from Butuan and a gold cup from Nabua, Camarines Sur—were installed on Monday, June 27.
The Butuan mask is displayed with other gold funerary masks from around the world—Peru, Lebanon or Syria, and China—as the museum asks the question. "Why is it that so many civilizations covered the faces of their dead in gold?"
The treasures, on loan from Ayala Museum in the Philippines, "adds great significance," Quintana said, to celebrations marking the Philippines' 124th Independence Day and the 48th anniversary of Philippine-UAE diplomatic relations.
"This collaboration is another testament on how effectively the Louvre Abu Dhabi, as a cultural beacon, plays its role of 'bringing different cultures together to shine fresh light on the shared stories of humanity,' thereby making the Louvre Abu Dhabi a truly universal museum," the ambassador said.
She added: "I am grateful to the leadership of the UAE, the Ministry of Culture and Youth headed by Her Excellency Minister Noura bint Mohammed Al Kaabi and the wonderful members of the Louvre Abu Dhabi team headed by Director Manuel Rabaté and the curatorial team led by Dr. Souraya Noujaim.
"The Filipinos are honored to be part of the narrative of world civilizations. The showcasing of this magnificent private collection from the Philippines' premier museum, the Ayala Museum, represents a fascinating facet of Philippine history. Indeed, this brings tremendous national pride to the Filipinos not only in UAE but Filipinos in the Philippines and around the world."
Kenneth Esguerra, Senior Curator and Head of Conservation at the Ayala Museum, was on hand during the installation. He highlighted that the collaboration with Ayala Museum is Louvre Abu Dhabi's first partnership with a museum outside of Europe and the MENA (Middle East and North Africa) region, as well as its first cooperation with a museum from Asia.
He also thanked Quintana for conceiving the idea of collaboration in 2019, which led to this remarkable cultural feat. — BM, GMA News