Filtered By: Publicaffairs
Public Affairs
'Biyolin' dokyu ni Howie Severino
She's the fiddler on the street. Like many in this caroling season, Lola Lydia performs in crowded alleys in Manila for change. But she is an unusual sight -- she plays the violin, a lonely musician in a city where many do not recognize, much less appreciate, the sweet-sounding classical instrument.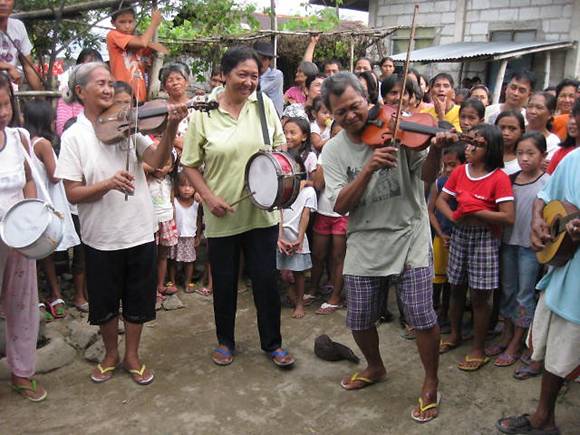 Folk musicians in San Carlos, Pangasinan taught by Lola Lydia (left) rehearse Christmas carols before leaving their village on their annual caroling journey around Luzon.
Howie Severino and his documentary team encounter Lola Lydia in Baclaran where she is trying to earn enough from street performing so she can go home to Pangasinan for Undas to visit the grave of her mother, who taught her to play. Lola Lydia still plays the broken violin that she inherited from her mother. The I-Witness team accompanies Lola Lydia home. But on the way they stop in Zambales where they visit the famous concert violinist Coke Bolipata, who has taught dozens of local children how to play the instrument. Lola and Coke amaze each other, and together with the community's young virtuosos perform on the beach as the sun sets. In that precious moment, Lola Lydia is no longer a lonely violinist.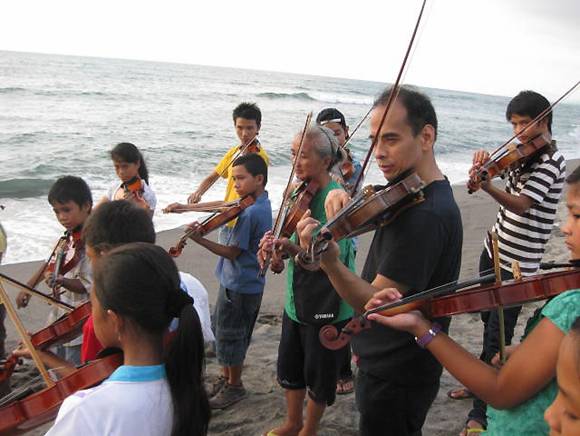 Lola Lydia joins concert violinist Coke Bolipata (in black) and community musicians in an impromptu performance on the beach in San Antonio, Zambales.
Arriving in Lola Lydia's home village in Pangasinan, Howie Severino and his team discover that the fiddler has a legacy in the community which she was too modest to reveal herself. Biyolin is a documentary about the simple joys of music and what it gives to its most passionate performers no matter what their station is in life. Catch the fiddler's journey home on i-Witness this Monday, Oct 31, 11:30 p.m. on GMA-7. Executive producer: Isel Caringal Director: Cris Sto. Domingo Cameramen: Egay Navarro, Gilbert Lumibao, Leonard dela Mance Researcher: Guill Ramos Writers: Isel Caringal, Cris Sto. Domingo, Howie Severino Edit supervisor: Tin Macatulad-Chua Master editor: Sunshine Matutina Program manager: Anj Atienza