Filtered By: Publicaffairs
Public Affairs
The 'unsinkable battleship' slowly falls apart
On a spot in the ocean where Manila Bay meets the South China Sea, a little-known structure stands alone amidst thrashing waves. Most Filipinos know nothing of its existence, but this island fortress played a significant role in Philippine history.
El Fraile Island, also known as Fort Drum, is a "concrete battleship" that the Americans built in 1909. On a little islet of rocks, a concrete structure 350 feet long and 144 feet wide was built. The 40-foot high, 30-foot thick walls were fortified and ready for all sorts of naval attacks.
This unique structure, resembling a battleship and complete with armored turrets, is the only one of its kind in the world. Heavily armed with some of the biggest cannons and guns at the time, Fort Drum was the most powerful of the American coastal defenses in the Philippines.
During the Japanese invasion of the Philippines, Fort Drum was able to inflict heavy casualties at the forces invading Corregidor, despite undergoing heavy shelling from Japanese howitzers in nearby Ternate, Cavite.
After the fall of Corregidor, Fort Drum surrendered to the Japanese, marking the end of American resistance in the Philippines.
In 1945, during the US offensive in Manila, American troops pumped fuel into Fort Drum and ignited it, killing all the Japanese soldiers inside and laying the once-great structure to ruins.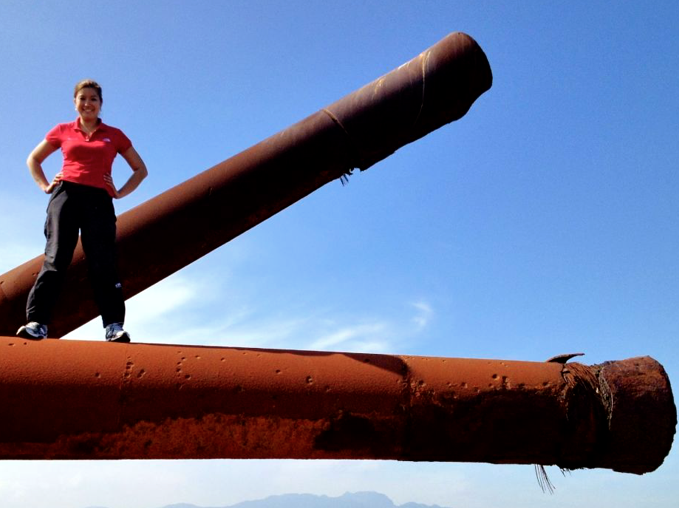 In Kara David's I-Witness documentary 'El Fraile: Ang Pagsuko ng Fort Drum,' she visited the obsolete historical structure. Unlike its neighbor Corregidor and other significant war shrines, Fort Drum has neither been preserved nor repaired.
Once feared by advancing naval enemy troops, Fort Drum is now merely a source of income for locals. Junk shop owners from the mainland sail to Fort Drum to collect pieces of expensive metals that fetch good money. Because of this, parts of the structure are now falling apart.
Fort Drum, the unsinkable battleship that never bowed down in any war, is now slowly surrendering to neglect. — Alyx Arumpac/CM/TJD, GMA News