Filtered By: Publicaffairs
Public Affairs
'Kapuso Mo, Jessica Soho' moves to Sunday
Fans of the GMA Network weekly news magazine program "Kapuso Mo, Jessica Soho" will no longer have to give up their Saturday nights or stay up too late for the show's interesting features on lifestyle, current events, pop culture, celebrities, health, and internet trends. Starting this December 2, the show moves to new day and time slot: Sundays at 7:45 PM. In its new time slot, "Kapuso Mo, Jessica Soho" will continue to present viewers with fun and fascinating stories. "Kapuso Mo, Jessica Soho," known to fans and show insiders as simply "KMJS," is not only one of the highest-rated shows on GMA Network, but also one of the most followed on social media, with over 279,000 fans on Facebook and 64,000 followers on Twitter as of December 1.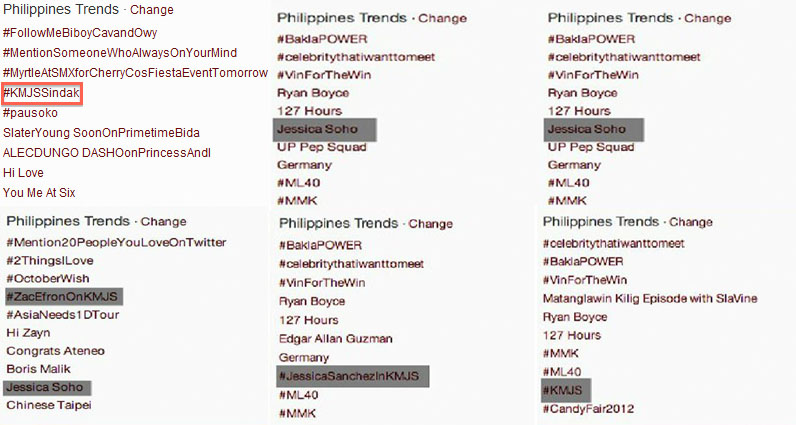 Because of its active online community, the program does a lot of stories about online trends and viral topics. Perhaps one of the most memorable segments of the show is
the story of Mang Roldan
, the good Samaritan whose picture and touching story were shared all over Facebook. Before he was featured on KMJS, online communities had been trying, unsuccessfully, to locate Mang Roldan for over a month. A day after his story was featured on KMJS, he was reunited with the person who helped him, the same person who posted his photo on Facebook, Joemil. Every week, viewers of the show use the Twitter hashtag #KMJS to tweet their reactions to the show, or to simply announce that they are tuned in. On several occasions, the program and its host have made it to the list of trending topics on Twitter. For example, the hashtags #ZacEfronOnKMJS and #JessicaSanchezOnKMJS both trended on Twitter when international celebrities Zac Efron and Jessica Sanchez guested on KMJS. The program's recent feature on Kevin Balot, the Transpinay who won in a prestigious international gay beauty pageant, also trended on Twitter. The program has also pioneered heartwarming stories about love and relationships. One of the most watched KMJS features of this year was "I'm Sorry My Love," about a Polytechnic University of the Philippines (PUP) student who became a social media sensation for making a building-sized love letter to his girlfriend. The program also airs exclusive interviews with famous and influential personalities. KMJS recently replayed Jessica Soho's early 2012 interview with the late director Marilou Diaz-Abaya, who talked about her passion for the arts and her battle with cancer.
Jessica Soho's 2010 interview with Dolphy
also replayed earlier this year after the Comedy King's passing. KMJS also covers stories of international interest. Just this year, Jessica Soho visited Hong Kong Disneyland, covered the American Idol Finals in Los Angeles, and travelled to Jakarta for the premiere of Eat Bulaga Indonesia. KMJS and host Jessica Soho were named TV's Best Magazine Program and Host in this year's Star Awards. And at the recently concluded PMAP Makatao Awards, the program and its host were also named Best Public Affairs TV Program and Host. The program shares these awards with their viewers who have supported the program for the past eight years. Watch Kapuso Mo, Jessica Soho this Sunday, 7:45 PM on GMA Ch. 7.