Filtered By: Publicaffairs
Public Affairs
Astringent do's and don'ts: How to avoid damaging your skin
Vilma, 40 years old, wanted to take care of her skin. She began using astringent, a face cleaner that removes excess oils and tightens the pores. Vilma chose one with an added peeling effect: "Kasi 'yon ang uso noon eh, na kapag gumamit ka, talagang magbabalat ka tapos magpi-pink," she recalls. "Ang ganda ganda. Para talagang pumuti, mamula-mula pa."
Vilma did as the TV commercials showed: rubbing astringent onto her skin with a cotton ball religiously. She did this three to four times a day, especially before going out with her friends. However, she began to notice that the smooth skin she had became patchy, discolored and sunburnt. "Ito muna, pakonti-konti. Tapos noong magtagal, may itim na sa noo ko. Ang laki, parang maskara," she says. "Disaster talaga."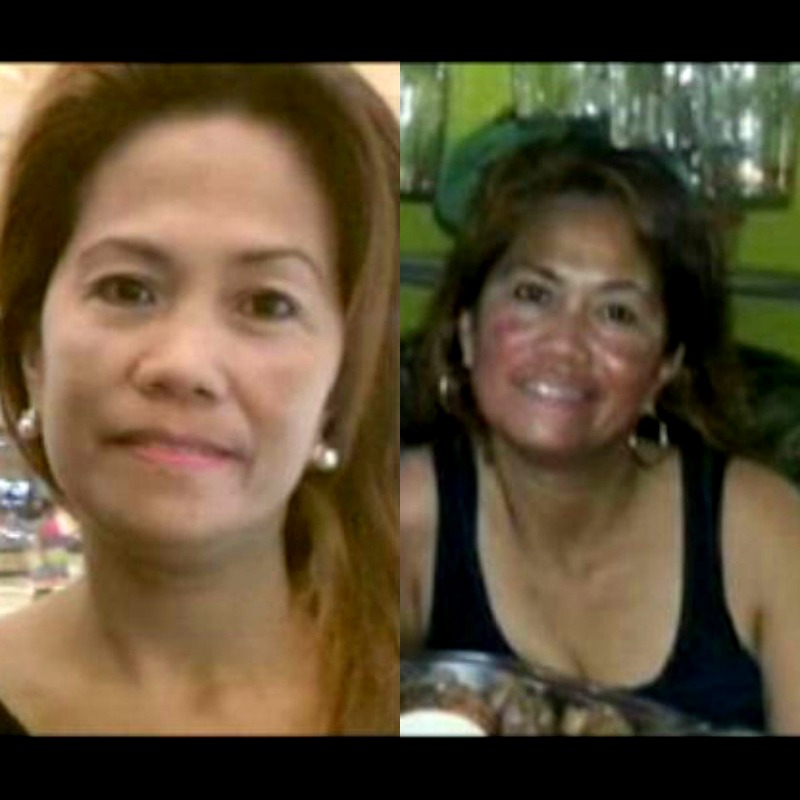 Vilma, before and after years of improper astringent use
According to Dr. Jean Marquez, resident dermatologist of GMA-7's "Pinoy MD," there's nothing wrong with using astringent as a skin cleanser. However, one needs to know the proper way of using astringent, as well as the appropriate kind to use for your skin type in the first place.
Don't use if you have dry skin.
"'Yung mga astringent na pang-oily skin ang mas matatapang. Ibig sabihin noon, mas mataas ang alcohol content. May mga active ingredients din na nakakatuklap ng balat," says Dr. Jean. If you have oily skin, the last thing you want is to strip your skin of its natural oils. Stick to a creamy or lotion-type cleanser instead.
Don't use astringent if you're under 16.
A teen's skin is already sensitive and prone to breakouts, so it isn't advisable to expose it to harsh chemicals. If you want to avoid pimples caused by excess oil, just stick to an anti-acne face wash with either green tea extract or salicylic acid. They're milder on the skin, but remember to still follow it up with the appropriate moisturizer.
Don't use astringent more than once a day.
Vilma's skin became damaged because the frequent use of astringent left it raw and vulnerable to the elements.
Do be gentle in applying astringent.
You want to go for a gentle wipe across your skin, not a hard scrubbing motion. If you're concerned about wrinkles, remember to wipe upward and in a circular motion as dragging your skin down will only speed up the appearance of wrinkles.
Do follow-up with sunblock.
A moisturizing cream with sun protection factor or SPF is absolutely necessary to protect your skin after using astringent. If you have oily skin that feels sticky with most sunblocks, try gel-based sunblocks. Sports shops also sell lightweight sunblocks.
Do consult with a dermatologist.
A dermatologist can tell you exactly how strong or how mild your astringent should be.
But what if my skin is already damaged?
At the suggestion of her friend, Vilma used to rub calamansi juice on her skin to lighten the dark spots caused by astringent damage. While calamansi is a common home remedy for dark knees and elbows, Dr. Jean warns that the pure acid of calamansi is too harsh for the face — especially when your face is reddish or feeling raw. "Kapag naarawan ka, lalung iitim ang balat mo," she explains.
Dr. Jean gave Vilma a free treatment to help with lightening the discolored parts of her face. The process called "infusion" calls for a whitening solution and lotion to be applied using a joystick-like wand. The wand ensures that the whitening solution reaches the innermost layer of the skin. Vilma also received a MesoWhite treatment, in which vitamins and antioxidants are directly injected into her face's dark spots.
It will take around four sessions of infusion and MesoWhite for Vilma's skin to return to the way it once way. Each session will cost P6,000 to P8,000. If you don't want to spend on dermatology treatments, you can also use whitening creams at home, although it will take longer to see results.
Better yet, lay off the astringent and stick to gentle cleansers. A little oil is a small price to pay for the overall health of your skin.
—Cristina Tantengco/CM, GMA News