Filtered By: Scitech
SciTech
'Abnormally cold' temperatures recorded in January
Does the Philippines seem unusually cold this January? It's probably because it is.

The 10 lowest temperatures recorded this year as of January 27 are four to 10 degrees Celsius lower than the normal minimum temperature for the month of January, according to data from PAGASA's Climate Monitoring and Prediction Center.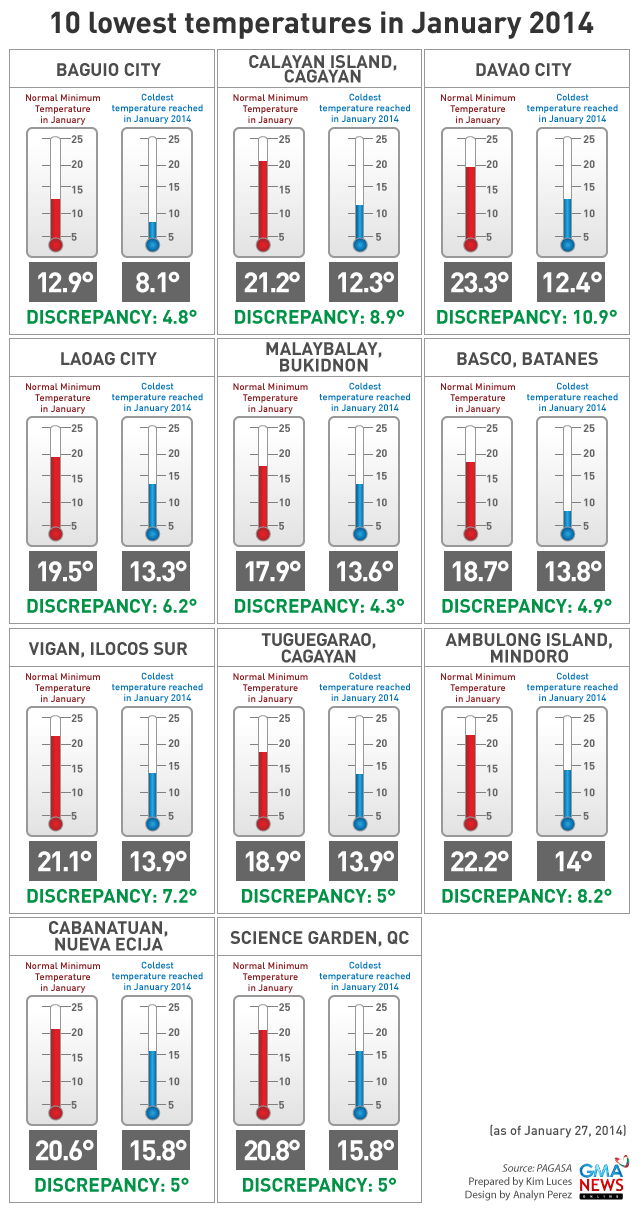 The lowest temperature recorded in January 2014 was felt in Baguio. The 8.1-degree temperature was almost five degrees lower than the normal minimum temperature in the area.
Davao City's temperature dropped to 12.4 degrees some time in January when its normal minimum temperature is 23.3, a whopping 10.9-degree difference.
It was also unusually cold at the Science Garden in Quezon City, where the tenth coldest temperature was recorded.

On January 26, 2014, the temperature in Quezon City dropped to 15.8 degrees, a solid five degrees lower than the normal minimum temperature.

The lowest temperatures recorded in Port Area, Manila and in NAIA are merely 3.8 degrees and two degrees lower than the average.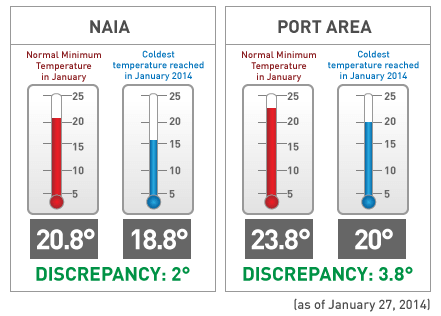 The normal minimum temperature is the average of minimum temperatures recorded by PAGASA from 1981 to 2010 during the month of January.
January 2014 has so far been generally colder than November and December 2013 PAGASA's Climate Monitoring and Prediction Center said. PAGASA's data also showed that temperatures in Baguio and Quezon City this January have been generally lower than that of January last year.
The lowest temperature in Baguio City in January 2013 was 9.5 degrees Celsius, while the lowest in January 2014 was 8.1 degrees.

However, these are nothing compared to the all-time lowest temperature ever felt in Baguio City and in the Philippines – the 6.3-degree cold felt on January 18, 1961. This is about six degrees below Baguio City's normal minimum temperature for January is 12.9 degrees.
"Baguio (has) always been the coldest place in the Philippines based (on) our available data. And most of our stations' average minimum temperature showed (that) January (is) the coldest month," said Analiza Solis, Weather Specialist II of PAGASA's Climate Monitoring and Prediction Center.
Quezon City's 15.8-degree temperature recorded on January 26 is only 0.3 degrees higher than the all-time lowest temperature recorded at the Science Garden recorded on January 27, 1987.

However, Quezon City's all-time lowest temperature is 14.9 degrees felt on March 1, 1963. It was caused by a cold surge or an abrupt temperature drop.
According to PAGASA, January and February are generally the coldest months in the Philippines. Amihan or the northeast monsoon, which prevails over parts of the country from October to March, is the coldest air mass to affect the Philippines.

Its peak season is during the months of December, January, and February and it loses its influence by the end of March.
While temperatures this year are much lower than normally expected, these aren't record-breaking either.
"Definitely, this is not the coldest year. But the thing is, it's abnormally cold," said Nathaniel "Mang Tani" Cruz, GMA's resident meteorologist.

"Eto lumamig, (but) look at the impact. Nasisira yung mga gulay, even yung livestock naapektuhan."
The Municipal Agriculture Office of Impasug-Ong, Bukidnon was reportedly alarmed when 1,200 hectares of corn fields and 400 hectares of rice fields were ruined by the cold last week, according to GMA Northern Mindanao last Monday. Thirty-eight domestic animals including cows, horses, and pigs died from the cold last week as well.
This
cold spell might continue
until the last week of February or up to the second week of March, PAGASA forecaster Glaiza Escullar said in an earlier report.
— JDS, GMA News