Filtered By: Scitech
SciTech
Name a Mars crater after yourself…for science!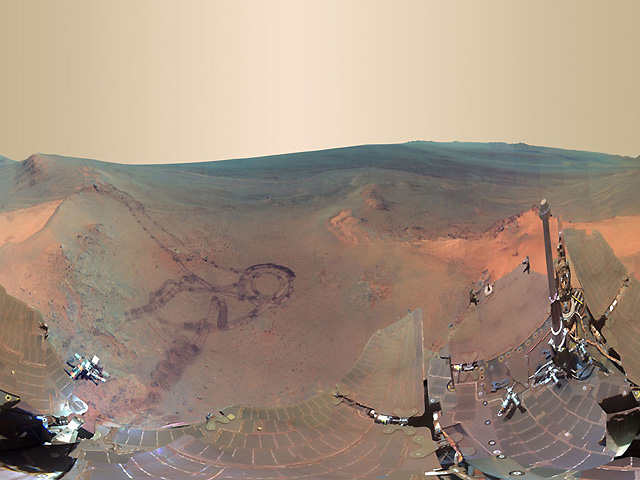 A 360-degree digitally-compressed panorama image of Mars, made from 800 images sent from the Opportunity rover . NASA/JPL-Caltech/Cornell/ASU / Reuters
Want a crater on Mars named after you?
A group of planetary scientists and former space program executives have launched a crowdsourcing project to name about 500,000 catalogued landmarks on the Red Planet.
The lowest price one would have to pay is reportedly $5 (P223.00).
Project Uwingu (which means "sky" in Swahili), (http://www.uwingu.com) published an interactive map of the Martian terrain using the National Aeronautics and Space Administration (NASA) and European space missions' data.
From the 50 years of exploring and studying Mars, only 15,000 features have been named.
Project Uwingu aims to generate $10 million (P446.8 million) to fund other space explorations and research, especially for those scientists and researchers threatened by impending budget cuts in the United States.
Organizers of the project said that craters which are less than a kilometer to over 350 km can be named after a pet, musical artist, family member, sports team, or places on Earth.
Dr. Teresa Segura, planetary scientist and former NASA science director said, "This project is truly groundbreaking for public participation in the exploration of Mars. Only imagination limits your choices, and I love that it supports funding for space research and education."
However, the Uwingu Mars map is not yet the official map NASA uses, but it is open to the public.
"They'll [the names] be used by anyone using Uwingu's Mars maps. For now that's just the public, but soon, we hope, scientists and space missions to Mars will be using these maps too," according to Uwingu's FAQ.
In 2012, Uwingu concluded one of the 25 largest Indiegogo crowdfunding campaigns ever to launch an ongoing series of public engagement projects in science.
Uwingu was also able to raise almost $2500 (P112,000) for the Allen Telescope Array, a telescope which searches for signs of intelligent civilizations in the universe under the Search for Extraterrestrial Intelligence (SETI) Institute.
- AMD, GMA News