Filtered By: Scitech
SciTech
Two Pinays shortlisted for trip to Mars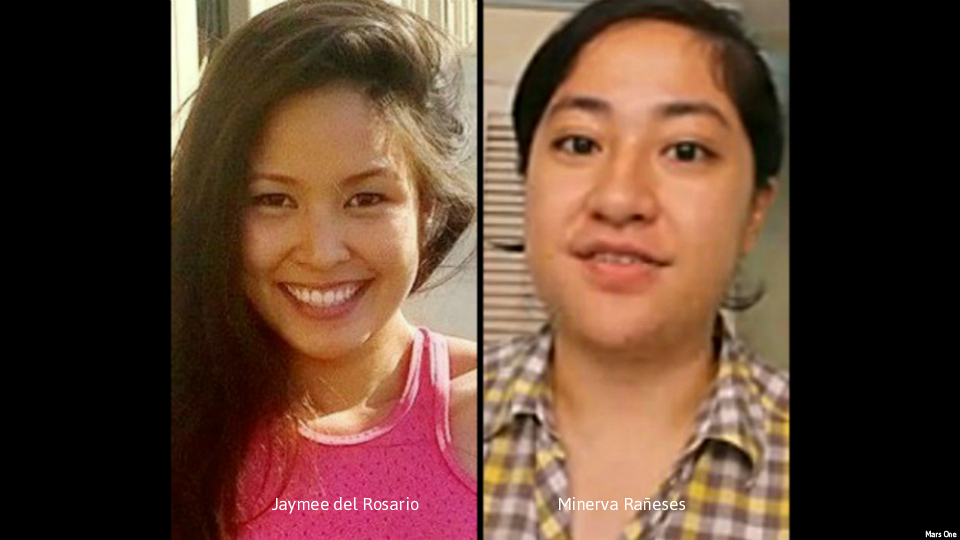 Two Filipinas may soon be among the first humans to set foot on Mars, after being chosen from a field of more than 200,000 candidates.
Jaymee del Rosario, 27, and Minerva Rañeses, were among the Mars 100 Round Three candidates who will now face further challenges to see if they can live on Mars.




According to the Mars One astronaut selection process, the 100 were chosen from a pool of 660 candidates, who in turn were selected from 202,586 applicants.
Del Rosario, 27, is the CEO and founder of International Metal Source, which distributes raw material metals and exotic alloys to aerospace, defense and commercial industries since 2009.
She is also co-owner of fitness equipment Bounce Core Platform, and said she is "very interested to be part of any outer space endeavor."
"I want to offer my life experience, knowledge and skills to the Mars One team to achieve the goal for preserving humanity,"
she said on her profile page.
27
Rañeses, 24, described herself as an "intellectual wanderer" who seeks "growth in knowledge and philosophy."
"I don't decide based on monetary or materialistic returns, but on the experience I will garner. As of now, career-wise, I'm a drifter. There is so much to learn, and keeping to a linear path seems a bit too constricting. I've been focusing in adventuring lately. As for my profession, I tell people I'm a writer,"
she said.
She said her interests include philosophy, literature, and history, along with politics and religion, "and their cause and effect on society."
Down to 100
Del Rosario and Rañeses are among the 50 men and 50 women who passed the second round.
Of the 100, 39 are from the Americas, 31 from Europe, 16 from Asia, seven from Africa, and seven from Oceania.
Bas Lansdorp, co-founder and CEO of Mars One, said the cut in the number of candidates is an important step to find out who has the right stuff to go to Mars.
"These aspiring martians provide the world with a glimpse into who the modern day explorers will be,"
Lansdorp said.
As for the candidates not selected, they can still reapply in a new application round later this year.
Mars One is a non-profit foundation seeking to establish permanent human life on Mars, believing human settlement on Mars is possible with existing technologies.
The mission plan integrates components that are well tested and readily available from industry leaders worldwide.
"The first footprint on Mars and lives of the crew thereon will captivate and inspire generations. It is this public interest that will help finance this human mission to Mars," Mars One said.
Selection
Mars One said the 100 Round Three candidates were selected after personal online interviews with Norbert Kraft, chief medical officer.
During the interviews, the candidates showed their understanding of the risks involved, team spirit and their motivation to be part of this expedition.
"We were impressed with how many strong candidates participated in the interview round, which made it a very difficult selection" said Kraft.
Further challenges
The 100 will receive their first shot at training in a copy of the Mars outpost on Earth and will demonstrate their suitability to perform well in a team.
"Being one of the best individual candidates does not automatically make you the greatest team player, so I look forward to seeing how the candidates progress and work together in the upcoming challenges." said Kraft. — Joel Locsin/TJD, GMA News