Filtered By: Scitech
SciTech
First commercial eJeepney franchise to be launched in Makati
The eJeepney is not just good for the environment, it's good for people, and businesses, too.
This is what the Institute for Climate and Sustainable Cities wants to show as Makati City launches the first ever commercial public transport franchise for electric jeepneys on February 27.
"Green public utility vehicles are actually a better source of revenue - it's more commercially viable and desirable to switch to green transport," said ICSC Executive Director Red Constantino.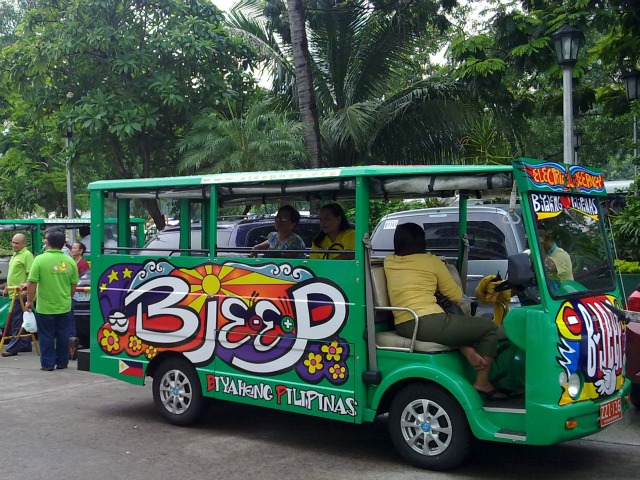 Vice President Binay used this green electronic jeepney (e-Jeepney) that was labeled "B-Jeep" during the inaugural rites on June 30, 2011. Carmela Lapeña
With the issuance of the franchise from the Land Transportation Franchising and Regulatory Board (LTFRB), eJeepney passengers will now pay the same amount as they would on a regular jeepney.
Constantino explained that one main difference is the eJeepney drivers will not follow the boundary system, and this in turn will ease traffic congestion.
"The discipline comes in by taking away the incentive to wait for an hour and clog up lanes, because they'll be paid anyway. They don't have to fill a quota, which causes traffic and makes everyone else suffer," he said.
Another main difference of the eJeepneys is the drivers come from different backgrounds, as well as genders.
"There's no single sector. Public transport is not the domain of men alone. A truly green enterprise is gender neutral, or gender sensitive," he said, noting that women compose half of the starting fleet.
Constantino said that while the eJeepney is good for the health and the environment, the ICSC highlights its other benefits, especially in terms of business. "We tell the big companies that this will enhance their bottom line. Stop the Corporate Social Responsibility shtick - baduy yun eh. You're corporations, don't pretend to be NGOs," he said.
The eJeepney costs P600,000 for a brand new unit. One unit can accommodate up to 24 passengers, and can run at 40 to 50 kph. On a charge of 6-8 hours, an eJeepney can go up to 115 kilometers. With the Battery Swap Program, it can take ten minutes or less to replace depleted batteries with a fully charged set.
While this may seem more expensive than a regular jeepney, the savings from never having to gas up more than makes up for the steep front-end expense.
It only
costs around 250 pesos for a full charge
, which can be done anywhere there's a 220 volt outlet. This is less than 25 percent of the cost of gas that would be needed to cover the same distance.
Designed by Solar Electric Co. (SOLARCO), the eJeepney is fully electric, noiseless, light, sturdy, efficient and economical.
According to Solar Electric Co. head Panch Puckett, the eJeepney is very easy to drive, although a little adjustment is needed. "Because it's lighter, the jeepney drivers who are so used to the heavy diesel engines will feel a little weird at first, but it only takes a short while to get used to it," said Puckett in an
earlier report
.
Automatic transmission and fewer moving parts result in a smoother ride. "It's a glorified golf cart," said Puckett.
Currently, the eJeepneys ply three routes in Makati.
In Salcedo Village, the e-jeep's route goes from Dela Costa St., turns right on Makati Ave., right on Paseo De Roxas, right on Villar St., left on Leviste St, left on Rufino St., right on Ayala Ave. and right on Dela Costa St.
At Legazpi Village, the route goes from Salcedo St., turns right on VA Rufino St., left on Adelantado St., left on Gamboa St., left on Salcedo St., left on Benavidez St., left on Paseo De Roxas Ave., right on Legazpi St., left on Dela Rosa St., and left on Salcedo St.
The third route is the four-kilometer Heritage Zone Loop Route, which starts at the Estrella St.-EDSA terminal and traverses the stretch of Estrella St. and a portion of J.P. Rizal, then passes through Barangay Poblacion, covering Pio del Pilar High School, Century City, B. Valdez, Makati Ave., Cristo Rey, Burgos, Rivera, Museo, JP Rizal, Poblacion Park, Rockwell Center, EDSA, E. Zobel, and Makati City Hall.
Constantino said the first two routes will be covered by the franchise, while passengers may continue to use the Heritage Zone Loop Route for free as it is still in the testing period. He added that they are eyeing two to three more routes in Makati, as well as an e-ticketing system.
The ICSC director said they want more people to join in on the franchise. "Many people will come later and do it better, and that makes us happy. A free enterprise is more stable and feasible commercially," he said.
"This is beneficial in so many things, not just the environment. Better traffic flow, more revenue, health. It will help the commuting public, and the endpoint is commercial viability. If it isn't commercially viable, what's the point?" said Constantino.
Constantino added that they are getting public support for the early passage of
Senate Bill 2856
, also known as the "Alternative Fuel Vehicles Incentives Act," which is sponsored by Senator Ralph Recto.
"This will provide incentives, not subsidies, which will spur a faster development of the manufacture and operations of electric utility vehicles," said Constantino.
The bill aims to reduce the price of vehicles that use alternative fuels, particularly electric jeepneys, tricycles, cars and buses, as well as exempt manufacturers, assemblers, converters and importers of electric, hybrid and other alternative fuel vehicles from the payment of excise taxes and duties for nine years. It will also exempt owners of alternative fuel vehicles from paying the Motor Vehicle User's Charge upon registration of their vehicles. — TJD, GMA News