Filtered By: Scitech
SciTech
Pinoy hackers strike back at China websites, UP site restored
(Updated, 1:53 p.m.) The Philippine Navy may be no match for the Chinese military behemoth in the open sea. But cyberspace is a more even battlefield, as Filipino hacktivists quickly struck back Saturday at Chinese web sites after hackers apparently from China defaced the official web site of the University of the Philippines on Friday.
With the cries, "Scarborough Shoal is ours!" and "Spratly Islands is ours!" (sic), the website attack targeted the Chinese sites star.chinaumu.org, v.cyol.com, ploft.cn, sanxinsudi.com, gh.rc.gov.cn, ryjzw.com, lanseyinxiang.com. The defacement on at least one site also included a taunt laced with profanity: "You got f- by the Philippines!" The cyber attacks are apparently the work of individuals and have not been condoned or encouraged by either government.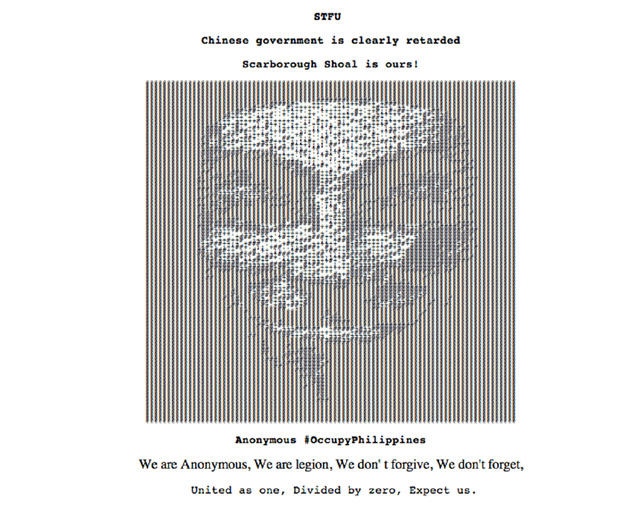 www.ploft.cn, a Chinese website gets hacked and defaced partly with the words, "Scarborough Shoal is ours."
Two hackers claimed responsibility for defacing the websites.
One hacker is with Anonymous Occupy Philippines with code name Busabos a.k.a plague and the other goes by the
hacker code
Supra Dick.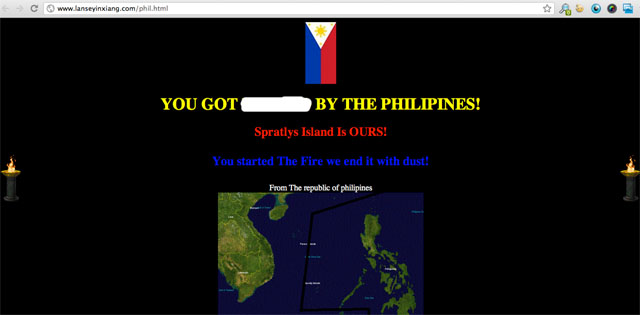 http://lanseyinxiang.com/ a Chinese website gets hacked and defaced with the words, "Spratlys Island is ours!"
Said Raul Hernandez, assistant secretary and spokesman of the Department of Foreign Affairs, "We denounce such cyber attacks regardless from which side they are coming from. They are counter-productive and will only add to the tensions. We call on both Filipino and Chinese netizens to be more responsible and encourage dialogue rather than discord. "Cyber attacks are nothing new. Our Government has already taken these things into consideration and is doing all it can to protect our computer systems so as to prevent any disruption in our day-to-day operations." Asked on Saturday by reporters about the vulnerability of government web sites, presidential spokesperson Abigail Valte said, "Our standard procedure is when a website of a government agency is defaced or the integrity is compromised, we always send out a communication to all other agencies to make sure that their sites are secure,
para hindi po ma-
compromise
yung mga
website
ng pamahalaan."
Hackers get one back at China's "bullying"
On the Anonymous Occupy Philippines Facebook page, the hacker group
posted thanks and congratulations
to their members, saying, "
Maraming salamat sa mga nakiresbak at nakiisa, kahit man lang sa
cyberworld
nakakaganti o nakakapuntos tayo sa pang bu-bully ng
China."
(Thank you for the support and unity, even if it's just in the cyberworld, we were able to fight the bullying of China.
) However, not all Filipino cyber-denizens are pleased with the cyber attacks. Local tech blogger
Jun Tariman wrote
, "The hacking activities of alleged hackers from the Philippines can't coward the Chinese tech-people who are known for their notorious hacking activities in the past. If we shall engage with them Cyberspace war, i am sure we shall be at the losing side in the end." He pointed out that Chinese hackers have in the past, infiltrated European and United States government sites, considered to have better and more advanced security than Philippine websites. Tariman also noted that China's estimated half-billion internet users could easily be used "in a netbot to stage a Denial of Service Attacks (DoSA)." "So, mga
kababayang
hackers," Tariman impored. "Stop dreaming and pretending we can deliver a good fight over the net because it's like an exercise in futility. Our victory is in the diplomatic channels. Let China face us at the United Nations and let them prove that the Spratlys and Scarborough Shoal are not ours." One of the hackers involved, Busabos, reposted Tariman's blog entry
on Facebook and replied
, "
Di po kami nangangarap at nagpepretend
Sir Jun ....
di din namin sinabi na Lyamado ang PH kapag nakipag cyberwar sa
China. (We are not dreaming or pretending, Sir Jun. We did not say that the PH is superior should it engage in a cyberwar against China.) "
Pero bilang isang dating Iskolar ng Bayan nakahanda akong gawin sa abot ng aking makakayanan ang makabawi man lang sa mensaheng iniwanan ng isang taga
China
sa
website
ng
UP. (But as a former Iskolar ng Bayan, I am ready to do everything I can to get even with the Chinese that hacked UP's website.) "
Tama ka hintayin natin ang pasya ng UN pero kailan pa po kaya iyon....Mas nanaisin ko sigurong may ginagawang paraan para kontrahin ang ginagawa nila ngayon sa
cyberspace
kesa sa nakikita kong tambak tayo ng
defacements
at nananahimik lang ako sa isang tabi
." (You are right, we should wait for the decision of UN. But we are doubting when that will come. I would rather do something that could oppose their actions in cyberspace than remain silent and not do anything about the defacement they have done.)
UP website back online
Meanwhile, UP's web portal has been restored after Friday's attack.
Before dawn Saturday, the UP Diliman tech support team said, "UP System website (is) back online, thanks to collaborative efforts between (the) UP SIO and (the University) Computer Center."
UP Assistant Vice President for Public Affairs Danilo Arao had confirmed via a text message to GMA News Online that the attack happened around 3am of Friday, and that the university's System Information Office, IT Training Center, and Computer Center were working to restore the website as of 11:30am.
The UP System's Twitter account thanked the UP Computer Center for its efforts in the restoration.
Early morning Friday, visitors to the UP System's website (up.edu.ph) were welcomed with the message "We come from China! Huangyan Island is Ours!"
Posted with the message was a map of China's so-called "9-dash line," supposedly indicating the superpower's territorial claim in its southern seas —which extends to the Philippines and even to Malaysia's coastline.
"We strongly denounce the attempt to deprive the UP community of vital information," Arao said. — ELR/HS, GMA News