Filtered By: Scitech
SciTech
Stan Lee to create Chinese Superhero
After Spider-Man, the Fantastic Four and The Avengers, will a Chinese superhero be the next hit from the comic book industry legend Stan Lee? It wouldn't be the first attempt at such a hero, though.
"This is going to be a typical superhero story and movie, just like Spider-Man and Iron Man, but instead of featuring an American hero it's going to be a Chinese hero," it quoted Lee as saying Monday.
"But it is not a movie specifically for China. This is a movie for the whole world… [with] a hero and other characters that we can understand, relate to, and care for, just as we always tried to do with other Marvel superheroes," he added.
LA Times said "The Annihilator" will tell the story of a young Chinese man forced to leave his hometown in mainland China amid dramatic circumstances.
After time in the United States, he returns home as the Annihilator, using his superpowers to save the world while exploring his roots.
The LA Times said one official description of the character was "a young Chinese man given a second chance as an international superhero, who returns home to mete out justice."
"Real Steel" screenwriter Dan Gilroy is developing the screenplay, the LA Times said.
Other Chinese superheroes
The Annihilator would not be the first Chinese superhero: the LA Times cited the Monkey King, whose story dates back to the 16th century tale "Journey to the West."
On the other hand, homegrown superhero successes have been few and far between.
"Some filmmakers have tried to reinvent the Monkey King or make new superheroes, but they have not succeeded. It's mostly the culture that does not encourage imagination," said Raymond Zhou, a well-known Chinese film critic.
Lee said he believes a Chinese superhero could have been created as far back as a decade ago.
"Perhaps we in America were just too busy creating our own heroes in our own country. Don't misunderstand me. This movie is not an attempt to change the social mores of the world. This movie first and foremost is a thrilling superhero movie," he said.
'Captain China'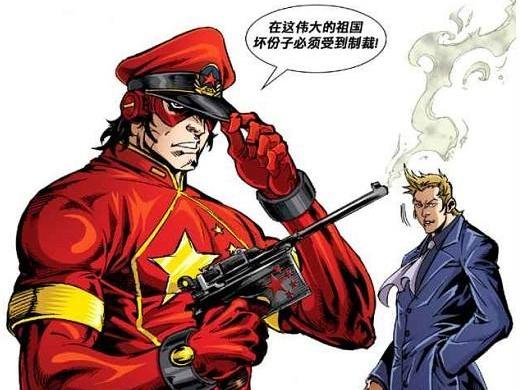 Stan Lee's creation isn't the first attempt at a superhero patterned after a Marvel character. Earlier this year, Chinese author Chi Wang teamed up with illustrator Jim Lai to create "Captain China".
Just like his American counterpart, Captain China is the sole survivor of a state-run superhero program. After being cryogenically suspended for half a century, he is revived in modern times.
"After 50 years of Cryogenic sleep, Captain China is revived in modern times to demonstrate China's economic growth and achievement of world power status in the 21st century. Out of time and out of touch with current culture and social climate of China, this once great communist super hero must now stop an assassination attempt on the American President despite all the obstacles in his way!" says the blurb on
the comic's Amazon page
.
Lee's turnaround
It would also be a turnaround of sorts for Lee, who participated in the creation of one of the most notorious Chinese portrayals in comics history - The Mandarin.
The Mandarin first appeared February 1964 and was a combination of the stereotypes for a Chinese villain.
Eric Mika, CEO of Magic Storm Entertainment, which is taking part in the project, said this new Lee creation will be fun, upbeat and crowd-pleasing.
"It will be a 100% Hollywood-China co-production," he said, but he declined to say how much of the budget would be expected from any Hollywood studio that will invest.
He also said there was "soft money" from brands interested in being attached to "The Annhilator," including Chinese brands wanting to break into America, and vice versa.
For his part, Champion said there may even be a national search for the film's star.
"America and China share the same qualities: Proud in their nation, and they recognize their histories and they see their future," Mika said.
"This film is not a political film, it's not a statement. This is a fun Hollywood film that will appeal to a mass audience. All we have done is included China into this mass audience…and anyone can make a superhero film, but only Stan Lee can make a Stan Lee superhero film," he added.
Series of projects
LA Times said "The Annihilator" tops the inaugural list of co-productions from National Film Capital, the state-run fund-management company that draws on $422 million raised by the Industrial and Commercial Bank of China and other partners.
The plan involves an English-language movie a budget between $100 and $150 million and a Chinese lead for a screen story, with special effects and 3-D images.
"Annihilator" looms as the start of a series of projects in China, for POW! Entertainment, which is built around Lee's name and run by CEO Gill Champion.
Champion said China is "an important part" of the company's growth and cited the possibility of a live-action Lee television show in Macau.
He also hinted at a major comic book convention bearing his brand in the first quarter of 2014.
Super flops
But not even Lee is perfect, as some of his creations —such as "The Governator," a planned animated series around actor-politician Arnold Schwarzenegger as a super-powered adventurer— flopped.
Other ventures such as the National Hockey League's Guardian promotion also failed. — TJD, GMA News