Filtered By: Scitech
SciTech
Five days after President Benigno S. Aquino III signed
Republic Act no. 10175
, or the Cybercrime Prevention Act of 2012, another government website has been hacked. Hacker "busabos" replaced the Department of Health (DOH) website banner with "nakakalungkot pero sin tax = corruption." The website was unavailable for several minutes before
it went up again
, this time without the hacker's message. In an earlier report, DOH said that sin tax collection could help boost the agency's revenue by
more than 40 percent
. The bill, currently pending before Senate, aims to increase taxes on tobacco, and alcohol products, with the proceeds going to fund government health projects. GMA News Online tried to contact the webmaster of DOH but the officials are not yet available for comment.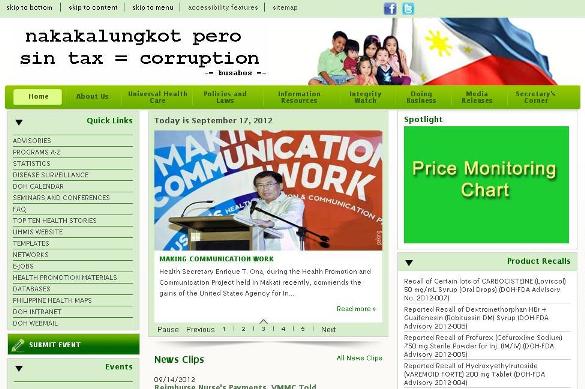 The front page of doh.gov.ph before it became unavailable.
Based on the newly-signed cybercrime prevention law, hacking, together with other types of cybercrime such as online libel, child pornography, cybersex, and identity theft, are punishable by at least six years and one day up to 20 years of imprisonment, and a fine ranging from P50,000 to P500,000, depending on the gravity of crime committed. The punishment and the penalty are heavier if the crime is committed against a critical infrastructure. This is not the first time that a government website has been hacked. On June 12, 2012, in protest of the then Anti-Hacking Bill in Congress, hackers defaced seven government websites. Sites such as the Office of the Ombudsman (omb.gov.ph), Philippine Nuclear Research Institute website (pnri.dost.gov.ph), and the National Food Authority website (nfa.gov.ph) were redirected to a certain webpage with the logo "PrivateX." According to a previous report, PrivateX was
protesting against
certain provisions of the then cybercrime bill (now RA 10175). "The said bill could even be more considered as an exercise for the benefit of a few empowered who have the way and will to punish people who offend them, [sic]" according to the site. Other government sites that have been hacked this year include those of PAGASA (pagasa.dost.gov.ph), the Philippines News Agency (pna.gov.ph), and the University of the Philippines (up.edu.ph).
— BM, GMA News