Filtered By: Scitech
SciTech
DOST's Project NOAH unveils Moses tablet as red flag for calamities
From NOAH came Moses—at least for the Department of Science and Technology (DOST).
The DOST unveiled on Tuesday the Monitoring and Operating System for Emergency Services (Moses) tablet made for faster and more efficient communication during calamities and natural disasters.
The Moses tablet is the latest technology developed under
Project NOAH
(Nationwide Operational Assessment of Hazards), which
harnesses technologies and management services for disaster risk reduction activities.
Project NOAH head Dr. Mahar A. Lagmay gave a Moses tablet to Department of the Interior and Local Government NCR Regional Director Renato Brion at DOST's Expo Science 2013.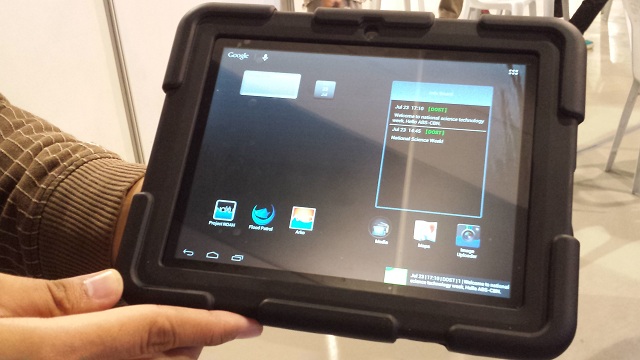 The Moses tablet. Photo by Kim Luces
A Moses tablet will be given to each barangay in Metro Manila, and then the whole country.

The locally developed Moses tablet is protected by a black case and allows its user to take pictures of calamities and its effects such as flooded areas, fires, and landslides. The pictures are then uploaded and sent to the command center via 3G or Wifi.

Photos of specific locations such as schools, houses, and hospitals can also be taken and sent immediately for reporting.

The photos will help pinpoint the location of search-and-rescue facilities, as well as blocked access routes and emergency access routes, giving visually accurate information on the situation in each barangay.

The central command center can then send messages containing advisories or warnings back to the barangays.

The Moses tablet also comes with other disaster prevention apps like the Arko, which gives historic flood data on the areas in Metro Manila that can be used to predict the level of floods in several areas in the nation, Project NOAH, and the Flood Patrol.

The use of the Moses tablet is not limited to natural disasters, said Lagmay.

"Hindi niyo po to puwedeng gamitin pang-Candy Crush," chided Lagmay. "The Moses tablet can only be used for disaster-related uses." — BM/VS, GMA News