Filtered By: Scitech
SciTech
The COMET e-jeep: A US design for Metro Manila's roads
(Updated 4:47 p.m., April 30)
The story of the COMET (City Optimized Managed Electric Transport) is vaguely reminiscent of that of the jeepney, when Americans after the war donated and sold their military jeeps to Filipinos, who then retrofitted them to be used for public transportation.
The COMET was also introduced by Americans—by US-based Pangea Motors, LLC, which is responsible for its design and technology. However, its exclusive distributor is Global Electric Transportation (GET), a partnership of both American and Filipino private investors.
On Tuesday, the second day of his state visit to the country, US President Barack Obama attended the COMET's launch.
Now why would the leader of the free world be present during the launch of a start-up company's product? Firstly, the product is in line with Obama's stand on climate change issues and the reduction of carbon emissions; second, it is American technology partially owned by American investors.
Designed for Metro Manila
The COMET, though it uses US technology, was designed with the needs of Metro Manila in mind.
According to a COMET fact sheet sent to GMA News Online, a US design team flew to the Philippines to study—and improve on—the different modes of inner city transport available in the country. Specifically, they took a look at public utility jeepneys, given that they are the major mode of transportation and are the key contributors to air and noise pollution and traffic congestion.
The dimensions, functionalities, and safety features of the COMET took into account different conditions such as the weather, flooding and the state of the National Capital Region's road infrastructure.
"It was built primarily to replace [jeepneys]," said GET Philippines country manager Anthony Dy in a phone interview with GMA News Online on Tuesday.
The COMET's speed was capped at 60 kph. It uses air suspension technology that can raise the vehicle's body more than 16 inches off the ground in case of flooded roads. The batteries are also enclosed in a watertight casing.
There will be designated stops where these 20-passenger electric shuttles can pick up and drop off passengers and recharge their batteries. The lithium ion batteries require less charging time (five hours to be fully charged) and last longer than the lead acid batteries that some electric vehicles are still using. A single, full charge is estimated to take the COMET 80 to 100 kilometers.
And just like with the MRT and LRT, passengers will use cards to pay the fare.
More importantly, so as not to lose the multicolored, kitschy designs jeeps have become world-famous for, COMET owners may even design their vehicles' outer appearance.
"We did not want to lose the spirit of the Filipino jeepney, and that's found in jeepney art. So ang mangyayari, ang nakabalot sa COMET ay magiging jeepney art," said GET president Sigfrido "Freddie" Tinga in a 24 Oras interview.
Potential to balloon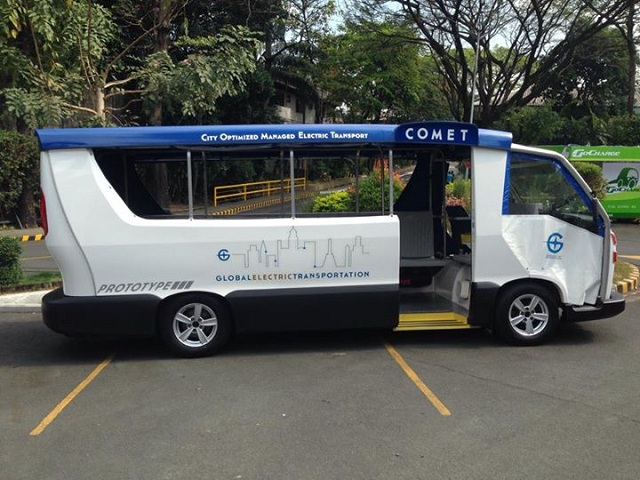 The COMET e-jeep was designed with Metro Manila's roads in mind. Photo from GET Philippines

This start-up behind the COMET could potentially balloon into a huge venture since jeeps are a major part of public transportation in the Philippines. GET is also aiming to expand in other countries like Indonesia.
"It [could be a huge venture] because of the fact that there is still a huge problem (pollution and congestion). Bigger problems mean bigger opportunities," said Tinga in a phone interview with GMA News Online on Tuesday.
Of course, the profits would go to the Filipino and American investors who partnered to form GET, the exclusive distributor of the COMET e-jeep. However, one percent of the gross revenue will go to social enterprises. In the Philippines, GET's social enterprise partner is Gawad Kalinga. The social enterprises will vary from country to country.
Pasang Masda (Pangkalahatang Sanggunian Manila and Suburbs Drivers Association Nationwide) will be the first to use the e-jeeps, according to a
News To Go
report on Tuesday.
Under their national president Roberto "Ka Obet" Martin, they forged an agreement with GET to purchase 10,000 COMETs by 2016 to replace existing passenger jeeps plying specific routes in Metro Manila, according to a fact sheet sent by GET to GMA News Online.
It was previously reported that the first fleet of 30 COMET (City Optimized Managed Electric Transport) e-jeeps will be rolled out in Metro Manila by the second quarter of 2014. Meanwhile, a targetted
3,000 to 4,000 units
are meant to be rolled out by the end of the year.
Many of COMET's high-tech vehicle parts (in Tinga's words, "everything that makes it an 'electric' vehicle") are from the United States, but the units are being assembled in a GET plant in Carmona, Cavite. By January or February 2015, the chassis and body panels of COMETs will be manufactured in the Philippines.
Cheaper than fuel?
For the COMETs' first few years in Metro Manila, the e-jeeps will be plugged into special outlets in designated stops to charge. The cost of electricity that one COMET would consume per day is estimated to be at P500. This is
cheaper compared to the 1,000-1,200 pesos a day
spent by regular jeepney drivers on diesel, Dy said in a previous interview.
However, this does not translate to cheaper fares. "We are guided by LTFRB (Land Transportation Franchising and Regulatory Board) rules on fares. COMET drivers will have basic salaries, health insurance benefits, plus bonuses based on route income," said GET Media Relations Manager Maria Ana Santos in a text message to GMA News Online on Tuesday.
"(COMETs will charge) the same fares as jeepneys," she emphasized.
Solar energy utilization soon
Meanwhile, the jeep's cleaner, more environment-friendly successor, a solar-powered jeep, may not emit carbon dioxide, but is not completely off the grid in terms of carbon contributions.
"Mayroon din siyang carbon footprint kasi we plug it. Right now we're depending on Meralco," said Dy.
Dy said the company is "in talks" with schools working on solar energy technologies, such as the University of Beijing. "In one and a half years or less, COMETs will be solar-powered already," he said.
The COMETs are expected to start using solar power in 2017 or in the last quarter of 2016 at the earliest.
None of the COMETs are on the road as of the present. It was previously announced that
they would be on EDSA by March
, but the plan had to be postponed due to changes made to the prototype, Dy said.
— BM/DVM, GMA News