Filtered By: Scitech
SciTech
Hatoful Boyfriend re-release sees everybirdie courting pigeons again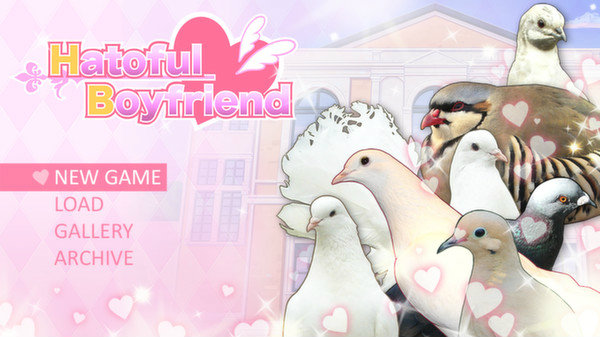 Already infamous on the internet for its rich lore and cute characters, Hatoful Boyfriend is set to spread its wings and fly to greener pastures.
Helping it spread its wings are Devolver Digital, famous for carrying indie games such as Broforce and Gods Will Be Watching, and developer Mediatonic, maker of Foul Play and BAFTA-nominee Amateur Surgeon Hospital.
Polygon
reported that Hato Moa's avian dating simulator will see the game's player character—the last human female on earth—go through a new scenario and ending designed by the manga artist himself.
Released on Aug. 21 on PC, Mac, and Linux,
IGN wrote
that the game will cost $9.99 (approx. P436) to anyone who doesn't pre-order the feather-filled bird love game.
On its Steam page
, it indicates that pre-orders will receive a 10 percent discount to early hatchers, giving a final price of $8.99 (P392) for the single game version and $13.49 (P589) for Hatoful Boyfriend's Summer of Dove Collector's Edition.
Early birds who choose to get Summer of Dove edition will get "he original Hatoful Boyfriend (PC), digital soundtrack, exclusive new comic from original developer Hato Moa, exclusive wallpapers of Oko-san, and the St. Pigeonations Yearbook (Class of 2014)".
A Bird-Watching Primer
Set in a world where pigeons have been blessed with human-like intelligence, the player will navigate through St. PigeoNation's Institute as its only human student. Players can join various clubs, jobs, and activities, and find sweet, feathery love along the way.
One datable birdie is
Ryouta Kawara
, the protagonist's childhood friend and a fellow high school sophomore. The rock pigeon works through several odd jobs to support his ill mother, but harbors poor health himself.
Another birdie is
Yuuya Sakazaki
, a fantail pigeon known for flirting with everybirdie. Usually found assisting Doctor Shuu Iwamine in the school infrimary, the French birdy is the half-brother of the snooty Sakuya Le Bel Shirogane.
Shirogane
, also a fantail pigeon, is the president of St. Pigeonation's Student Council and a high-class, admittedly snobby bird. Despite his brother's unconditional love, he loathes Yuuya and other impure breeds.
Opposite to the ostentatious brothers is
Nageki Fujishiro
, a freshbirdy mourning dove who loves books. A recluse, he keeps to himself in the library, where the protagonist may volunteer to get him to open up.
Those with a taste for older birds may go for
Nanaki Kazuaki
, the protagonist's narcoleptic mathematics teacher. The button quail is incredibly brilliant, yet his mild-mannered nature and 'condition' often makes his lectures go unheard.
But if secretive birdies appeal more, the chukar partridge doctor
Shuu Iwamine
of the school infirmary can be pursued. Cold, calm, calculating, and creepy, the doctor helps Ryouta with his tummyaches and repeatedly wonders why the heroine is interested in him.
If all the foreign birds seem intimidating,
Anghel Higure
's cross-wearing, window-breaking antics will provide comfort. The Luzon Bleeding-heart dove is an avid mangaka, and views everything as a JRPG game.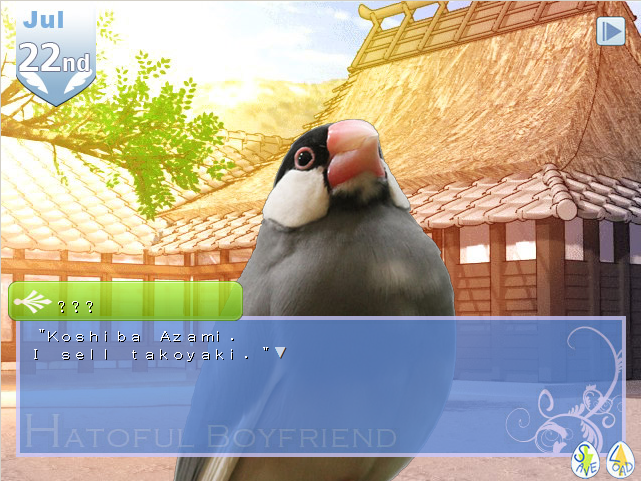 Last, but not the least, the Java sparrow
Azami Koshiba
will become a dateable birdy in the re-release of the game. Previously, the protagonist could only help the biker reunite with her gang leader and love, but players can now be with the Hell's Birdies sparrow.
Decidedly an otome game, or a game with female protagonists made for women, Let's Player Angie Gallant has played through both its
demo
and
complete edition
.
— TJD, GMA News