Filtered By: Scitech
SciTech
Electric tricycles debut on Mandaluyong streets
The E-Trikebayan, a new battery-powered tricycle, took to the streets for the first time in Mandaluyong City on Moday, Sept. 29.
The tricycle was developed by
EVWealth
, a subsidiary of Guevent Investments Development Corporation (GIDC). EVWealth claims that its main aim is to provide green technology transportation alternatives to local government units, helping reduce pollution in the area.
Powered by a lithium-ion battery, the E-Trikebayan can reach maximum speeds of 50 kph, and can carry up to six passengers along with the driver.
Previous attempts at electric tricycles were unsuccessful because their business models relied on government subsidies, financing which is unavailable, according to Palermo Soriano, Jr., Chief Operating Officer of Guevent. And that is where the business model of E-Trikebayan is different.
"The only support that we're really looking for is the support of local government in issuing out franchises for the electric tricycles," Soriano said.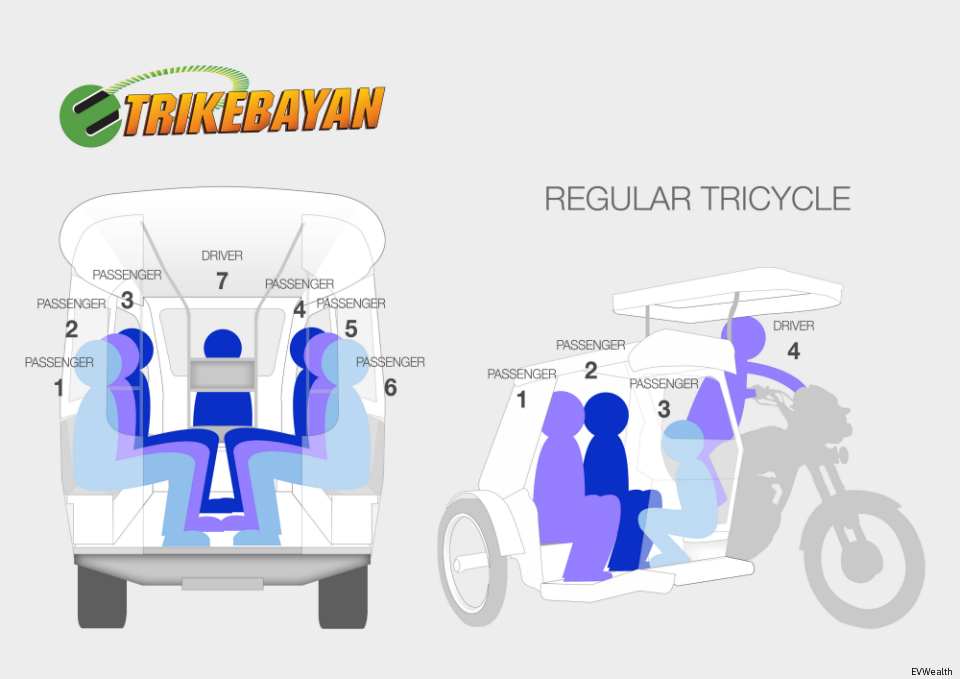 Opportunities for entrepreneurship
With an amortization fee of P 275.00/day for 3.5 years, E-Trikebayan drivers will be able to own the unit. Each unit comes with free LTO registration, comprehensive insurance, and family insurance.
EVWealth is also offering financial plans in partnership with Radiowealth Finance Company (RFC). This is in line with their end-to-end solutions, which according to GIDC Chairman and President Ricardo Guevara, include driver training, after-sales service, and battery charging and swapping.
According to Mandaluyong Mayor Benjamin "Benhur" Abalos, Jr., the city wants to encourage people to opt for the E-Trikebayan over the regular gas-powered models. They plan to do this by lowering the required franchising and regulatory fees for the E-Trikebayan.
Greener transportation
E-Trikebayan units are also slated for release in Boracay, Iloilo, and Tacloban within the next six months.
"This is clearly a new movement in 'green' public transportation and we are immensely proud to present a sustainable alternative, and at the same time, real entrepreneurial opportunities for driver-owners," said Guevara.
"Our dream is for our country to become the manufacturing hub of electric vehicles of ASEAN," he added.