Filtered By: Showbiz
Showbiz
Raymund Marasigan on meeting the rest of the Eraserheads again: 'It's really, really awkward'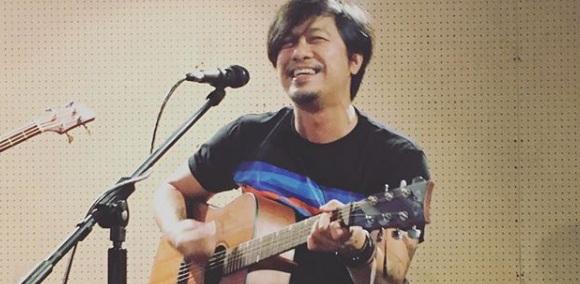 The upcoming Eraserheads reunion concert is certainly all the buzz in the local music scene, what with the manner it was announced and how soon the event is going to be.
On music website Bandwagon, Raymund Marasigan admitted it was pretty awkward meeting with the other members of the Eraserheads.
"Obviously, we are famously not close, especially in the last few years" began the former drummer for the Eheads.
He did however make an exception to Buddy Zabala, saying they had no problems between the two of them "because I see him every week."
For the rest of the Eheads however, the current frontman of Sandwich admitted it was a little uncomfortable.
"With the four of us, it's really, really awkward. We haven't talked. We've been distancing from each other," he adds, pointing to how the presence of their significant others and their kids at the meeting turned out to be such a good thing.
"Wala naman silang any issues. Then when it was finally over after a few minutes, I said, 'I gotta go. I have a gig to play'," he recounts.
The next meeting among the four musicians couldn't happen sooner. According to Bandwagon, it happened the very next day at a photoshoot with lensman Xander Angeles.
Much like the previous night, it was an awkward encounter among the four of them.
"Tahimik eh. Walang usap," Raymund admits.
"The four of us are awkward together ever since — it's nothing new. We're not comfortable without equipment. We're not comfortable with each other," he said.
Unsurprisingly, it was music that put them at ease. Raymund brought out a portable speaker and started playing music. "Mundo" by IV of Spades was the first track they played and then they went through a whole gamut of music from Rivermaya, which got the four of them laughing, to Run the Jewels.
"It was music [that helped us overcome awkwardness]," Raymund told Bandwagon, adding that they started talking about the concert — how to approach it, what songs to play, how many songs they'd play — in between takes.
Each of the four members took to social media on Monday morning to announce their reunion concert, happening in December.
This will be the first time the Eraserheads will play again after the 2008 reunion concert that was cut short due to frontman Ely suffering a heart attack. They eventually played again to continue the show.
The Eraserheads broke up in 2002. — LA, GMA News