Filtered By: Showbiz
Showbiz
HOLLYWOOD INSIDER
Golden Globe Awards invite frontliners to attend the show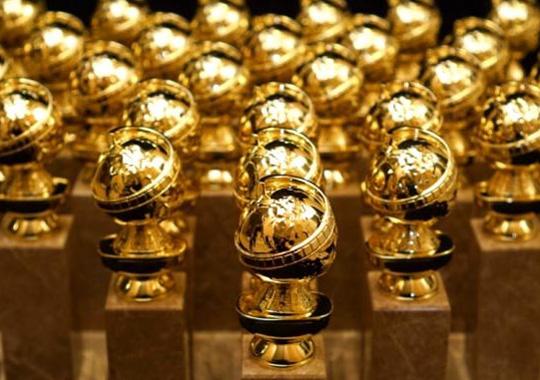 Los Angeles — For the first time, the Golden Globe Awards show invited a limited number of frontline and essential workers to attend the awarding ceremony.
In recognition of the show's philanthropic partnership with Feeding America, a select number of food bank workers were also selected to attend the 78th Golden Globe Awards show.
Feeding America is the largest hunger-relief and food rescue organization in the United States, serving more than 40 million people through a network of 200 food banks and 60,000 food pantries and meal programs.
Over the last year, Feeding America has helped provide food to millions of people who have experienced food insecurity as a result of the COVID-19 pandemic, many for the first time. Throughout the telecast, viewers will be made aware of Feeding America's COVID-19 response efforts.
The first-ever bicoastal event had hosts Tina Fey and Amy Poehler live from the East Coast and the West Coast respectively, with Fey going live from the famed Rainbow Room while Poehler, from the iconic Beverly Hilton.
Fey and Poehler, who have hosted the Globes from 2013 to 2015, are back as hosts.
Asked if she was looking forward to the virtual format, Poehler replied, "Well, I think the format's going to present some fun challenges, and I will say Tina and I, we don't back down from challenges, however weird they may be. I'm really looking forward to what I always look forward to when I get to host the Golden Globes and that is spending an evening with my friend. I think that this has been a very heavy year, and so any way we can bring some humor and light, some sense of play and joy and help celebrate artists and the work they've done, then happy to be a part of that."
Working from different coasts is also a challenge. Poehler revealed, "It's kind of like working new muscles, trying to figure out what will play in this medium, and again, we've never hosted anything remotely before, but we are really having fun with the idea of being on different coasts, the ways in which we can use this new medium and also, we really like to treat it like we're hosting a party. So when you're hosting a party, you have to be having fun yourself, you have to leave space for all the great glorious things that do happen at the Golden Globes, and you have to remember that you're there to entertain."
So to what does she attribute her chemistry with Fey, we asked. "We met when I was 22 in Chicago and just starting out in the comedy world," she recalled. "I was taking classes, improv classes, doing sketches, and so was she. We were both girls from the East Coast. We had very similar shared sensibilities, and I think right away we saw a friend, a partner, and something similar in each other. Neither one of us have sisters, so I think right away we just kind of chose each other as sisters, as work sisters. And that's important because how you work with someone is important. We all have friends that we love, and we can't work with all of them. So I think Tina and I have a very special connection in that we really, really like to work together. So it's great these many years later that we get a chance to do that, and you give us that opportunity. It's awesome."
As for her fears for that night, Poehler admitted, "We are going to be working in a new way, and so it's probably just that our Zooms won't work, right? (laughs) It's probably that everything will short out, technological fears really. I have to say when we had done the show before, and we had walked out on stage in front of an audience, there's all that fear, but now there's like a lot of new technological fears to worry about. But I know we are in good hands and look forward to, even those things sometimes make the shows feel alive and live, which is important to feel."
This year, seven-time Golden Globe winner Jane Fonda was selected as the Cecil B. DeMille awardee. The 83-year-old actress-political activist-environmentalist said of her reaction when she heard of the honor being bestowed on her, "I burst into tears. It was so unexpected. And it's such a great honor. And it made me so happy that I burst into tears. I'm so grateful to the Hollywood Foreign Press Association."
She recalled her favorite Golden Globe moment, "I had retired from the entertainment business - I had no intention of coming back. My son, the actor Troy Garrity, was nominated for a Golden Globe for his role in Soldier's Girl, and he invited me to be his plus one, his escort. And walking the red carpet with my son when he was the one that was being nominated - he lost to Al Pacino, he should have won - but I mean, losing to Al Pacino isn't so bad. That was the most fun that I ever had."
When asked who she would dedicate her award to, Fonda disclosed, "I would dedicate it to all the young climate activists who were inspired by Greta Thunberg, and rose up in 2019. Millions and millions of them around the world. It was the largest global demonstration in human history. I would dedicate it to them."
On the other hand, Norman Lear, legendary television writer and producer, was selected to receive the Carol Burnett Award for his contributions to the field of television. The 98-year-old political activist revealed his reaction when he found out about his award, "I burst into an image - If I was ever sandwiched between Jane Fonda and Carol Burnett. I can't tell you how much I love that image and how proud I am to be in the middle of those two."
Lear confessed, "Oh my god. For all the years before I got really started, there was The Carol Burnett Show for a number of years. And nobody ever made me laugh harder. I've said it so much all my life that I couldn't believe anything more than that --- laughter adds time to your life."
The indefatigable nonagenarian admitted that he loves to work and will continue to work. He said, "There's no reason for it except appetite. You know, I've had as good a time in this business as anybody has ever had in any business ever in the history of humanity. And I love it. There is no greater spiritual experience than watching 200 people laugh when they come out of their seats and roll forward in a big laugh, belly laugh. And I love it. It's enhanced my life. Every minute of it."
And his favorite Golden Globe moment, we asked. "The year we had lobster rolls." — LA, GMA News
In the U.S., the Golden Globes show will air live Sunday, February 28, on NBC News. In the Philippines, the show airs live on Blue Ant Entertainment, Monday March 1 from 7:30 am. Channel is available on SkyCable, Destiny and Cignal in the Philippines.