Filtered By: Showbiz
Showbiz
HOLLYWOOD INSIDER
R'Bonney Gabriel, Filipino American Miss USA, is a sustainable fashion designer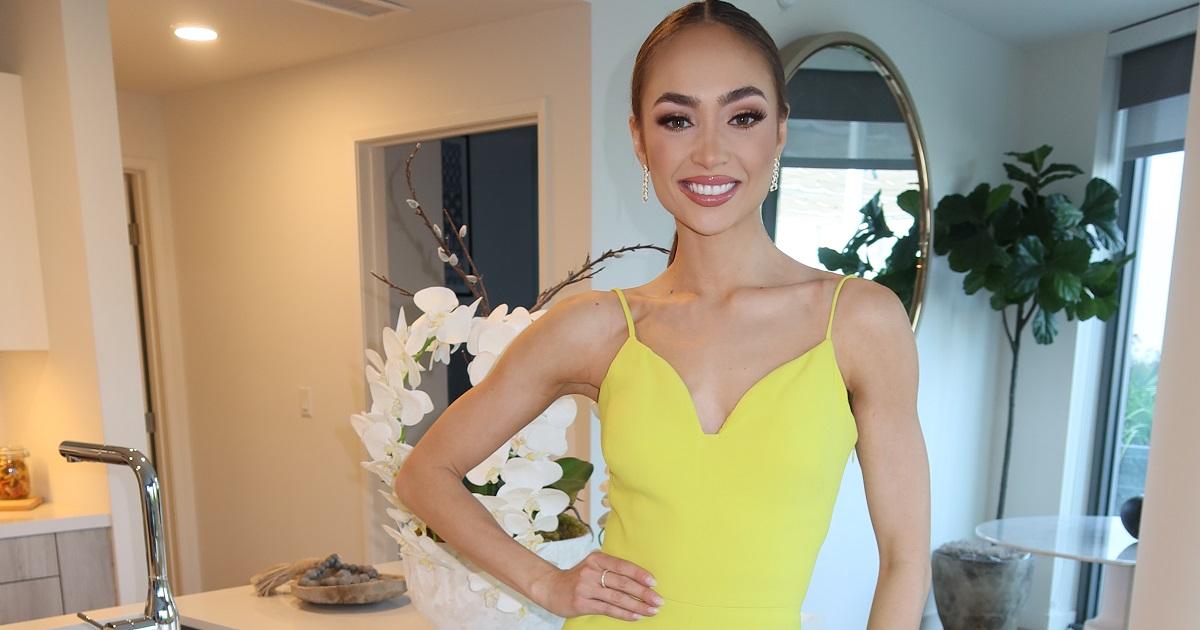 LOS ANGELES — The statuesque and slim newly crowned Fil-Am Miss USA, R'Bonney Nola Gabriel, greeted us warmly during our exclusive interview at her suite in Los Angeles.
Friendly and charming, the beauty queen made waves at the recently concluded Miss USA in Reno, Nevada when she bagged the title, making her the second Fil-Am to win Miss USA.
Gabriel, who was representing Texas in the competition, was also the first Fil-Am to be Miss Texas. She will now represent the United States in the coming Miss Universe pageant in New Orleans on January 14, 2023.
The 5'7" tall, 28-year-old green-eyed beauty is also very eloquent and smart. What makes her also stand out from other beauty contestants is the fact that she is also a sustainable fashion designer. She made her gowns for her arrival and her interview, and she plans to make more gowns when she competes at the Miss Universe contest.
Born on March 20, 1994, in Houston, Texas to Filipino Ramon Bonifacio "R'Bon" Gabriel from Malate, Philippines and Dana Walker from Beaumont, Texas, R'Bonney got her name from her dad. Her father, who emigrated to Washington at the age of 19, has a doctorate in psychology at the University of Houston.
R'Bonney, meanwhile, has a bachelor's degree in fashion and a minor in fabrics from the University of North Texas. She is a model and a sustainable fashion designer of eco-friendly apparel.
Below are excerpts of our exclusive conversation with the newly crowned Fil-Am beauty queen.
Congratulations on winning the Miss USA title. You are the second Filipino American to win Miss USA. Marcel Wilson, a Fil-Am, first won the title in 1962. And you also became the first Filipino American to win the title of Miss Texas. Talk about breaking all these barriers and what it means to you.
It was such a great feeling. I am the first Fil-Am to win the title of Miss Texas and then I won Miss USA. Representation is very important. I want to share that message and embrace it and be proud of it.
You are also a sustainable fashion designer who makes your own gowns.
Yes, I did my arrival gown and my interview gown myself. I am a sustainable fashion designer and I love to cut out large pieces of cloth and make them into something new. I am really pushing the industry to be sustainable.
My father is from Manila, Philippines and my mom is from Beaumont, Texas so I combined these two cultures in their honor and made an outfit with a Filipina Maria Clara collar shape. I have immense gratitude for the opportunities my parents provided me, and I wanted to express my love to them through this. (Check her Instagram account that shows her sewing the outfits herself.)
Where was your father born?
He was born in Malate.
Tell us more about your dad.
My father is very silly. He is a very funny man. He taught me about hard work. He told me that you do not need to be the smartest, but you need to work the hardest. He loves to dress nicely. He was wearing a red suit during the Miss USA pageant. He loves sneakers and he has 75 pairs of Nike. We both love to wear matching sneakers.
How was it growing up in a household with two diverse cultures?
It is fun growing up in a household with diverse cultures. From my dad's side, we love to sing karaoke, the family is very big and loud, and we eat a lot of lechon. From my mom's side of the family, it is much smaller, and we just have mashed potato and gravy, and mac and cheese. Growing up in a household with two diverse cultures made me open minded.
You have brothers as well. How was it growing up with brothers? Were you like a tomboy then doing a lot of boy sports?
I actually have three brothers and I loved playing sports with them - shooting BB guns, playing game cubes, PS 2 and other games.
Your favorite food is my favorite food too – halu-halo. So, when can you eat that now?
I love halu-halo. It is a crowd pleaser, so I love to introduce it to everyone. I can eat it now before I go back to my Miss Universe regimen of training and working out. But recently, I had treated myself to ensaymada and ube.
You mentioned training for the Miss Universe. What kind of training are you going to have?
I need to hit the ground running. There is an intensive three-month training that includes interviews and keeping my body healthy. I also need to make as many outfits as possible. And I will also continue to advocate for sustainable fashion, and also work with Smile Train and Best Bodies.
What will be your advocacies as Miss USA?
I am passionate about design, and I also teach sewing classes to women who were abused or involved in human trafficking. I also give sewing classes to schools and give educational classes on fashion to these kids because I believe education can give everybody better opportunities in life and we need an abundance of opportunities.
You also used Filipino designers in the Miss USA and Miss Texas competitions.
Yes, I did. My evening gown and my preliminary gown was done by Rian Fernandez (from Pangasinan). He is amazing and he already made a few gowns for me. I love him and I am friends with him. I love to showcase Filipino fashion designers and their works. (Rian did a gold hand embroidered deep neckline high slit gilded gown for the finals.)
Your Miss USA state costume was also made by a Filipino designer, wasn't it?
Yes. It was the Texas Bluebonnet Reimagined. So, I was able to mix my Filipino and Texan cultures. Patrick Isorena made the amazing costume. I love how he did it. It was very fashion forward. And it was bright and had an element of surprise and a glamour twist.
Will you be doing your gowns also for the Miss Universe?
Yes, I will be very busy designing.
Are you also going to do your own costume?
I am not too sure about that. We are only on day two or three. I will probably collaborate with an amazing designer to do it.
How do you see yourself in five years?
My life mission is to be the leading sustainable fashion designer in the industry. I want people to be inspired by hard work and to achieve success by focusing and putting their head down.
You went to the Philippines in 2018. What did you do there during that time?
I went with my parents, and we stayed in Manila most of the time. We went on a daytrip to a waterfall, and I cannot remember right now the name of the place. We parted ways and I went to Indonesia on my own for a couple of weeks.
When do you plan to go back to the Philippines?
The Miss USA organization is saying that we will partner with Smile Train in the Philippines, and we might go there by the end of the year.
So, you went to swim with the sharks with your dad. Was that in Cebu?
Yes, it was in Cebu. My father is 84 years old and when we swam with the whale sharks, he was so happy. Those sharks are 40 feet long and they don't mind you. They just eat the plankton. It was an amazing experience.
What do you plan to do when you go back to the Philippines at the end of this year?
There is so much to do. First, I need to work with Smile Train that organization that does cleft surgeries to kids and babies. I may work with some photographers and Filipino fashion designers. I will do more training, interviews, networking and try to connect with people.

Tell us more about Smile Train.
Smile Train is the world's largest cleft-focused organization with a model of true sustainability. It provides 100 percent free cleft surgeries and other forms of essential cleft care in their own communities. I will be advocating and working with the organization during my reign as Miss USA.
Do you plan to eat more Filipino food when you visit the Philippines
Absolutely!
Do you plan to travel to more islands?
I have never been to Boracay, so I want to go there. I have been to El Nido and Cebu. I also want to go to Siargao. I heard there's a lot of scuba diving over there.
You are inspiring a lot of young Filipina girls who want to follow your footsteps. What advice would you give to them?
I would advise them never to let their self-doubt hinder them from going after what they want to do. You can have your wildest dream and make it happen. Impossible dreams are possible. If you focus full force, you can have your dreams come true. I want young girls to firmly believe in that because it happened to me, and it can happen to them too.
—MGP, GMA News