Filtered By: Sports
Sports
NBA: Lin-led Rockets cruise from start to finish versus Pacers in Manila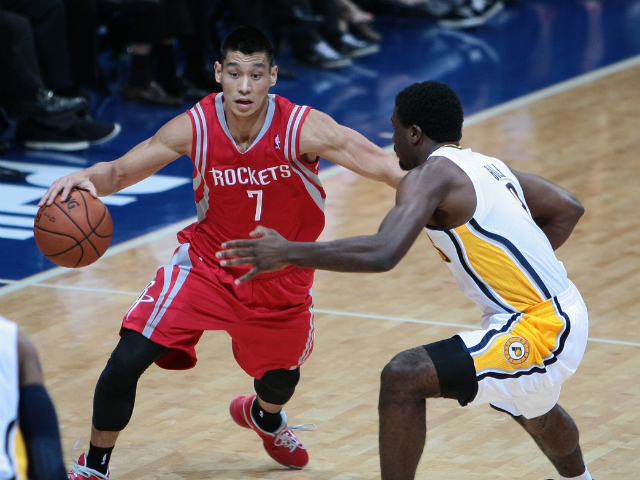 Jeremy Lin attacks the defense of rookie Pacer Solomon Hill. Roehl Niño Bautista, GMA News
(Updated - 2 10:48pm)
In charge of the second unit, at least for this game, Jeremy Lin ran the show with aplomb, helping the Houston Rockets to a 116-96 win over the Indiana Pacers, Thursday at the MOA Arena, in the Philippine leg of the 2013 NBA Global Games.
Lin was a starter for most of last season, but Patrick Beverly got the start in this game. There were also times when the Taiwanese-American shared the floor with Beverly, and another point guard, Aaron Brooks, but come the fourth period, it was Linsanity all over again, as the former New York Knick created the decisive separation between the two sides.
"He's going to start the next game," Rockets head coach Kevin McHale said after the game of Lin. "He and Patrick are alternating for a while.
"We wanted to get off to a good start defensively. We set some defensive goals and the first unit really did a nice job establishing us defensively," McHale added.
"Jeremy is a lot more comfortable, a lot more confident. His feel for the game is different," James Harden chimed in, though he also cautioned, "we're just trying different things with our line-up."
After finishing as the eighth seed out West last season, the Rockets are poised to move up the standings after adding the summer's most coveted free agent, 6'11 Dwight Howard, a former three-time Defensive Player of the Year.
The Houston Rockets began with a massive 12-0 run, with half coming from Patrick Beverly and James Harden canning triples, barely three minutes in. The Pacers finally got on board though, scoring the next six, but the Rockets continued to get shots at the rim, 27-14.
"Our defense was phenomenal. In the first quarter we jumped out to a 15-point lead," said Harden. "[We] create stops, force turnovers, get easy points. Obviously having Dwight, Dwight helped out as well."
Howard finished with nine points, three rebounds and two assists. He gave the team a solid interior presence on offense that was lacking last season with just Omer Asik manning the middle. Asik did not play this game due to a calf strain.
A pair of Paul George triples sandwiched a Chandler Parsons layup, and then CJ Watson nailed another trey, and it was enough to make the score at the end of the first period more respectable, 31-24.
The Pacers' second unit kept things competitive, as a Luis Scola layup off a Danny Granger assist got their side within two points, 39-37, 7:46 left in the first half. Aaron Brooks and Donatas Motiejunas provided enough separation, though the latter injured his wrist after taking a hard fall, following a dunk, 46-39.
Lance Stephenson charities and a David West jumper made it just a four-point affair, but the reinsertion of some of the Houston starters allowed them to maintain their separation, 61-55 at the break.
The second period saw some delays due to a shot clock malfunction.
After the break, Houston seemed determined to take charge of the game anew, scoring five quick points for a 66-55 advantage. Three David West scores in a row kept Indiana in the thick of things though, and Houston was required to adjust after Dwight Howard was whistled for his fifth foul of the game with 3:59 remaining.
Still, McHale was happy with what he saw of Howard, saying that he's "in a good spot" physically. "He's the most dominant big man in the game right now. Dwight's as good as he gets at the center position."
James Harden then took charge, making it a double-digit lead with a trey, 84-73, 48.5 seconds to go, but Paul George ate slightly into their deficit, for an 84-75 tally at the end of the third.
Back-to-back early hits by Orlando Johnson looked to give the Pacers some momentum, 84-79. However, a 13-4 run led by Jeremy Lin had the Rockets looking like the superior team, 97-83, 6:14 left. Between the shot and the free throw on an Omri Casspi and-one, Lin sat down to applause from the crowd, with the score at 107-90 and the game essentially decided.
The Pacers never led but still managed to help give the announced crowd of 12,885 patrons a good show.
"It's been a great experience. It was a fun game tonight," McHale added. "I thought it was a good atmosphere. Fans were really excited and it had a nice vibe and a lot of energy in the arena."
Harden led all scorers with 21 points on 6-of-12 shooting, including a 7-of-10 clip from the foul line. He also compiled five rebounds, four assists, and four steals. Lin put together 14 points, six rebounds and five assists, while Chandler Parsons scored 15 on an efficient 6-of-10 outing.
Omri Casspi came off the bench for a double-double of 17 points and 10 rebounds, while fellow reserve Donatas Motiejunas came back from the wrist injury to post 16 markers.
"Tough loss," said Indiana coach Frank Vogel. "I just think they're a speedy team, and we have to work on our ball movement and our transition defense."
Paul George led his side with 17 points. David West added 14, while Orlando Johnson played well late with 11 points in 12 minutes.
The Pacers so far are 0-2 in the preseason, despite taking eventual champions Miami Heat to seven games in the Eastern Conference Finals last season. They're projected to be a contender however, after upgrading their bench in the offseason through signings, and the return of injured forward Danny Granger.
The Rockets out-scored the Pacers 62-42 in points in the paint and doubled up on them in transition points, 26-13.
- GMA News


The scores:
Rockets 116 - Harden 21, Casspi 17, Motiejunas 16, Parsons 15, Lin 14, Beverly 12, Howard 9, Jones 5, Brooks 5, Brewer 2, Canaan 0, Covington 0
Pacers 96 - George 17, West 14, Johnson 11, Hill 10, Scola 10, Granger 9, Watson 9, Hibbert 6, Stephenson 4, Armstrong 4, Copeland 2, Mahinmi 0, Hill 0, Sloan 0, Butler 0
Quarter scoring:
31-24, 61-55, 84-75, 116-96