Filtered By: Sports
Sports
PBA: San Mig Coffee eliminates Air21, books Finals date with Talk 'N Text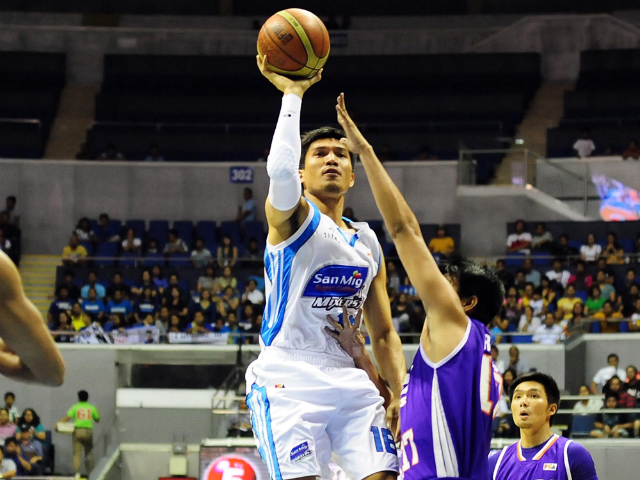 James Yap and the rest of the San Mig Coffee Mixers, are back in the Commissioner's Cup Finals. KC Cruz
(Updated 10:34pm)
The San Mig Coffee Mixers leaned on their lockdown defense to oust the Air21 Express, 99-83 and arrange a best-of-five Finals series for the 2014 Commissioner's Cup title agains the Talk 'N Text Tropang Texters, Wednesday at the Smart-Araneta Coliseum.
The Mixers, reigning Governors' Cup and All-Filipino Cup titlists will be shooting for a third straight conference title, while Talk 'N Text boasts of an undefeated record through the elimination round and their side of the postseason bracket.
James Mays paved the way with 24 points, 17 rebounds, two blocks and two steals. PJ Simon and James Yap scored 18 and 15 points, respectively. Mark Barroca added 11 points, four rebounds, five assists and three steals, while Alex Mallari chipped in 10 points and five rebounds.
"Certainly our guys came to play. You could see it all the way through the lineup. It was a total team effort, and it was one of those nights when we were on. We were defending at a high, alert level. Everything clicked for us tonight," said San Mig Coffee coach Tim Cone. "When that happens it may look like the game is easy, but you have to work really, really hard to get everything clicking."
Cone added that they came into the game wanting to be the aggressors on offense and force Air21 to adjust to them, and not vice versa. "We wanted to force them play man-to-man so we can attack them in the triangle. It's so hard to attack us when [Yap and Simon] are armed," he said. "We really didn't do much adjustments, we were just more mentally prepared to battle the zone."
Defensively, the Mixers deployed a box-and-one defense to keep import Wesley Witherspoon from going off from three-point territory. "We just didn't want them getting the ball to Witherspoon. Alex [Mallari] did a good job of denying him and frustrating him," Cone added
Owing to the compressed schedule, the Finals begins on Friday, 8:00pm, also at the Smart Araneta Coliseum.
"This schedule has been really, really challenging, especially for us. This team has not had a break this conference, and the conference before," said Cone. "I know we're all doing this for Gilas, we're all doing this for everybody. I know it's a huge sacrifice for the commissioner's office, and they don't really wanna do this. But I'm just amazed that they've all played through the sacrifice.
"Usually you look at a team and say, 'Wow they look unbeatable.' But now you look at them and say, 'Wow, the are unbeatable,'" said Cone of the Texters. "They're the Crispa of the PBA right now, they're the dominant team. Our [overall] record now is maybe 9-8 in this conference, they're 13-0."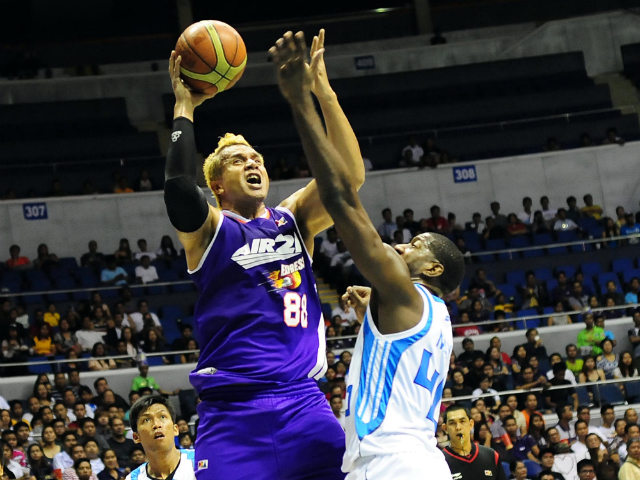 James Mays tries to prevent a bucket by Air21's Asi Taulava. KC Cruz
San Mig Coffee first needed to shake off some early game jitters caused by the Express' defensive pressure. Air21 went up, 11-9, due to Joseph Yeo and Wesley Witherspoon creating off the dribble, but the Express blank in the last four minutes. In contrast, San Mig Coffee bombed away from deep, as James Yap and PJ Simon inspired a 12-2 run to end the quarter, 21-13.
SMC kept the pressure up in the second, penetrating inside or scoring from offensive rebounds. Simon and James Mays sustained them in the frame, combining for 16 of their 29 points in the period. The Express, rattled by foul calls and San Mig Coffee's shifty defense, fell behind by as much as 21 points before entering the intermission with a 50-33 margin.
The lead swelled to 25 with four minutes and change left in the third, 71-46, as Mays feasted on second-chance points to deflate Air21 throughout the quarter. Yeo responded with a triple, hoping to spark a comeback while Marc Pingris was in foul trouble, but San Mig Coffee's reserves acquitted themselves well and built on the lead. Rafi Reavis and Alex Mallari closed out the quarter, handing their squad an 81-58 lead entering the fourth.
Witherspoon opened the final period with a couple of treys, 83-66, but it would be the nearest they got the rest of the way. San Mig Coffee's three-guard combination of Simon, Mark Barroca and Alex Mallari was too much to handle, zipping past defenders for any basket of their choice.
"[Air21] has played so hard. But they have played so well the whole conference. Nobody thought they would be here," said Cone. "They put together two really good game plans in this series, they just couldn't come up with a third."
San Mig Coffee shot 35-of-74 (47.3 percent) from the floor and 23-of-30 (76.7 percent) from the line. Air21 went 31-of-78 (39.7 percent) from the floor and 11-of-18 (61.1 percent) from the line.
Wesley Witherspoon finished with 21 points, six rebounds and five assists. Asi Taulava had 20 points and 12 rebounds. Mac Cardona added 13 points, while Joseph Yeo notched 10.
- AMD, GMA News


The scores:
San Mig Coffee 99 - Mays 24, Simon 18, Yap 15, Barroca 11, Mallari 10, Devance 7, Pingris 7, Reavis 5, Melton 2, Gaco 0, Sangalang 0, Cawaling 0, Holstein 0
Air21 83 - Witherspoon 21, Taulava 20, Cardona 13, Yeo 10, Borboran 7, Camson 6, Ramos 3, Villanueva 2, Atkins 1, Poligrates 0, Burtscher 0
Quarter scoring:
21-13, 50-33, 81-58, 99-83