Filtered By: Sports
Sports
PBA: San Mig surges on, defeats TNT to keep Grand Slam hopes alive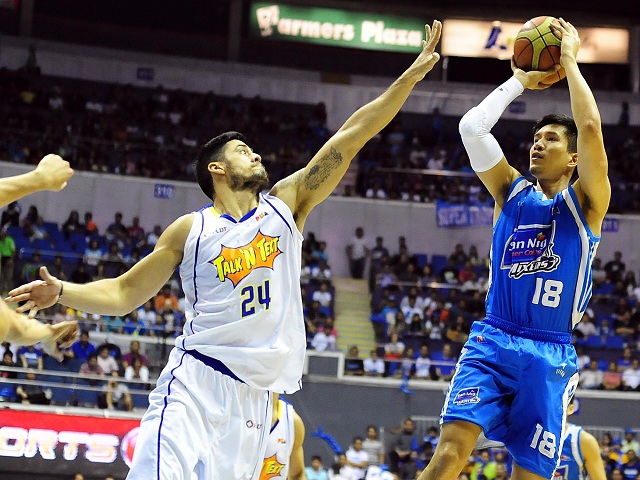 James Yap tallied 25 markers to lead SMC past TNT. Photo by KC Cruz
The San Mig Super Coffee Mixers prevailed over the Talk 'N Text Tropang Texters in game five of the 2014 PBA Governors' Cup semifinals, 93-87, on Friday at the Smart-Araneta Coliseum, and advanced to their fourth straight conference finals.
James Yap scored 25 points and six rebounds. Marqus Blakely added 21 points, 16 rebounds, and four blocks. Mark Barroca tallied 17 points, while Marc Pingris offered 10 points and 10 rebounds.
Joe Devance logged his first career triple-double with 11 points, 11 rebounds, and 10 assists.
San Mig Coffee is in a position to complete a coveted Grand Slam this conference and capture their fourth championship in a row.
After declining to publicly set it as a goal at the start of the conference, coach Tim Cone vocally acknowledged that they were chasing the Grand Slam after the game.
"Our dream is still alive, remarkably. It wasn't the most best played down the stretch game and keeping the lead," he said. "I'm disappointed with the way we played down the stretch but you can't argue with the results."
A 15-point Mixers' lead evaporated in the last three minutes when Paul Harris on a massive scoring binge that cut the lead to four. Mark Barroca however came through in the final minute, making amends for a crucial turnover with a series of clutch free throws to finally put the game away.
"Frankly I didn't know how we did it. For about three and a half quarters we were pretty good, In the last four or five minutes we were pretty lousy, but we had enough of a cushion to hold on," said Cone.
Regardless of who emerges from the other side of the bracket, Cone says he's looking forward to the matchup. They'll be up against either Rain or Shine, who trumped them in a seven-game series in the same conference in 2012, or Alaska, the last team to pull off a Grand Slam in 1996 that was, incidentally, also coached by Cone.
"Either story is going to be very very nice to read about and write about," he said.
The Mixers had some success scoring off the dribble to start the first quarter, leading 12-4. Talk 'N Text's early offensive boards didn't translate into points, but they hit their stride midway through the period with good ball movement. Ranidel De Ocampo and Elmer Espiritu chipped in a couple of treys and the Texters' coverage cramped the Mixers' offensive flow. James Yap though kept his team in front with timely three-pointers to ensure a 21-20 lead at the end of the quarter.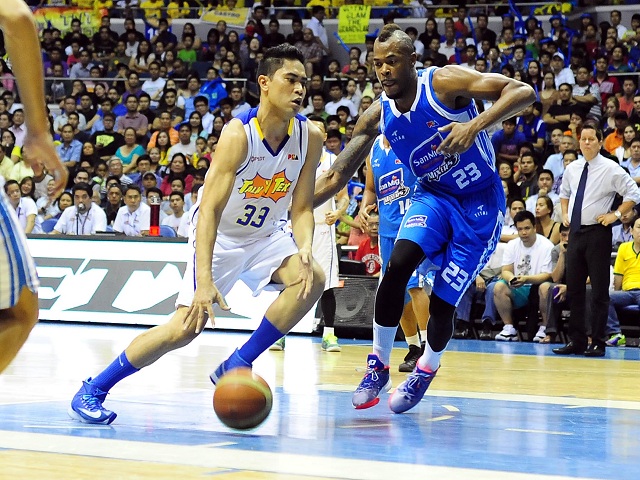 Ranidel De Ocampo logged 13 points, but he and Jayson Castro struggled for just 10-of-29 from the field Photo by KC Cruz
Talk 'N Text ran into a defensive wall in the second quarter as the Mixers denied penetration, forcing several misses from range, while out-hustling them for buckets down low. But after San Mig Coffee led 30-24 on a Marqus Blakely putback, Talk 'N Text pounced on a handful of miscues and exacted revenge in transition. Paul Harris scored seven points during a furious 14-7 rally in the last five minutes, as the Texters held on to a 38-37 halftime lead.
San Mig Coffee fell into a six-point hole shortly after the intermission, 43-37, but eventually found ways to tear holes into the Texters' defenses, regardless of the scheme. Yap started the fire with seven straight points, and the Mixers' front line of Blakely, Marc Pingris and Joe Devance took turns scoring in the post during a seven-minute, 23-7 onslaught. By the end of the third, the Mixers owned a 62-55 advantage.
Mark Barroca went off for a 7-0 run to open up a 69-55 gap just barely two minutes into the fourth quarter. Jayson Castro attempted to change the pace by getting inside and drawing fouls, cutting the lead to eight over the next two minutes, 69-61. But their inability to protect the rim on the other end cost them as Blakely and company battered them inside. Yap nailed a triple to punctuate a 12-5 run with 3:12 left in the game, 81-66.
Harris refused to let the Texters go gently as he went nuts with two minutes remaining, connecting on three treys and contributing 13 points in a 16-6 burst, 87-82.
Talk 'N Text's aggressive defense left the Mixers vulnerable in the open court, forcing the latter to burn their last timeout with a minute remaining. Barroca committed an unforced backcourt violation coming off the break, but Harris was unable to capitalize on a layup attempt. Instead, they had to foul Barroca, who split from the line. The Mixers point guard registered two splits to sandwich a Harris drive, and came up with a turnover basket that etched a 91-84 tally with 21 seconds left.
The Texters burned their final timeout, and Harris earned an and-one to make it a four-point game. But with time running out, they had to give the intentional foul. Barroca remained steady at the stripe and put the finishing touches on the game that vaulted them back into the finals.
The Mixers converted 34-of-76 (44.7 percent) from the field, while Talk 'N Text went 35-of-86 (40.1 percent). San Mig Coffee led in rebounds (56-45) and assists (17-11).
San Mig Coffee went 16-of-31 (51.6 percent) from the free throw line, and the Texters made 6-of-17 (35.3 percent).
Paul Harris compiled 40 points and 14 rebounds to lead Talk 'N Text. Ranidel De Ocampo added 13 points and eight rebounds, while Jayson Castro logged 11 points. De Ocampo and Castro combined for just 10-of-29 from the floor.
- RAF, GMA News
The scores:

San Mig Coffee 93 -- Yap 25, Blakely 21, Barroca 17, Devance 11, Pingris 10, Simon 7, Sanggalang 2, Taha 0, Melton 0, Reavis 0, Hoilstein 0, Mallari 0, Gaco 0, Maliksi 0, Matias 0.
Talk N Text 87 -- Harris 40, De Ocampo 13, Castro 11, Seigle 8, Espiritu 7, Fonacier 4, Williams 2, Rob Reyes 2, Alapag 0, Carey 0, Baclao 0, Canaleta 0, Ryan Reyes 0, Aban 0.

Quarterscores: 21-20, 37-38, 62-55, 93-87