Filtered By: Sports
Sports
Pacquiao calls Floyd's bluff, takes doping test
Boxing superstar Manny Pacquiao was quick to comply with the urine test ordered by the Nevada State Athletic Commission (NSAC) after undergoing the procedure Wednesday in General Santos City before World Anti-Doping Agency (WADA)-accredited doctor Alex Pineda.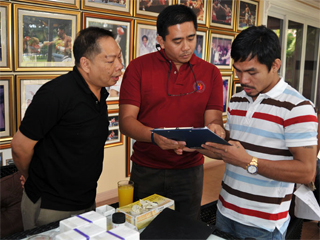 Manny Pacquiao, right, signs a document while Philippine Sports Commission (PSC) doping control head Dr. Alejandro Pineda, left, and doping control officer Dr. Charles Martin Corpus looks on. Bren Evangelio
Pineda, who is also associated with the Philippine Olympic Committee (POC), conducted the test at around mid-afternoon and then, promptly returned back to Manila later in the day bringing with him Pacquiao's urine sample. Two samples labeled "A" and "B" and totaling 100 ml. where taken by Pineda and will be sent to Thailand, Malaysia or China for further analysis. "We're bringing the samples to this country because we don't have a WADA-accredited testing here," said Pineda. On Tuesday, the Nevada commission under chairman Pat Lundvall ordered both Pacquiao and American Floyd Mayweather Jr. to submit themselves to urine tests within 48 hours in an effort to save their proposed March 13 mega-welterweight fight owing to disagreements on drug testing procedures. Keith Kizer, the executive director of the Nevada-based commission, said possible fines or suspension will be meted on either fighter in the event they failed to comply with the requirements.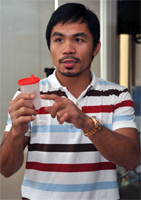 Manny Pacquiao shows off the sampling cup before filling it with his urine sample. Bren Evangelio
"I don't know if this will help the chances of the fight happening. But will all this talk of drug tests, let's actually do one," Kizer said. The Mayweather camp has yet to announce when the flamboyant boxing superstar will undergo the same test. According to Pineda, results of the tests will either be sent to his office or to the Games and Amusements Board under chairman Eric Buhain. It was Buhain who requested Pineda to go to General Santos City and conduct the test. Pacquiao quickly took the test as his family is set to celebrate the birthday of his eldest daughter, Mary Divine Grace.
– GMANews.TV