Filtered By: Sports
Sports
Special Feature: Despite comfortable life, Mig Elorde chooses boxing's unforgiving path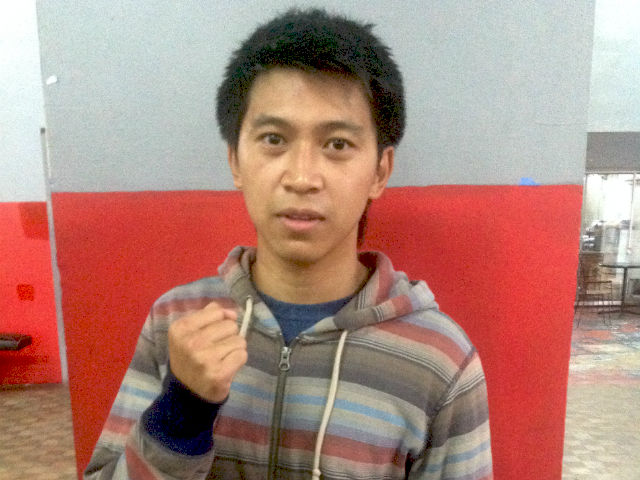 He goes to sleep in pajamas and wakes up on a soft, comfortable mattress. He eats three square meals a day. He lives in a relatively huge compound and holds a college diploma. Juan Miguel "Mig" Elorde's background is far from your typical prizefighter. But his bloodline and his lifelong passion for the sweet science has led him to walk the unforgiving path of professional boxing.
The 27-year-old Parañaque native is the grandson of the late Gabriel "Flash" Elorde, who reigned the super featherweight division for seven years and was the first Asian inducted to the prestigious International Boxing Hall of Fame.
But unlike his grandfather who had to endure hardship and poverty early in life, Mig was born with a silver spoon in his mouth. Mig had everything he needed and more, as he and his family enjoyed the fruits of his grandfather's labor.
For the most part, the biggest stars of Philippine boxing — from Flash Elorde to Manny Pacquiao — have come from poor backgrounds. The thinking goes that those who had less early in life would have hunger and more resolve to withstand all the punishment that boxing entails.
But Mig (15-1, 7KOs) refuses to think of his well-off upbringing as a disadvantage.
"To me it's really a matter of passion, my hunger to be a world champion at least once," he said. "I even have an advantage because I have everything that I need like vitamins from the start. Training is just here, when I wake up and go out of the house, the gym is just there, while some have to travel just to find a place to train."
'I will not quit'
Despite his comfortable upbringing, Mig was no stranger to the sport of boxing. He tried on a pair of gloves when he was 10 years old, his parents' way of enforcing discipline and keeping him and his brothers — older Bai is also a boxer while younger Nico is a varsity basketball player at Ateneo — away from vice.
"I've been closely watching boxing and was at the gym everyday since childhood so it eventually became my passion," recalls Mig. "I jog in the morning before going to school then train when I get home in the afternoon. It was tough."
It wasn't long until Mig found himself in a sparring session against a professional boxer.
"It hurt a lot, I almost cried," said Mig. "I thought they'll take it easy because I was the son of their boss, but I quickly learned it wasn't playtime to them. I realized that it was not a joke so I have to be more serious."
Mig sucked up the pain, somehow surviving the session without getting knocked out.
At 14, Migs figured in his first amateur bout, a loss. Despite an unimpressive 3-2 record as an amateur, Mig's resolve remained strong.
"I will not quit whatever happens. Not in my whole life that I'll quit," he told himself.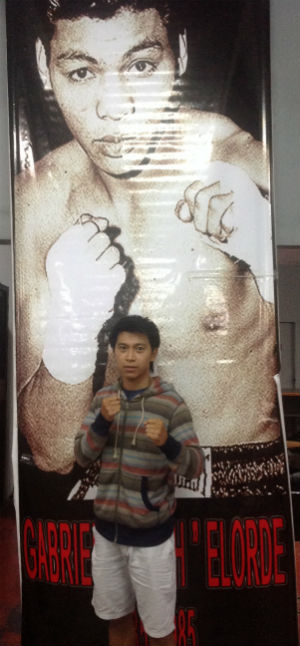 One step at a time
But his parents, worried about his future, made him promise to finish college first before pursuing his boxing career further. Mig did just that, finishing his hotel and restaurant management degree at College of Saint Benilde in 2008 before turning pro.
For three years, Mig went undefeated as a professional. Using his hard work in the gym as his source of confidence, he won his first 10 fights.
But in his first major test, he lost a unanimous decision against American Jerry Guevara, his first fight in the United States.
Three years have passed, but Mig still remembers the agony of that defeat, of failing to live up to the Elorde surname.
Through the whole experience, Mig leaned on his father Johnny, himself a champion boxer who won gold in the Southeast Asian Games. Johnny urged Mig to simply work harder while pointed out the things he still lacked as a prizefighter.
Mig has since rattled off five more wins, including the last three by knockout. But despite the promising surge, Mig preaches patience.
"I want to take things one step at a time, step by step. Be a regional/international champion and earn a world rating," says Mig. "I want to be a world champion. I will persevere that in each training session, I improve with the things I do."
The Elorde legacy
While the Elorde pedigree has its advantages, Mig has also felt the burden of the famed boxing surname.
"Even the not-so-good opponents, when they learn that I'm an Elorde, they want to beat me right away," said Mig.
Indeed, it's not easy to wear the Elorde badge. Aside from Flash Elorde's in-ring achievements, the boxing also holds a reputation as a philanthropist; he built a school (St. Rita College in Parañaque), donated an orphanage to the Augustinian Recollect sisters, and looked after many aspiring boxers.
Mig isn't trying to duplicate his grandfather's achievement — hardly anyone can — but he does want to do good on his proud surname.
"Having very high expectations from fans is a disadvantage," said Mig. "But all I can do is to really do my best all the time."
— JST, GMA News
JM Siasat is a sports journalist based in Manila, Philippines. He can be reached at jmsiasat@ymail.com. Follow him on Twitter @jmsiasat