Filtered By: Sports
Sports
Ateneo Blue Eagles: The anatomy of a four-peat
"I attended the third bonfire last year and people were already so excited about the four-peat. As soon as the three-peat came, people were already saying four-peat," Ateneo's Greg Slaughter recalls. It's true. Since the championship in 2008, Ateneo fans have developed this mentality that the team has arrived in the promised land and they better not go elsewhere. Fortunately for the 2011 roster, they were able to pull off the elusive four-peat. In fact, Ateneo is the first host school since the inception of the Final Four to win the UAAP men's basketball crown. How did they do it?
Veterans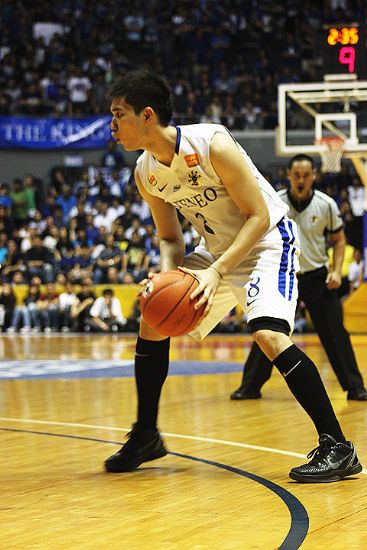 Nico Salva was named Finals MVP after scoring big in both games of the series.
The triumvirate of Kirk Long, Emman Monfort and Bacon Austria provided leadership more than anything. While they were crucial in setting up the plays, their presence was more important in organizing the team especially when the tiny cracks began to show. The timely baskets also boosted the younger guys' confidence when Far Eastern University tried to make a comeback halfway through Game Two.
Nico "most likely the next King Eagle" Salva
Let's add Finals Most Valuable Player Nico Salva to the list of veterans. Now on his fourth year, Salva is looking to be the next King Eagle with his performance this season. From a lanky high schooler from San Beda, he's turned into a monster forward in the UAAP. He had a perfect outing in Game One – 24 points, eight-of-eight field goal shooting, eight-of-eight free throw shooting, five rebounds and three assists. If that's not enough to convince people that he is one indispensable guy in the lineup, then I don't know what else can.
Rookies from the RP Youth
Not many may know but three members of the RP Youth Team actually donned the blue-and-white for the first time this year – Kiefer Ravena, Gwyne Capacio and Von Pessumal. While Pessumal and Capacio haven't been given the chance to show off their skills just yet, Ravena has already marked his place in collegiate basketball.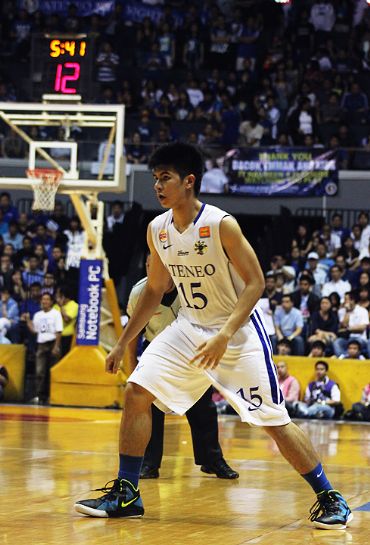 Rookie of the Year Kiefer Ravena is only one of the former RP Youth players now playing for Ateneo. Also included were fellow rookies Gwyne Capacio and Von Pessumal.
Coming from the Blue Eaglets, Ravena was hailed season 74's Rookie of the Year and was also named to the Mythical Five selection after averaging 13.1 points, 4.2 rebounds, 3.1 assists and 1.5 steals. However, he says that scoring isn't his main priority. "I don't go into a game looking to score. It just so happens. More on setting up my teammates talaga ang role ko," he explains.
Height
With the presence of seven-foot Slaughter, basketball turned out to be a whole lot easier for the Blue Eagles. Slaughter can score, block, rebound and most especially, create open shots for the other guys. As teammate JP Erram says, "Advantage na malaki kami sa offense. Last year, di kami ganun ka-effective. Eh ngayon may Greg kami. Pag nasa kanya yung bola, nakaka-attract siya ng defense so he creates opportunities for our other teammates."
Scoring options
"Our first option is definitely Greg but if he can't make the shots, other players will step up," says Coach Norman Black. Black has given all of his players the license to shoot. Why wouldn't he if you have the likes of Slaughter, Ravena and Salva in the starting five, and guys like Erram, Tonino Gonzaga and Juami Tiongson coming off the bench?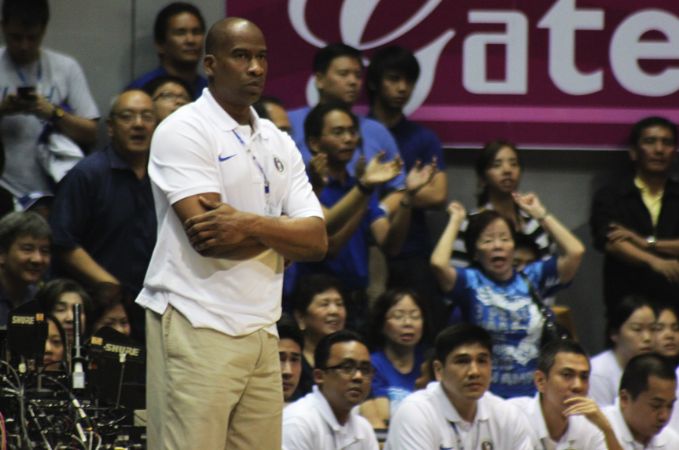 Norman Black and his coaching staff have served as the Blue Eagles' adopted fathers in the UAAP.
Coaching
But no matter how talented a team may be, it wouldn't go anywhere without proper steering. Coach Norman Black has been with the team since its non-winning days. And every year since the first crown in 2008, he has been producing winners out of different rosters. Even FEU Coach Bert Flores has nothing but praises for Black, saying every single player from Ateneo should be feared because they have all been trained by an outstanding coach. As one tweet said after Game Two, "Once you go Black, you go back to back to back to back."
Fans
The supporters are probably the most underrated factor in this four-peat. Even the players themselves say that the fans motivate them especially when they're playing catch up in a game. Ateneo has some of the most dedicated fans the UAAP has seen – die-hards who would camp out at night just to buy tickets, and early birds who would line up at Araneta very early in the morning because the Upper B has a first-come-first-served policy. They are every bit part of the four championships Ateneo has in the bag now. -
OMG, GMA News