Filtered By: Sports
Sports
UAAP: Stars align as UP finally notches its first win
The running joke was that while the rest of the league is chasing a championship, UP is only a chasing a win. The Fighting Maroons took the fun out of that joke and validated themselves against the UE Red Warriors, 63-48, after rookie Henry Asilum torched the UE defense for 14 points at the Araneta Coliseum on Sunday. UP took its first win in seven games after losing close games to teams like the De La Salle University Green Archers and the Ateneo Blue Eagles, whom they kept in single digit leads before eventually succumbing to sheer experience. "Actually it's nothing technical. Like I mentioned, we lacked some fortitude to finish the games. We were with the opponent but feeling lang namin, pagdating ng dulo, it's like we're absorbing what the opponent is giving us. We accept it's part of the process, pero masyado nang mahaba eh. It's my job also to be able to observe what is happening", said Coach Ricky Dandan.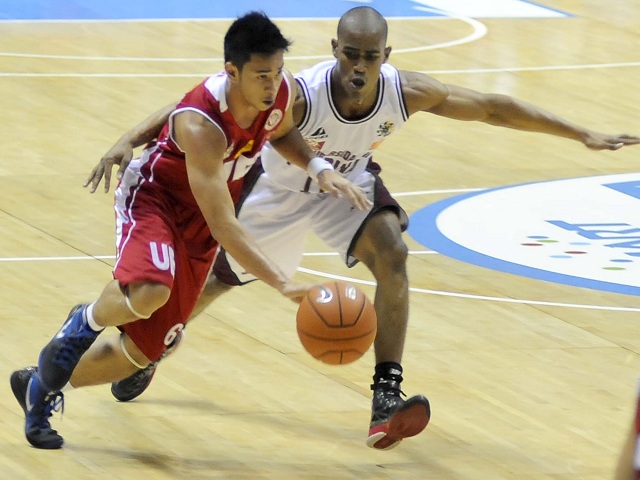 The Maroons pressured the UE guards, forcing key turnovers. KC Cruz
The crowd went wild after a steal and lob pass by Silungan led to an easy deuce for the 5-6 point guard Asilum. The speedster blurred through a forest of Red Warrior defenders, while keeping star guard Roi Sumang in check. Asilum, a rookie from Ateneo de Cebu and a marquee player of Olsen Racela's U-16 team, kept UP's offensive fire burning bright in the third quarter, scoring nine of UP's 20 third quarter points. "In UP, losing hope is not an option for us. What our record is does not really reflect the struggle we had in our first six games. Fortitude is a big word for us. Our guys showed them today that experience is part of learning in UP", said Dandan. As the last ten minutes ticked away, UE failed to find any offensive rhythm while UP built a steady double-digit lead. The UP crowd went wild after Alinko Mbah flushed the ball, giving them a 12-point lead early, 53-41. The Red Warriors would give a small scare, getting within single digits as Roi Sumang converted a tough lay-in, making it 54-46, but UP regained their composure after a short stab by Diony Hipolito off a deft pass by Asilum. While UE was mired in offensive lethargy when it counted the most, the Fighting Maroons managed a team effort. The UP frontcourt – Mbah, Hipolito, Chris Ball, and Paolo Romero – all ensured that UP nabbed their first win. Scoring the rest of UP's 13 fourth quarter points, as Asilum nabbed five of them. The Fighting Maroons had a relatively better first half than their counterparts, outscoring the Red Warriors 14-10 even if UE managed to beat them on the boards, with four quick offensive rebounds. Montecastro was responsible for six points off two lay-ins and an assist to big man Chris Ball on the break. Although UE crept closer in the second quarter, UP managed to keep their grip on the lead. A lay-in by Ivan Hernandez tied the game at 14-14 and a three-pointer by King Warrior Roi Sumang allowed UE to creep as close as a point, 22-21, but UP continued jostling, distancing themselves by as much as five points before halftime ended at 30-26. UP capitalized on UE's turnovers, converting 22 points off UE's ballhandling mishaps. The rebounding wars were close, with UP having only one rebound more, 44-43. Asilum led his team in scoring, with 14 points, four rebounds, three assists and two steals, followed by veteran guard Mark Lopez with 10 points. The Maroons were 10% from three-point land but a respectable 47% within the arc. Roi Sumang had 12 quick points in the first half, and finished with 18 points along with seven rebounds. No one else scored in double digits for the Red Warriors, as burly big man Chris Javier struggled to find any footing in the post, going one out of four from the field. With the win, UP now shares an identical win-loss card with Adamson and UE with one win and six losses.
- RAF/OMG, GMA News
Scores: UP – Asilum 14, Lopez 10, Hipolito 9, Ball 7, Montecastro 6, Romero 5, Silungan 3, Mbah 2, Wierzba 2, Soyud 2, Padilla 2, Manuel 1 UE – Sumang 18, Sumido 9, Santos 8, Duran 4, Galanza 3, Flores 3, Javier 2, Hernandez 1, Alberto 0, Belleza 0, Villarias 0, Valdez 0 QUARTER SCORING: 14-11, 30-26, 50-41, 63-48