Filtered By: Sports
Sports
UAAP: UST bucks wild finish to take game one of the finals versus La Salle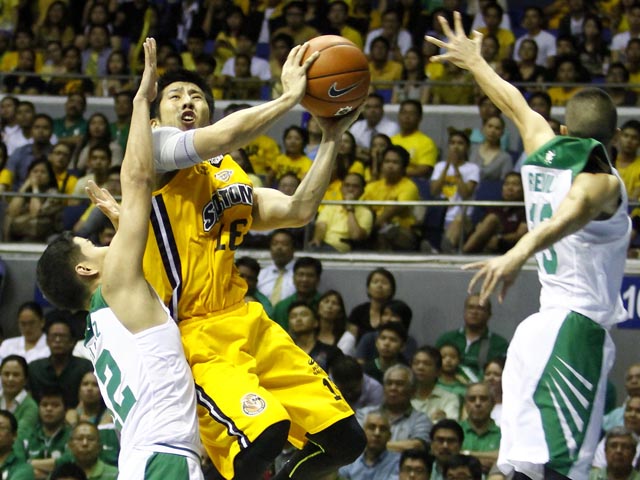 Jeric Teng (C) splits the defense of two DLSU guards to score. KC Cruz
(Updated 5:53pm)
The University of Santo Tomas Growling Tigers survived a down-the-wire battle against the De La Salle Green Archers, 73-72, snapping the latter's nine-game winning streak in game one of the UAAP Season 76 men's basketball finals, Wednesday, at the SMART-Araneta Coliseum.
Holding a one-point lead with 29.1 seconds on the clock, Aljon Mariano mishandled Kevin Ferrer's inbounds pass off their own timeout. The Archers moved the ball and found a wide-open Almond Vosotros in the right corner, who missed. DLSU secured the rebound though, and LA Revilla tried to loop the ball going to the rim. However, Karim Abdul swooped in from the weak side and swatted the attempt as time expired.
[Review the play-by-play of this game here]
Ferrer led UST with 20 points and six rebounds, registering 5-of-8 makes from beyond the arc. Karim Abdul notched 19 points and 12 rebounds. Jeric Teng scored 17 points and seven rebounds.
"Pati kami na-shock eh. Panalo pala kami," said Tigers head coach Pido Jarencio, visibly relieved at the outcome. "Breaks of the game lang. Even nga yung match talaga. Pwede silang manalo, pwede ring kami."
"Breaks of the game lang talaga. Muntik na talagang manalo yung La Salle," said fifth-year Jeric Teng, adding that their experience on the big stage last year contributed to the win. "Iniisip ko lang talaga na we really need to win. We're two wins away from the championship na dapat last year pa namin nakuha."
"Nag-iisip lang ako bago maglaro. After the game 'di na ako nag-iisip eh," joked Jarencio when asked about possible adjustments needed for game two.
UST notched their fourth straight win and smashed the Archers' nine-game winning streak. The Tigers can clinch their first title since 2006, and head coach Pido Jarencio's second with the university, on Saturday when they collide again at the Big Dome.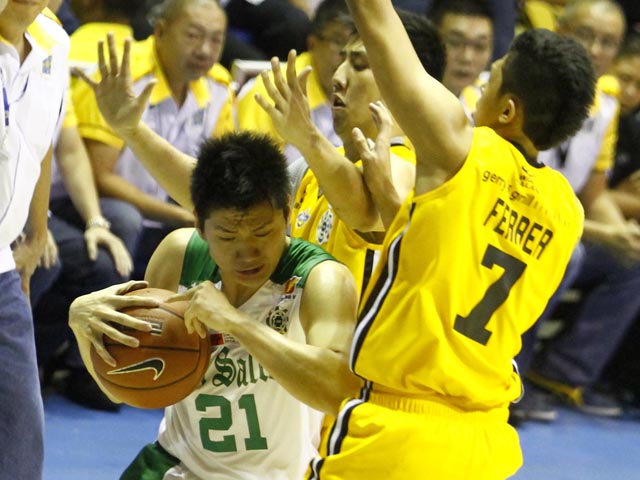 Tight defense by UST held down DLSU's scorers like Jeron Teng (L), especially on the last possession. KC Cruz
Karim Abdul was on attack mode in the first quarter, pinning two personal fouls on Arnold Van Opstal. Kevin Ferrer complemented Abdul's drives with a three deep three-pointers, and the pair combined for 19 points to dominate the Archers, 21-6.
DLSU was limited to stealing points off contested jumpers or transition tries, as the Tigers denied them any decent looks near the hoop. But with a minute to play, Thomas Torres broke through with a driving and-one. The basket fired up the Archers, who ended the period with an Almond Vosotros trey with seven seconds left to trail 23-13.
The Archers' momentum carried over to the second quarter, where Arnold Van Opstal and Vosotros anchored their attack. DLSU took advantage of unforced UST errors and concluded a 19-4 rally with a Thomas Torres breakaway hoop, 25-25, which forced the Tigers to call for a timeout at 7:13.
From that point until halftime, Jeric Teng took control of the game for Tigers, scattering nine of UST's next 13 points from all over the floor. Meanwhile DLSU fumbled four wide-open layups despite getting an initial advantage in transition, causing them to fall back, 38-31, after two quarters.
At halftime, Kevin Ferrer led all scorers with 14 points on a spotless 4-of-4 clip from the field. The Tigers made 12-of-29 (41.4 percent) of their field goals, while DLSU went 13-of-37 (35.1 percent) from the floor.
DLSU opened the third quarter strong as Van Opstal and Jason Perkins overpowered the Tigers' front line, to take a 42-40 edge. LA Revilla scored once more after UST called timeout to make it a four-point gap, but they fell behind anew. The Tigers went 7-0 as they hounded their foes and repeatedly dove into the lane, 47-44.
However, the Archers showed more patience in the last three minutes and teased apart UST's zone defense. Thomas Torres, Vosotros and Perkins blew past their coverage for crowd-rousing finishes inside, and reestablished a 54-50 lead heading into the final frame.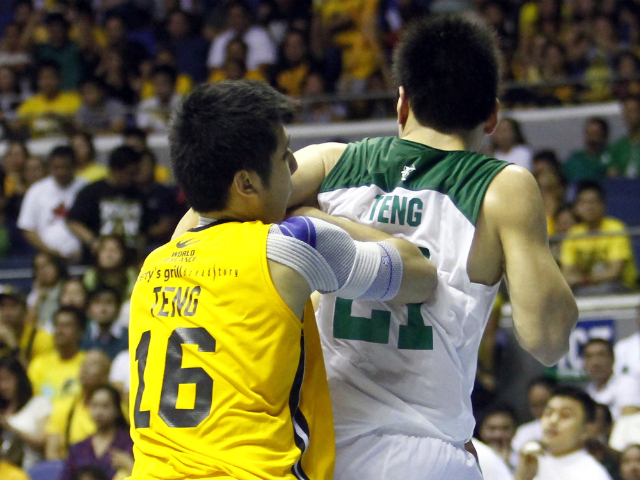 Not backing down - the older Teng Jeric bested his younger brother Jeron. KC Cruz
Led by triples from Teng and Ferrer, a string of UST jumpers edged the inside forays by the younger Teng and Perkins as the Tigers took a 64-59 lead. The Archers, who hadn't got a field goal in the last four minutes, caught a break when Vosotros nailed a trey with under four minutes left. But DLSU squandered their chance to catch up, missing three of their next four charities while Aljon Mariano and Abdul stretched the gap to 68-63.
With under two minutes left, Perkins buried a three-pointer, while Van Opstal and Teng converted freebies to narrow the lead to one, 70-69. Ferrer nailed a three-pointer of his own that would've been a dagger, but Teng quickly negated it with an and-one, 73-72, with 29 seconds left, before the final sequence unfolded.
The Tigers made 26-of-60 (43.3 percent) of their field goals, including 7-of-17 (41.2 percent) from beyond the arc. In contrast, DLSU went 27-of-72 (37.5 percent) and 4-of-13 (30.8 percent) from deep.
DLSU had an 18-7 advantage on the offensive glass (led 44-43 overall) but trailed in second-chance points, 8-7. The Archers also had fewer turnovers, 9-14.
Almond Vosotros top-scored for the Archers with 20 points. Jeron Teng notched 15 points and seven rebounds, while Arnold Van Opstal tallied 13 points and five boards. Jason Perkins scored 11 points and hauled in 11 rebounds.
Matt Salem did not play for the Archers today due to an illness, forcing DLSU to stretch their rotation.
- AMD, GMA News
The scores:
UST 73: Ferrer 20, Abdul 19, Teng 17, Sheriff 6, Daquioag 4, Bautista 3, Mariano 2, Lao 2, Pe 0, Lo 0
DLSU 72: Vosotros 20, Teng 15, Van Opstal 13, Perkins 11, T Torres 7, Revilla 4, N Torres 2, Tampus 0, Reyes 0, Montalbo 0, De La Paz 0
Quarter scoring:
23-13, 38-31, 50-54, 73-72