Filtered By: Sports
Sports
Plotting Floyd Mayweather's last four fights
Floyd Mayweather will be retiring from the sport of boxing next year. "September 2015 will be my last," he told the Associated Press. With that, the boxing world will have to deal with losing its top draw after he fights four more times.
[Related: Last fight will be in September 2015 says Mayweather]
After making his professional boxing debut in 1996, Mayweather has remained undefeated in 45 fights, finishing 26 of his opponents inside the distance. Through his career, Mayweather has claimed wins over the likes of Diego Corrales, Jose Luis Castillo, Arturo Gatti, Oscar De La Hoya, Juan Manuel Marquez, Shane Mosley, Miguel Cotto, and most-recently Saul Alvarez.
Mayweather won his first world title in 1998, just two years after turning pro, when he defeated Genaro Hernandez for the WBC super featherweight title. He has won titles in the lightweight and light welterweight divisions and currently holds the WBC welterweight and the unified WBC and WBA light middleweight titles.
However, the boxing world is still demanding more from Mayweather. They want him to face the biggest challenge out there in Manny Pacquiao, but a match between the undefeated American and the Filipino Congressman has proven to be elusive.
In multiple tries to arrange the mega-fight, negotiations broke down because of various reasons, including the purse split and drug testing. Mayweather has said in the past months that he will not fight Pacquiao unless he moves out of Bob Arum's Top Rank Promotions.
[Related: Pacquiao hits out at Mayweather's demands, says 'Kalimutan na muna natin yan']
Pacquiao responded that he will not break his contract with Arum, so Mayweather has to wait until 2015, or never, should the Filipino re-up with Top Rank. Now it's become apparent that Pacquiao will only have two shots at landing a fight against Mayweather, who has only fought in May or September since 2009.
With that, here's a hypothetical stab at Mayweather's last four fights: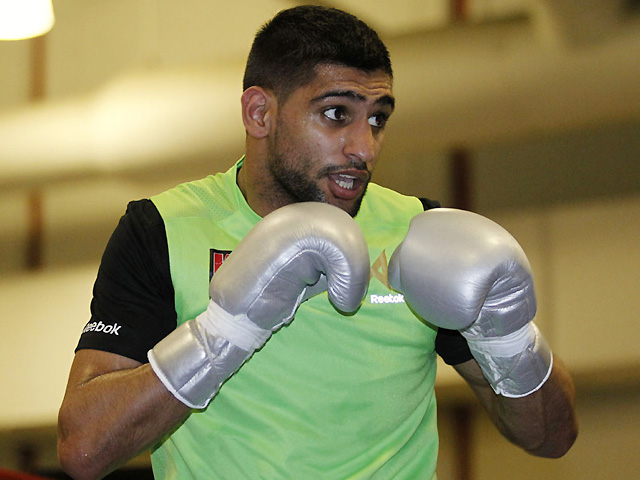 Amir Khan. Reuters
May 2014 –
To the surprise of absolutely no one, Mayweather will choose the United Kingdom's Amir Khan (28-3-0, 19 KOs) as his next opponent. While the undefeated American is busy trying to put down Pacquiao, saying he lost two of his three fights, he will never say anything about Khan losing two of his last four. Mayweather does it for good reason. British boxing fans are not just a rowdy bunch, they are also very supportive. A fight between Mayweather and Khan will gain a lot of interest with Khan's fans flying to Las Vegas like what they did for Ricky Hatton.
Although Khan is a good boxer, he just isn't in Mayweather's class. The American's punching power may not be enough to test Khan's shaky chin but he should walk away with a pretty easy unanimous decision victory.
September 2014
– Adrien Broner, Mayweather's protégé, used his rematch clause to arrange a second fight against Marcos Rene Maidana. If the Argentinean defeats Broner again, he should be Mayweather's next opponent. In fact, his name is already being floated beside Khan's, so it's obvious that he's being considered for a future fight.
If Maidana thinks he's closer to defeating Mayweather by beating Broner, then he has no idea what he's in for. Maywaether has faced very good punchers in his career and he preys on the likes of Maidana. This is a perfect match on paper for Mayweather because he'll have no problem dealing with a go-forward fighter.
May 2015
– It gets trickier for Mayweather's last year in boxing. Khan and Maidana are obvious choices for 2014 but there are really not that many options for him in 2015.
The only possible opponents for Mayweather at welterweight are Great Britain's Kell Brook (31-0-0, 21 KOs) and Shawn Porter (23-0-1, 14 KOs), who are both young and undefeated. Both are safe choices for Mayweather. as he could say he took on the best up-and-coming fighters and took away their undefeated records. However, the two are relative unknowns despite being the biggest challenges in the division where Mayweather is king. They both won't sell a lot of tickets or pay-per-views but Brook could be selected to play the US versus UK card again.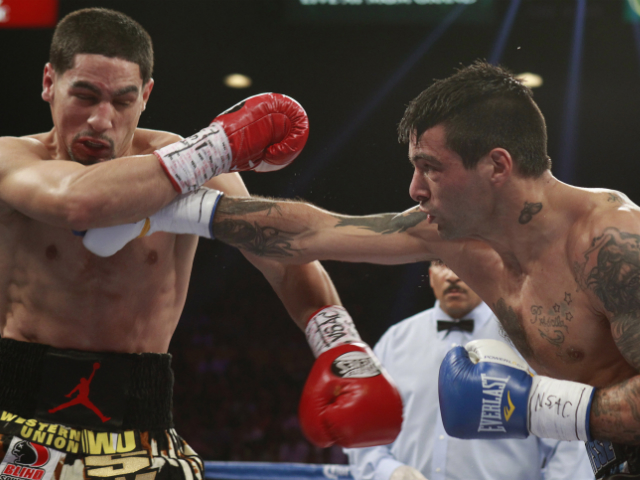 Could Danny Garcia (L) be Floyd Mayweather's final fight? Steve Marcus / Reuters
September 2015 – Because he probably won't face Manny Pacquiao or anyone signed with Top Rank Promotions, the list of possible opponents for his second to the last fight is slim for Mayweather.

Going up to the middleweight division to face Sergio Martinez or the up-and-coming Gennady Golovkin would blow up the minds of hardcore boxing fans, but it is too dangerous for Mayweather who is looking to keep his undefeated record and retire with a perfect 50-0 record.

However, by that time, Danny Garcia should already be a bigger name. The reigning WBC and WBA light welterweight champion is, like Mayweather, undefeated. Garcia could have a big year and be the only option for Mayweather come 2015. He fights under the Gloden Boy Promotions banner, so making a fight between him and Mayweather should not be a problem.

It would be nice for Mayweather to fight another young guy on his way out. He did that against Saul Alvarez and he should do it again against Garcia just to prove that he really is the best.

This four-fight list is a really safe way for Mayweather to finish his career the way he wants to; retiring on his own terms with a perfect record and finishing his career as the best pound-for-pound fighter in the world.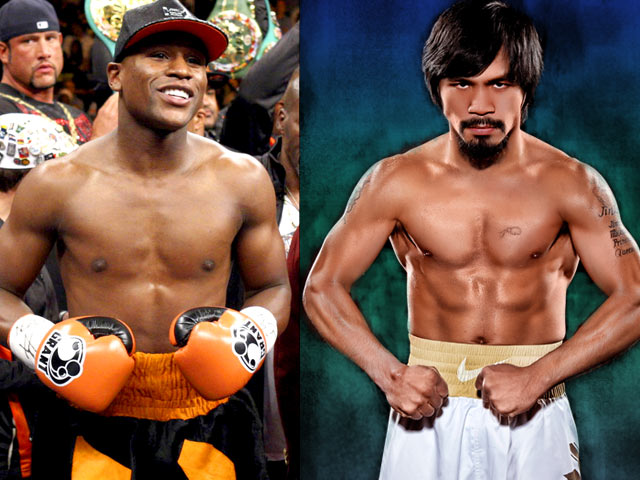 Could Floyd Mayweather change his tune and fight Manny Pacquiao without any outlandish demands?
However, let us, for the sake of argument, imagine that Mayweather suddenly changes his perspective in life. Instead of refusing to fight some fighters, let's all imagine a world where he took on anyone, anywhere. Let's imagine a universe where Top Rank Promotions worked hand-in-hand with Golden Boy Promotions for the boxing fans.
September 2014 in a parallel universe –
After disposing of Amir Khan, Mayweather stands in the middle of the ring for an interview. He then calls out Manny Pacquiao (55-5-2, 38 KOs) who defeated Timothy Bradley a month earlier. "I don't care about Bob Arum, I don't care about money, I just want to take on the best. I want Manny Pacquiao," Mayweather says. And with that the richest fight in boxing history was made.
It was a tremendous fight, the perfect contrast in two distinct boxing styles. Pacquiao's fire was tested with Mayweather's defense.
May 2015 in parallel universe –
The boxing world clamored for a Mayweather-Pacquiao rematch after their sizzling 2014 fight. The fighters gave the boxing fans exactly what they wanted, as an immediate rematch was signed.
Mayweather-Pacquiao 2 was even better than the first. The only bad thing is that the fight didn't happen when the two fighters were in their prime. After the result was announced, Pacquiao and Mayweather raised each other's hand as an acknowledgement that they both belong to the list of all-time greats.
September 2015 in parallel universe –
Two fights against Pacquiao satiated the demands of the boxing world. Thinking how he can end his career with a bang, Mayweather takes on the only welterweight name that he hasn't faced yet in Timothy Bradley (31-0-0, 12 KOs). It would be a much different fight from Mayweather-Pacquiao as Bradley is also a highly technical fighter. In the end, Mayweather would win to cement his legacy and gain universal respect from the boxing world.
Sure, this path is more dangerous for Mayweather. He could still finish with his desired 50-0, but there's also a risk of finishing his career with a loss. Still, the path of least resistance will always be looked at as a way to diminish Mayweather's reputation.
Mayweather, one of the very best fighters of our time, can drastically change the way people him in his final two years in the sport of boxing. It has made him rich and famous and Mayweather owes it to the sport to take on the biggest challenges before he walks away.
- AMD, GMA News