Filtered By: Sports
Sports
ANALYSIS: The Azkals have reached a ceiling, and why grassroots are the only answer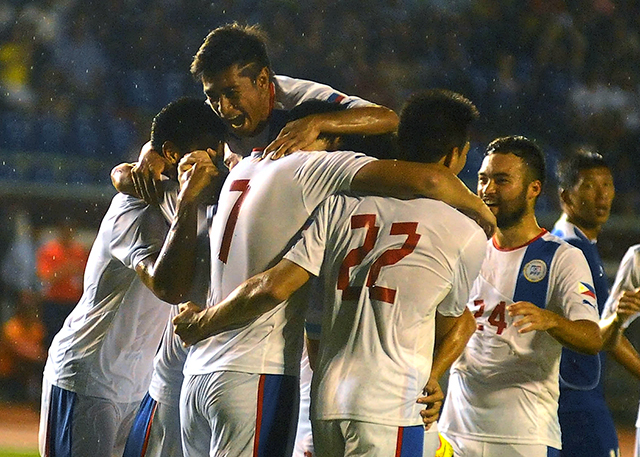 The Azkals have achieved much, but have not been able to break through to the next level. KC Cruz
First of a series
After a third successive semifinal exit in the Suzuki Cup without as much as a consolation goal, a realization is slowing creeping up on Philippine football: Have we reached our limit?
At the end of 2014, Thailand again taught the Azkals a lesson in football. This was even though the War Elephants played an entirely new squad, with just five players from Thailand's 2014 squad carried over from 2012.
Despite being ranked No. 1 in Southeast Asia by FIFA, the defeat to Thailand made it clear that the Philippines are far behind the best the region can offer.
Focus is quickly changing to the World Cup qualifiers, though of course that's an even bigger step up. So as we break into 2015 and start looking at the football year ahead, now is the perfect time to take stock of what we need to do if we ever want to lift the Suzuki Cup trophy... and if we ever want to take a realistic look at qualifying for the World Cup one day.
Children of the diaspora
The Azkals' current success can be credited to finding the children of the diaspora and bringing them back to play in the Philippines.
That method has raised the level of Philippine football, turning the Azkals from regional minnows to contenders. No doubt the Younghusbands, Greatwiches, Hartmanns, Gier, et al. improved the team. There can only be praise for what the Azkals' management, players, and UFL have achieved thus far.
But I think this method has reached a ceiling.
Part of the ceiling is basic math. We're looking at less than 10 percent of the population for players and that reduces the Azkals pool to more of a puddle.
This helps explain why the Azkals are shallow in certain positions. Phil Younghusband is virtually alone in attack, while Amani Aguinaldo has been thrown in the deep end partly because when Rob Gier and Juani Guirado retire, 33 and 35 respectively, he will be the only internationally tested center back in the country.
The other numbers problem is it concentrates resources on a narrow base; business class flights, allowances, and bonuses add up to lots of money spent on very few players. Each new find is an expensive experiment with a maximum yield of one player.
There's also the problem of chemistry. The team loses cohesion when bringing in players from abroad — for example, Alvaro Silva couldn't adapt to the team despite experience in La Liga — and with communication and cultural issues, the player needs to be really good to offset these. But the really good players are unwilling to commit, until they're certain that they won't be called up in their other country, like Iain Ramsey of Australia.
For the 2016 Suzuki Cup, we have to find five or six players in key positions just to retain the current level. But generally speaking, for any player developed abroad who would definitely improve the Azkals, the Philippines are second choice, if not third.
This is why it's my contention is that relying on players produced by foreign academies has run its course.
Breaking the ceiling
Thailand, Vietnam, and Malaysia are better than the Azkals right now. Singapore probably are too, and Indonesia would be if they could set politics aside and send their best team. We've made the best of what we've got, but the only way to break through the ceiling is to develop our own pool.
So that leads us to my second contention: grassroots is the only way. The current method has put football on the map. It was an essential step.

But long-term, there's a reason why top teams in Southeast Asia have a quality new squad every few years. We beat Vietnam in the "miracle" in Hanoi in 2010 and again in 2012, for example, but Vietnam improved even more to knock us down a peg in 2014. They have depth in every position because their grassroots produce such a large pool of quality players to choose from.
There's still a place for foreign-based players. In the 2014 semifinals, for example, Thailand's Charyl Chappuis (Grasshoppers in Switzerland) and Vietnam's M?c H?ng Quân (Sparta Prague B in the Czech Republic) developed overseas. Of the last three winning teams, two developed in Europe (Charyl Chappuis and Aleksander Duric).
It's not that homegrown players are necessarily better, it's that a good football infrastructure produces a far bigger selection of quality players, which can be reinforced with a handful of foreign-based stars. It's the difference between having a pool of players and a puddle.
Worldwide formula
And this isn't just the way to develop football in Southeast Asia, it's the same formula across the world. Harry Kewell, Mark Viduka, Tim Cahill, and Mark Schwarzer (key in Australia's Golden Generation) developed in Australia before finding fame in England. Japan's Keisuke Honda (AC Milan), Yutu Nagamoto (Inter), G?toku Sakai (Stuttgart), Maya Yoshida (Southampton), and Shinji Kagawa (Borussia Dortmund) – and Shunsuke Nakamura (Celtic) and Hidetoshi Nakata (Roma) before them – developed in Japan first.
Further afield, ASEC Mimosas, an Academy in the Ivory Coast, produced Kolo and Yaya Toure, Salomon Kalou, and Gervinho, among others, to help the country qualify for its first World Cup in 2006. Currently, seven members of the 23 man Ivory Coast squad for the 2015 African Nations graduated from Mimosas' academy, and almost all their national team players developed in the country before finding clubs abroad. The ones who developed abroad were typically born in the Ivory Coast and moved to Europe to escape the civil war.
The formula is the same even for the current powerhouses. When Germany were knocked out of Euro 2000 in the Group stage, for example, the country was in uproar, as Brendan Greeley's
wrote in Businessweek
.
So the German FA built national academies, a two-year coaching course for six-year-olds, and then sent professional scouts to their league games two years later to make sure all prospects found a club.
The results of their grassroots program? Julian Draxler, Andre Schürrle, Sven Bender, Thomas Müller, Holger Badstuber, Mats Hummels, Mesut Ozil, Ilkay Gündo?an, Marco Reus, Toni Kroos, and Mario Götze. As Greeley wrote, Germany's 7-1 mauling of Brazil and their victory over Argentina in the final weren't just two games, they were results 14 years in the making.
Even with the football infrastructure of Germany and the country's history and prestige, when German football was in relative crisis, they didn't think about what to do next year, not even two years to the upcoming World Cup. They focused on their youth, and they thought 14 years ahead.
'Soccernomic' development
But thinking grassroots isn't simply about producing better teams. Fly across to the United States and we see football's surging popularity there coming from the youth. Waves of kids took up the sport and now an estimated 13 million people in the USA play football.
It obviously took time, but as those kids grew up, they became not just the product, but also the market; they not only became the players, but also the fans. An estimated 26.5 million people in the United States watched the 2014 World Cup Final between Germany and Argentina — and the Americans weren't even in it.
Because of the growing numbers of kids playing football, the authors of the book "Soccernomics," among others, predict that the United States (along with Japan, Australia, and possibly even Iraq) will become football powerhouses soon.
In countries like the USA, Japan, and Australia, there many things that factor into the development of football — these include a revamped national league, stadium improvement, and television deals — but the first step is always the youth.
The formula is the same across the world; you don't need the best league to produce a good national team, but you do need to be producing your own quality talents capable of playing in the European leagues. A quality grassroots program is the foundation for everything.
In Part Two, we'll look at the state of grassroots football in the Philippines, and see what we can learn from the J-League. —JST, GMA News