Filtered By: Sports
Sports
WWE: The Rock, Cena look to make WrestleMania XXIX twice as nice as last year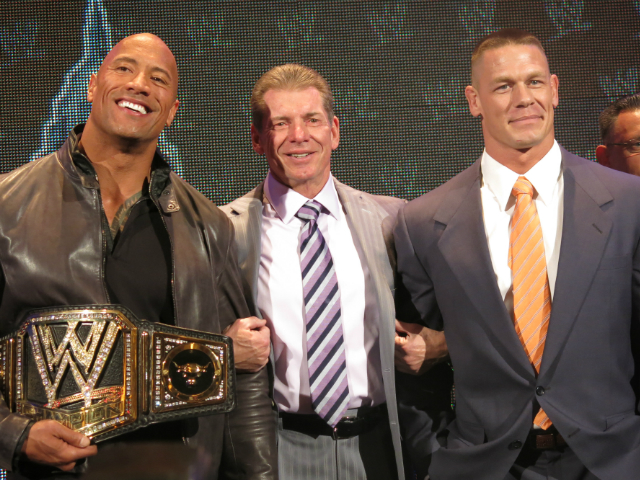 WWE Chairman and CEO Vince McMahon poses with WWE Champion "The Rock" (L) and his challenger John Cena, during the press conference for Wrestlemania 29. Ryan Songalia
NEW YORK - In a city known for its over-the-top displays of high-rise architecture and celebrity overstatement, World Wrestling Entertainment (WWE) seemed right at home in New York City. Even though WWE headquarters are located in Stamford, Conn., the company is very much at home in The Big Apple.
The company, then known as the WWF, held its first WrestleMania event at New York's Madison Square Garden in 1985, hence the selection of Diddy's "Coming Home" as the official WrestleMania XXIX theme song. This year's WrestleMania event, which happens this Sunday (Monday, PHL time) at the MetLife Stadium in N.J., held the final press conference for the event at Radio City Music Hall in Midtown, Manhattan.
Once inside the front doors, WWE personalities The Big Show, The Great Khali and Mark Henry greeted the guests. The presence of two large men nearing or surpassing the 7-foot mark, and one appropriately dubbed "The World's Strongest Man" was a fitting metaphor for the larger-than-life atmosphere that is "sports entertainment," the term WWE CEO Vince McMahon coined to describe his company's brand of spectacle.
The event, which expects to attract an attendance of 75,000, will be headlined by the rematch between WWE champion Dwayne "The Rock" Johnson and John Cena. Johnson, who began his career in the WWE in 1996 before embarking on a successful film career, concurrently holds the WWE title and the box office title, as his latest film "G.I. Joe: Retaliation" opened number one in theaters last weekend, earning him the distinction as the undisputed king of masculinity.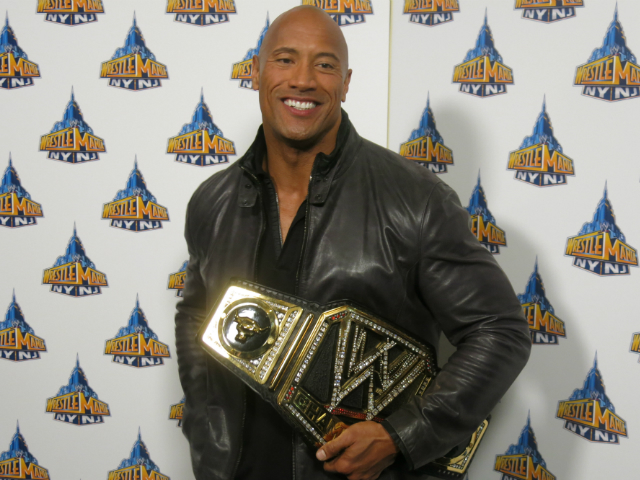 Reigning WWE champion "The Rock" poses with his belt. Ryan Songalia
As he approaches 41 next month, The Rock may not be as "electrifying" as he was during his peak in the late 90s-early 2000s. Still, Johnson proved that he can still hold his own with the best of them as he looked sharp and explosive in ending CM Punk's 434 day reign as champion at The Royal Rumble event.
"I can chase Vin Diesel through the streets of Rio, I can battle Cobra as GI Joe, but nothing really compares to kicking John Cena's candy ass," said The Rock.
Still, despite their professional differences, The Rock gave Cena credit for his aptitude as a performer.
"In order to electrify as I like to say, in order to lay the smack down on candy ass and things like that, you need a partner, you need a guy, you need an opponent, and as much as we have had our differences in the past that have been very real differences, there is no one better as an opponent for me than John Cena. No one even comes close."
In Cena, Johnson will face the 12-time WWE champion who assumed the role as the company's biggest star after The Rock left the ring behind for Hollywood. Cena's own popularity with children is encapsulated by his record of most requests filed with the Make-A-Wish Foundation.
The two met in the main event of last year's Wrestlemania, with The Rock winning with his finisher "The Rock Bottom" in The Rock's hometown of Miami, Fla., in a match dubbed "Once in a Lifetime." The rematch has higher stakes, with The Rock as reigning champion and Cena as the number one contender after winning this year's Royal Rumble over-the-top challenge in January.
Cena says he was genuinely shocked to see The Rock remain as an active member of the roster after last WrestleMania, which was preceded by Cena's endless jibing of The Rock for what he perceived to be turning his back on the industry that made him who he is today.
"I thought 'Once in a Lifetime' was serious, and I think the WWE shared my opinions, and the reason is that The Rock's schedule is unpredictable," said Cena, 35. "And then the day after Wrestlemania, Rock makes a prediction of 'Hey, not only am I gonna come back, I'm gonna stay back, I'm gonna be WWE champion and defend it.' I thought, like you did, that he was full of BS, but he did it. And that's why it would behoove me to say anything negative about The Rock."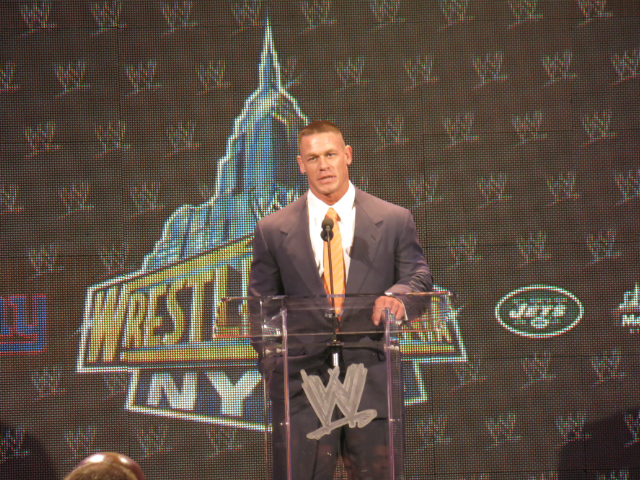 John Cena will be out for revenge against the man who pinned him to end Wrestlemania 28. Ryan Songalia
The show will also feature world heavyweight champion Alberto Del Rio, a third-generation WWE star from Mexico, whose character is that of a wealthy aristocrat equipped with his own ring announcer, against the resurgent Jack Swagger, a former All-American collegiate wrestler at the University of Oklahoma, whose latest incarnation is that of a survivalist supporter of stricter immigration laws.
Swagger's promos, which have been bolstered by the addition of veteran writer Dutch Mantell working as his manager, Zeb Colter, have even drawn ire from the mainstream media, for its confrontation of the controversial immigration situation in the United States.
Over a decade after his own Extreme Championship Wrestling (ECW) company closed up shop and was bought out by McMahon and the WWE, former ECW promoter Paul Heyman finds two of his post-closure protégé's, former WWE champion CM Punk and former WWE/UFC champion Brock Lesnar, in the two most anticipated non-title matches on the card.
Lesnar, who began his career in WWE before finding success in the Ultimate Fighting Championship (UFC) mixed martial arts outfit, will face former WWE champion turned company executive Paul "Triple H" Levesque, in a rematch of their bout from SummerSlam last August, which Lesnar won via a submission after he applied a kimura lock to Triple H's arm.
The match will be a no-disqualification, no-count out contest, and should Lesnar win, Triple H would have to retire from in-ring competition.
Heyman's other protégé CM Punk, whose real name is Phil Brooks, is probably the most controversial, and therefore most entertaining, wrestler active today. Ever since his epic promo on Monday Night Raw in June of 2011, in which he revealed his true emotions about the politics of the company which he feels held him down, Punk has been the company's anti-hero, a budding legend whose skills in the ring and on the microphone transcend his relatively normal stature.
Punk's gimmick is that, well, he doesn't use gimmicks, and his "straight edge" lifestyle has been at times a preachy means to elicit boos or cheers. Despite entering last year's WrestleMania as WWE champion, his defense against Chris Jericho went on second to last, with Rock-Cena closing out the show.
His match, against living legend The Undertaker, puts Taker's undefeated streak of 20-0 at WrestleMania at risk, providing Punk with the opportunity to reach legendary status himself with a victory.
It's a bit of a make-up gesture for Punk to be in this position, after having lost consecutive matches to The Rock and a high-profile bout with Cena earlier this year, but he can't help but feel that his hard work in carrying the company over the last two years should've earned him the main event spot on Sunday.
"I'm hung up on going on last, being the main event on WrestleMania," admitted Punk, whose most recent title reign was the company's longest in over 25 years. "There's all sorts of people who will tell you 'You're wrestling the Undertaker and maybe that's bigger than the title, bigger than going on last and there's a difference between the main event and the last match.' It's just been ingrained into me. Ever since I was a kid I wanted to be in the main event at WrestleMania."
Other matches include WWE tag team champions Daniel Bryan and Kane against Dolph Ziggler and Big E Langston, Chris Jericho against Fandango, "The World's Strongest Man" Mark Henry against Ryback and the team of Randy Orton, The Big Show and Sheamus against newcomers The Shield in a three man tag match.
In an industry where the outcomes are predetermined, there is never a more unpredictable event than WrestleMania.
- AMD, GMA News
Ryan Songalia is a member of the Boxing Writers Association of America (BWAA) and contributes to GMA News. He is also a member of The Ring ratings panel and can be reached at ryan@ryansongalia.com. An archive of his work can be found

here. Follow him

on Twitter

too.