Filtered By: Sports
Sports
Winter Olympics: Plushenko exits left as Hanyu sets world record in men's figure skating
Evgeni Plushenko shocked the Russian crowd when he pulled out of the event due to an injury. Gary Hershorn / Reuters
(Updated 8:27am)
SOCHI - It was meant to be the night when Yuzuru Hanyu left the world in awe with his dynamic footwork but Yevgeny Plushenko rendered everyone speechless by abruptly pulling out of the Sochi Olympics at the eleventh hour.
In a men's competition full of high drama, American Jeremy Abbott's heroic effort to get back on his feet after he slammed into the barriers also created a buzz but it was nothing compared to the stir created by Plushenko's exit.
Skating scores
Qualified to free program:
1. Yuzuru Hanyu (Japan) 101.45
2. Patrick Chan (Canada) 97.52
3. Javier Fernandez (Spain) 86.98
4. Daisuke Takahashi (Japan) 86.40
5. Peter Liebers (Germany) 86.04
6. Jason Brown (U.S.)86.00
7. Brian Joubert (France) 85.84
8. Han Yan (China) 85.66
9. Denis Ten (Kazakhstan) 84.06
10. Alexander Majorov (Sweden) 83.81
11. Tatsuki Machida (Japan) 83.48
12. Michal Brezina (Czech Republic 81.95
13. Tomas Verner (Czech Republic) 81.09
14. Florent Amodio (France) 75.58
15. Jeremy Abbott (U.S.) 72.58
16. Jorik Hendrickx (Belgium) 72.52
17. Kevin Reynolds (Canada) 68.76
18. Misha Ge (Uzbekistan) 68.07
19. Michael Christian Martinez (Philippines) 64.81
20. Abzal Rakimgaliev (Kazakhstan) 64.18
21. Yakov Godorozha (Ukraine) 62.65
22. Alexei Bychenko (Israel) 62.44
23. Viktor Romanenkov (Estonia) 61.55
24. Zoltan Kelemen (Romania) 60.41
"This men's event was insane from Plushenko to Jeremy. It just was never ending," 1998 Olympic champion Tara Lipinski told Reuters.
Plushenko was clutching the base of his spine throughout his warm-up and, when they announced his name as the next performer, instead of taking his position for the start of his routine, he skated up to the judges.
After an exchange with officials, a male voice announced in Russian over the Iceberg Skating Palace's public address system: "Yevgeny Plushenko cannot participate due to a trauma [injury]".
The announcement left more than 10,000 fans deflated and ended one of the most talked about careers in figure skating.
"I came out for the warm-up... and in the first triple axel I stepped out and felt like I had a knife in my back. And then after a second triple axel... I didn't feel my right leg, it finished me off," a drained Plushenko told reporters as he rubbed his back.
"I took four pills [painkillers] and it didn't help. I think it was God saying, 'Yevgeny enough, is enough."
The 31-year-old's participation in the men's event had been in the balance after he said his back had started to play up during his free skate in the team competition on Sunday.
Although he managed to finish off that routine, his performance was a million miles from what the world had come to expect of the Russian showman.
At the end of that underwhelming display Plushenko said he would need "the doctors to implant some stuff into my back" so that he could recover in time to pull off two final performances in front of his home fans.
Unfortunately for the spectators who had flocked into the arena to cheer on their favorite son, time and luck simply ran out for Plushenko.
"There was no miracle, unfortunately," said the four-time Olympian who won his second gold on Sunday in the team event.
"I don't want to end up an invalid - I want to remain a competent boy who can walk normally. Nobody is insured against this kind of thing."
No tragedy
His coach Alexei Mishin added: "This is not a tragedy what happened with Zhenya. During the [last] 20 years, he has had good success, mostly as a winner. Don't criticize him too much."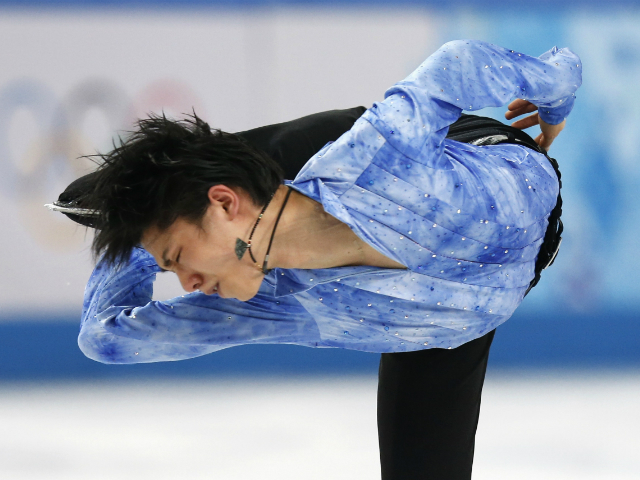 Japan's Yuzuru Hanyu set a new world record in the short program. Alexander Demianchuk / Reuters
But no one could criticize the way Hanyu defied his tender 19 years to put a marker down for the competition.
He punched the air when he nailed his opening quad-toeloop to the electric guitar strains of 'Parisian Walkways', dazzled during his change-foot-sit spin, was foot perfect in his triple Axel and had his coach Brian Orser leaping for joy as soon as he landed his triple-Lutz triple-toeloop combination.
That left him with a world record score of 101.45 for the short program and he is 4-1/2 minutes away from becoming the first Japanese skater to win the men's Olympic title.
Triple world champion Patrick Chan arrived in Sochi as the favorite to become the first Canadian man to claim the gold but appears to be spooked by the expectations placed on his slender shoulders.
He stumbled out of his triple axel landing - a jump that has long been his nemesis - and trailed Hanyu by almost four points with a score of 97.52.
Spain's Javier Fernandez, the two-time European champion, trailed a distant third (86.98) after two rough landings.
But no landing was as brutal and painful as the one Abbott suffered. He soared into the air for his opening quadruple toeloop but caught the front edge of his blade on the ice as he touched down and rammed straight into the padded barrier.
Clutching his stomach and grimacing, he lay on the ice as the music to his 'Lillies of the Valley' program played on.
But just when everyone thought there would be another pull out moments after Plushenko's departure, the American got back on his feet and launched straight into a triple Lutz-triple toeloop combination drawing wild applause for his heroics.
"In my mind, I was thinking, 'Do I go to the referee? Do I keep going? Am I done?'" Abbot said, pressing a bag of ice to his bruised hip.
"I kept thinking the referees were going to cut the music, but when I got up and heard the crowd cheering. I thought... forget it... I am going to finish this programme."
A score of 72.58 left him 15th and out of the running for a medal but if there was a prize for bravery he would have won that on Thursday.
Plushenko, also appeared to be in pain from the moment he stepped out for his six-minute warm-up, laboring around the rink, repeatedly clutching and pressing his back, and going up to the barriers to talk to Mishin.
After his withdrawal was confirmed, a dejected Plushenko skated to the center of the rink to bow to all four ends of the arena before waving farewell to a stunned, and somewhat muted, audience that had come to cheer him on.
Having also announced his retirement following the 2006 and 2010 Olympics, Mishin was asked if there were any further comebacks left in Plushenko.
"Maybe in the Paralympic Games!"
- Reuters