Filtered By: Sports
Sports
Winter Olympics: Canada takes gold, Sweden's Backstrom fails dope test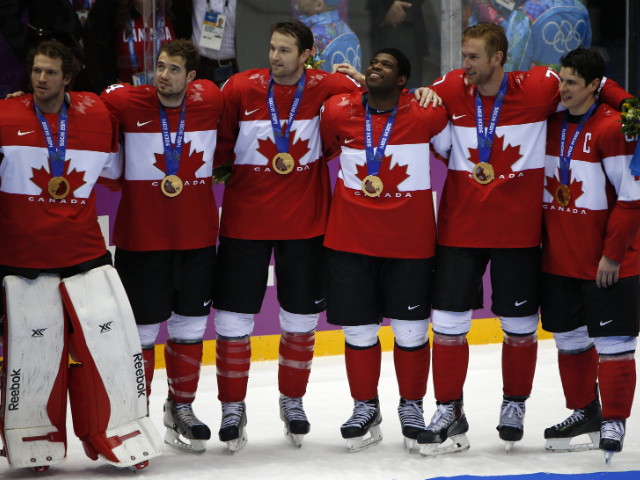 Canada's Sidney Crosby (R), Jeff Carter (2nd from R), P.K. Subban, (3rd from R) , goalie Mike Smith (L), Chris Kunitz (2nd from L) and Drew Doughty pose during the medal presentation ceremony after their team defeated Sweden in the men's ice hockey final. Jim Young / Reuters
(Updated 6:46am)
SOCHI - Canada swept past Sweden 3-0 on Sunday in the Winter Olympics men's ice hockey final, a game Swedish forward Nicklas Backstrom missed due to a failed a dope test.
News of Backstrom's failed test broke as Canada and Sweden were accepting their medals to wild cheers at a packed Bolshoy Ice Dome. The withdrawal of one of Sweden's top players just before the game forced the Scandinavians to hastily rearrange their lineup.
Sweden head coach Par Marts said: "I got the message two hours before the game that something was wrong. I can't say anymore. The doctor will tell you what happened."
There are reports Backstrom had tested positive due to an allergy medication.
"Nobody's trying to take something that's not allowed," said Sweden netminder Henrik Lundqvist. "It's about having the paper and being clear about everything. It's very sad that it happens.
"What I heard he had taken allergy tablets that he's had all his life. It's about getting it all down on paper, [but] I don't know enough."
With one of their key centers out of the game, Sweden lacked a cutting edge.
Canada, in contrast, were razor sharp with Sidney Crosby, Jonathan Toews and Chris Kunitz finding the net to preserve their unbeaten run through the tournament.
It was Canada's third gold medal in four Winter Games and their first outside North America in 62 years.
It also marked the first time since the 1984 Sarajevo Games that a team had marched through the competition without a loss.
"We played solid and we didn't give anything up in the last few games - we played the way we needed to and it's great to see everyone get rewarded," said Crosby, who scored the overtime winner in the final against the United States four years ago.
"Our defense was solid, so good at skating their way out of trouble we didn't have to play in our own end, and with the guys we have offensively, the more we can stay out of there the better chance we have of creating things.
"We're really proud and we appreciate all the support, we know that there's high expectations coming in and we're glad that we could deliver."
Hostile territory
Canada's campaign was anchored by an almost impenetrable defense that allowed only three goals over six games, netminder Carey Price recording shutouts over the United States in the semi-finals and Sweden in the final.
Canada's big guns had been quiet until the final but they opened up against the Swedes with Toews, Kunitz and Crosby all collecting their first goals of the Games when it mattered most.
Toews put Canada in front 13 minutes into the opening period when he redirected a pass from Jeff Carter between Lundqvist's pads.
In the second period, Crosby gained control of the puck near the blueline, fought off a Swedish defender and flipped a backhand past a sprawling Lundqvist.
Kunitz delivered the knockout blow midway through the third when he rifled a wrist shot in off the crossbar for a 3-0 lead.
Since ending a 50-year gold medal drought at the 2002 Salt Lake City Winter Games, Canada have been the dominant force at the Games, their Olympic reign only interrupted by a seventh place finish in Turin in 2006, when Sweden took gold.
The Sochi ice hockey gold was the final medal to be decided on the final day of the Winter Games and comes just hours before the closing ceremony at Fisht Stadium.
It took Canada's Sochi gold tally to 10, third in the final medals table behind Russia (13) and second-placed Norway (11).
Canadian forward Rick Nash said it was a different experience from four years ago.
"I think it's a different feeling," said Nash. "Vancouver was relief, playing on home soil was such a big deal to win gold and we did it.
"This time we came into one of the most hostile environments for a Canadian - into Russia, and to win a gold medal in Russia is pretty special for Canadians.
"Last time was a nail-biter and probably took a couple of years off my life, but this one was just as fun."
The pre-Olympic script had called for Russia to be playing in the final to provide what would have been a show-stopping finale to the Sochi Games.
But the ending had to be rewritten after Russia's quarterfinal defeat by Finland, who in turn lost to the Swedes in the last four.
Sweden and Canada had met once before to decide gold with the Swedes coming away with a shootout win at the 1994 Lillehammer Games to be crowned Olympic champions for the first time.
- Reuters