Filtered By: Sports
Sports
EXCLUSIVE
UP's future in UAAP cheerdance hangs in the balance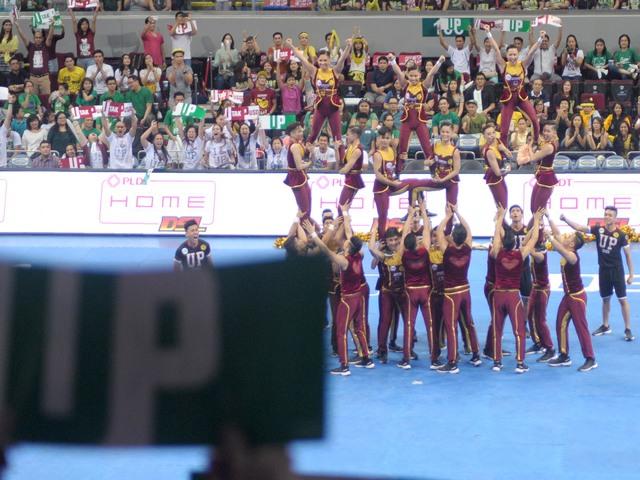 The UP Pep Squad's "Utak at Puso" routine at the 2015 UAAP Cheerdance Competition. KC Cruz
The University of the Philippines Pep Squad has filed a protest following its third-place finish in this year's UAAP cheerdance competition but has been promptly put down by the league.
In a letter dated October 5, 2015—two days after the cheerdance competition—UP Pep Squad coach Lalaine Juarez-Pereña questioned the results that had National University successfully defending its title and University of Santo Tomas finishing second.
UP Diliman Chancellor Michael L. Tan, the president of the UAAP Board of Trustees, endorsed the letter to the UAAP Cheerdance Committee.
"I am endorsing the letter, convinced that unless all these questions are answered, the future of cheerdance as a sport, and UAAP as a university sports federation, will remain under a cloud of doubt," Tan wrote.
However, in its October 12 reply, the UAAP CDC did not answer any of the points raised in the protest letter.
"After careful review of your points raised in your protest letter, we have concluded that the results of the 2015 UAAP CDC are valid," read the reply signed by CDC commissioner Eduardo David Jr., CDC chairperson Gigi Kamus, CDC Head Judge Paula Isabel Nunag, and Philippine Cheerleading Association Head Carlos G. Valdes III.
In her letter to the committee, Pereña said, "We firmly believe that the overall results did not genuinely reflect adherence to the competition guidelines and criteria.
"We are adamant in our claim that clearly, there was prejudice in the scoring process. We demand that the board of judges respond to every argument in this letter in the interest of transparency, fairness and justice," she added.
The coach cited the numerous examples of what she called "gross disregard for the competition criteria (provided in the UAAP Season 77 Cheerdance Competition Rules and Regulations) as evidenced from the actual competition performances," detailing points of contention with the performances of NU, UST, and UP.
Detailed review
In a review of the NU routine, Pereña highlighted stunts and dismounts that did not abide by UAAP cheerdance competition rules, as well as corresponding deductions for these violations. She also noted mistakes in the routine, which should have been basis for deductions as well.
She said there were a total of 10 instances — each backed up by notes from the UAAP rulebook — in NU's routine that should have merited deductions. By her computation, she said there should have been deductions of 779 points.
This included heavy penalties for dangerous stunts.

The NU routine, which garnered 668 points to win, was deducted just six points during the competition.
"Had the board of judges observed strict adherence to the rules and regulations of the CDC, it is very clear that NU could not have garnered enough points to emerge as the top performer," Pereña wrote.
The protest also contained an analysis on the marginal differences in scores of the stunts between UP and UST, saying the Diliman squad performed more difficult pyramids and stunts. UP scored two points better in pyramids and 5.5 points better in stunts.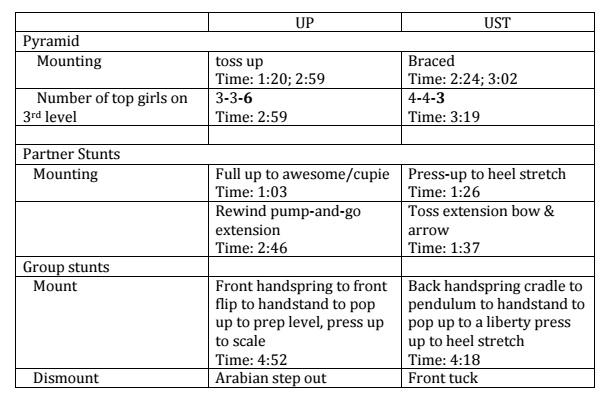 Pereña's letter also detailed numerous instances of what she called "poor technique" from the UST performers.
"We seek an explanation as to whether the board of judges put more premium on quantity over proper technique. Specifically, is a repeat of a previously executed skill given additional points despite consistent poor technique, form and execution?" she asked.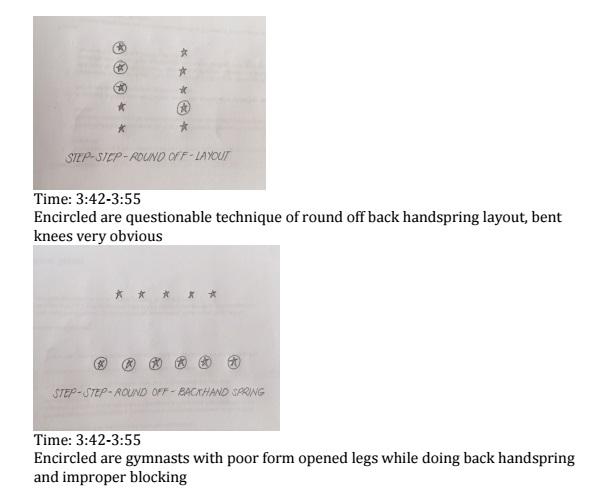 Seeking clarification
Ironically, Pereña said she didn't want to file a protest in the first place.
"We just wanted an informal dialogue — clarification lang — talagang para lang malinaw sa amin, kung tama ba ang pagkaintindi namin sa mga rules, kung tama ba yung nakita naming tingin naming mali, informal dialogue lang sana," Pereña told GMA News Online in an interview.
She had reached out to Nunag, a former captain of the Pep Squad, after the competition to clarify her issues with the scoring, but was told to file a protest instead.
But more than a week after filing, the UP Pep Squad is still no closer to getting the answers it was seeking.
"Kailangan ko lang talagang makuha 'yung sagot nila. Kailangan lang talaga nila akong harapin, face-to-face. Kung ayaw nilang face-to-face, written. Lahat naman sinusubukan namin," said Pereña.
And if the UP Pep Squad doesn't get those answers?
"Kung 'di sinagot, then UP will be out of UAAP CDC next year," she said. —NB, GMA News